Topic: Pacific Theater
Clarksville, TN – In researching this story, and getting to know the life of George Nishimura, I've learned so much about World War II that I have never known before.  His personal handwritten account of his life is an amazing recollection of what it was like growing up in a country that came under attack from the Japanese, and how he wanted to "do something" to help the Americans fight back.
George Nishimura served his country in the best way he knew how.  He followed orders and did what he was told.  The Japanese-American soldiers who volunteered to serve, were treated differently.  There was a feeling of apprehension by most Americans, who wondered how can the "Japs" be the good guy and bad? «Read the rest of this article»
The 100th Meeting will be held at the Customs House Museum and Cultural Center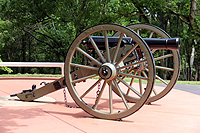 Clarksville, TN – Legendary Civil War historian, Edwin Bearss, will speak to the Clarksville Civil War Roundtable on Wednesday, July 18th, 2012 at 7:00pm at the Customs House Museum and Cultural Center in Clarksville, Tennessee.
The Customs House Museum is located at 200 South Second Street in downtown Clarksville, Tennessee. The program will take place in the museum's auditorium. «Read the rest of this article»