Topic: Patrol Car

Clarksville, TN – On February 2nd, 2013, around 2:00am, Clarksville Police Officer Arthur Bing, 28 was traveling south on Fort Campbell Boulevard in a 2008 Crown Victoria responding to a business alarm activation.
A 2003 Chevy Trailblazer, driven by Jessica Sheppard, 20, who had learners permit, was traveling north on Fort Campbell Boulevard and turned in front of the patrol car.
«Read the rest of this article»

Clarksville, TN – On April 22nd, 2012, around 3:00am, Officer Tom Johnson, 56 was working as part of a DUI saturation patrol when his patrol car was rear-ended by a drunk driver.
Officer Tom Johnson was in his 2009 Chevrolet Impala stopped for a red light in the left southbound lane of Fort Campbell Boulevard at Ringgold Road.
«Read the rest of this article»

Clarksville, TN – On August 20th, around 12:30am, Officers Chris MacMillan and Zachary Beilfuss were assisting a couple whose PT Cruiser has broken down on Fort Campbell Boulevard when a drunk driver ran into the back of MacMillan's patrol car.
Around 12:16am, a 2001 PT Cruiser broke down, facing southbound in the median, around 1671 Fort Campbell Boulevard. Officer MacMillan in his 2011 Chevy Impala pulled next to the PT Cruiser in the northbound left lane of Fort Campbell Boulevard, activated emergency lights, and got out to assist the occupants of the PT Cruiser.
«Read the rest of this article»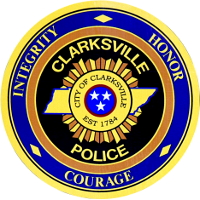 A little after 2:00am, Sgt Odell was getting out of his patrol car to check on the clerk at the BP Food Mart at Riverside Drive and McClure Street and heard a popping sound.  At first, he thought it may have been fireworks.  He looked down Riverside Drive and saw two vehicles traveling Northbound  side by side.   He saw what appeared to be a muzzle flash coming from the passenger side window of a Monte Carlo traveling in the left northbound lane.  It was directed toward the Buick traveling in the right northbound lane.
He got back into his car and had activated his emergency equipment so he could pull out behind the vehicles as they were passing by.  He was about 15-20 ft off the road in the lot of the BP preparing to enter the roadway when the Buick hit a metal pole in front of the BP, left the roadway, hit a tree in front of the BP building, and then collided with Sgt Odell's patrol car.
«Read the rest of this article»