Topic: Person Dead

Montgomery County, TN – Edgar Patterson, former Chief Deputy of the Montgomery County Sheriff's Office, who had been with the agency for nearly 40 years before retiring in 2012, died Thursday evening.
Patterson was commissioned with the MCSO in 1973 as a juvenile officer and was promoted through the ranks until he was appointed Chief Deputy in 1978, a position he held until his retirement.
«Read the rest of this article»

Clarksville, TN – On March 16th, 2015, the Clarksville Police Department responded to a vehicle collision on the eastbound side of Highway 76 (Martin Luther King Jr Parkway) in between the cross streets of Bellshire Drive and Red Coat Run. A vehicle and a motorcycle collided. The driver of the motorcycle succumbed to injuries.
72-year-old Herbert Hensley from Exxex, MD, the driver of the vehicle that struck the motorcycle, was booked into Montgomery County Jail and charged with Reckless Homicide. There is no further information at this time.

«Read the rest of this article»

Clarksville, TN – On Friday night, October 24th, 2014 at 8:29pm, Clarksville Police Officer Larry Harris responded to a crash at US-79 (Wilma Rudolph Boulevard) and Fairview Lane.
A vehicle and a motorcycle struck each other in the continuous left turn lane. At this time, it cannot be determined which vehicle had the right of way.
The driver of the motorcycle, Ronnie T. Bevan, a 49-year-old Clarksville resident, was declared deceased upon arrival at Gateway Medical Center. «Read the rest of this article»
The quiet of the night was disrupted as Clarksville Police officers responded to a suicidal man at a Clearwater Drive residence.

Clarksville, TN – On Monday, November 12th, around 6:11pm, Clarksville Police Officers were called to Clearwater Drive in reference to a suicidal, 45 year old man. Police received information the retired military man, who suffered from PTSD and attempted suicide before, was armed with a 22 rifle and had put it in his mouth.
The wife and children left the residence so he was the only one inside.
«Read the rest of this article»

Clarksville, TN – The Tennessee Bureau of Investigation is on scene at a Pond Apple Road residence in Clarksville, TN after a 46 old man is shot by a Clarksville Police Officer after presenting an imminent danger to the neighborhood and officers who had responded to a threats call.
On November 10th, 2012, around 5:26pm, Clarksville Police Officers were called to a Pond Apple Drive residence after 911 received a call about a man threatening to kill himself and his wife or anyone who tried to enter the residence. «Read the rest of this article»

Clarksville, TN – The Clarksville Police Department has released the name of the shooting victim at C-Ray's Social Club on Fort Campbell Boulevard Friday, November 3rd. The deceased man's name is Malcolm Rashaad Wright (DOB: 12/31/91) of Clarksville Tennessee.
There are no new developments in the investigation.
«Read the rest of this article»

Clarksville, TN – On July 14th, 2012, around 5:30pm, officers responded to a shots fired call at the apartments at 218 South 3rd Street.
When Clarksville Police Officers arrived they found a man, Gregory Erik Premus, 28, inside an apartment who had sustained a gunshot wound to the torso of the body, from a handgun. He was transported to Gateway Medical Center where he was pronounced dead. «Read the rest of this article»

Clarksville, TN – On April 29th, 2012, Clarksville Police were called to Victory Road for a  vehicle crash. When officers arrived they found a 22 year old man inside of a Subaru Impreza who was deceased.
The deceased man's name is Taylor Hotzoglou, 22, of Clarksville, TN. The investigation is ongoing, the area has been canvassed, and interviews have been conducted. There is no new additional information to provide.
For more on the story, see: Clarksville Police are Investigating the Death of a Man found inside of a Car

Clarksville, TN – A 33 year old man, Cory Kareen Smith, of Clarksville, TN, jumped out of a moving vehicle while it was entering the 101st Parkway on the eastbound ramp yesterday, July 6th at 11:00am. He was Lifeflighted to Vanderbilt in extremely critical condition.
Smith died from his injuries that afternoon around 6:10pm.
For more on this story, see: Man Jumps Out of Moving Vehicle.

Clarksville, TN – There was an overnight shooting which left one man dead and another in the hospital in critical condition. On June 19th around 2:33am Clarksville Police Officers were in the area of University Landing Apartments, 101 University Avenue when shots were heard. They located two victims in the parking lot of the apartments that had sustained gunshot wounds.
Officers quickly located a man, Phtra Oum, in the area that had what appeared to be blood on his face, clothes, and shoes. A witness at the scene identified Oum as the person who shot the victims.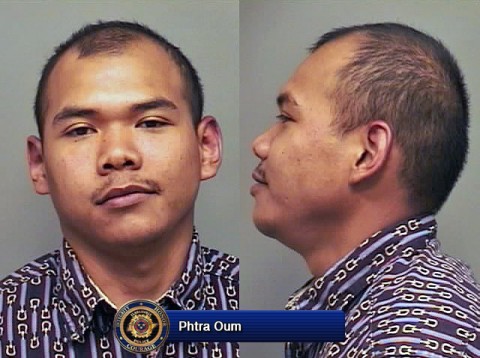 «Read the rest of this article»