Topic: Red River Bridge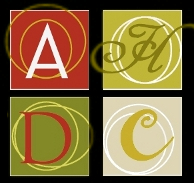 Clarksville, TN – The 2014 Cultural Calendar, produced by the Clarksville-Montgomery County Arts and Heritage Development Council, is now available online and at several local shops.
Each month of the calendar features an original work by a local artist, depicting a scene in Montgomery County, along with highlights of arts and heritage activities planned by community organizations for that month.
«Read the rest of this article»
Wednesday, April 10th, 2013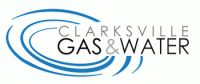 Clarksville, TN – A Clarksville Gas and Water construction crew has turned off water service to an isolated group of businesses at 1521-1527 Wilma Rudolph Boulevard located between the Red River Bridge and Old Trenton Road. Workers are repairing a twelve-inch water main leak and expect repairs to be complete by approximately 1:00pm.
All lanes of Wilma Rudolph Boulevard are passable; however motorists are advised to be alert to construction workers and equipment when approaching the work zone.

Clarksville, TN – On April 4th, 2012, around 7:00am, 2002 GMC pickup, driven by Jerry Swift, 60, was traveling north, had just crossed the Red River Bridge when the driver blacked out, crossed the southbound Lanes of Wilma Rudolph Boulevard, went over a curb, and crashed into the rock wall.
After the crash occurred, a Chevy S-10, driven by Billy Dinsmore, 33, was traveling northbound on Wilma Rudolph Boulevard in the left lane and slowing down.
«Read the rest of this article»

Clarksville, TN – On March 3rd, 2012, around 11:00pm, a motorcycle ridden by a 34 year old male crossed the Red River Bridge traveling north at a high rate of speed onto Wilma Rudolph Boulevard and, for an unknown reason, crossed from the north to southbound lanes and hit a curb on the southbound side.
The rider was unseated from the motorcycle and crashed into a rock wall. The motorcyclist was transported to Gateway Medical Center where he died from his injuries.
The lead investigator is Officer Bill VanBeber.

Clarksville, TN – Drivers should expect traffic delays on College Street, in both directions, from Red River Bridge to North Second Street.  Due to street paving, traffic lanes in both directions will be narrowed down to a single lane in each direction.
Paving crews will be working from about 9:00am–3:30pm. The delays will most likely occur for the remainder of the week.
TDOT Projects CNH155 Red River Bridge and CNK249 Resurfacing College Street
 


Clarksville, TN – CNH155 Red River Bridge – completion of all bridge work is expected to be done by the end of this week.  Final paving operations have begun and should be finished by Saturday, with all lanes open to traffic late Saturday afternoon.
Some additional work will be necessary next week for a couple of days to fully complete all work. Temporary lane closures can be expected, with delays, through the end of next week at this location. «Read the rest of this article»

Clarksville, TN – On August 25th, 2011 at 1:10pm, the Clarksville Police Department responded to the Red River Bridge near Wilma Rudolph Boulevard in reference to a cyclist possibly being struck by a vehicle that left the scene. The cyclist has been taken to Nashville by Lifeflight.
There is a possibility that the Cyclist was not struck by a vehicle, but hit the curb, fell off the bike and struck his head.
The investigation is pending and there is currently no further information.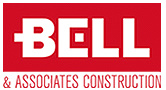 Clarksville, TN – Bell & Associates Construction blasted out the remaining concrete columns and the roadway support beams on the north bound lane of the Red River Bridge  in a tremendous explosion early on the morning of Wednesday, August 24th, 2011. The explosion took place at 12:02am during which time traffic on Wilma Rudolph Boulevard was completely shutdown.
The demolition was handled by explosives technicians from Engineered Explosive Services. The process first involved cutting almost completely through the massive steel support beams, then placing shaped cutting charges to finish the job. The support columns had been pre-drilled to allow explosive charges to be placed inside. Once that was complete, all equipment located on or near the bridge had to be removed. Then after a final safety check, it was time for the blast.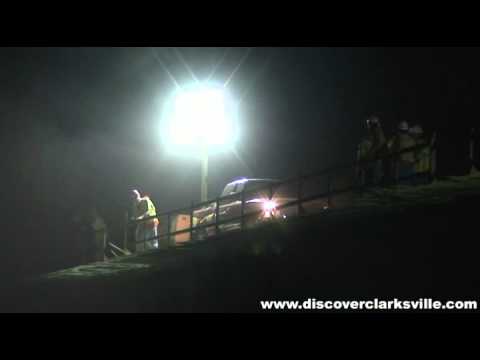 «Read the rest of this article»
Thursday, August 4th, 2011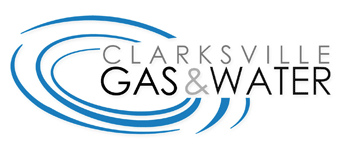 Clarksville, TN – Water service will be turned off on Wilma Rudolph Boulevard from Hornberger Lane to Old Trenton Road tomorrow evening at 10:00pm. Work will be performed through the night to relocate a 12-inch water main line in the Red River Bridge construction upgrade area.
The water outage will affect businesses along this section of Wilma Rudolph Boulevard until approximately 5:00am on Friday morning.
Phase 2 – Bridge Deck Pour
Dates: May 25th, 26th, 31st – Night Time Hours: 6:00pm to 12:00am
Revised – no work on the evening of the 27th as originally posted – changed to evening of the 31st on Tuesday night / no lane closures for Memorial Day Weekend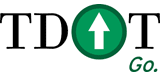 Clarksville, TN - As work on the new bridge over Red River Continues on Wilma Rudolph in Clarksville, the following lane closure will be in effect on the dates and times listed above.
Wilma Rudolph Blvd. at Red River Bridge will be reduced to one lane with Law Enforcement, contractor personnel, message and arrow boards, signs, and traffic control devices – drums and cones, alternating traffic flow as needed.
«Read the rest of this article»