Topic: Refreshments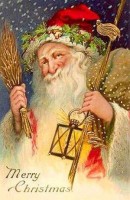 Clarksville, TN – Santa Claus paid a visit to the Crow Community Center Monday night, December 19th. From 6:00pm to 7:00pm, children came to sit on Santa's lap and told him all the things they wanted for Christmas.
Santa Claus wanted to give the kids a personal Christmas message, "I want everyone to have a safe and happy Christmas! Just do what your parents tell you, be good, and I will bring your presents to you." He continued "One little girl told me she wanted a puppy, a little small puppy. I told her if she's been good, and keeps being good, that she would probably get her gift.
«Read the rest of this article»

Clarksville, TN – The Kleeman Community Center and the Leadership Enlightenment Academic Achievement and Perseverance Organization (L.E.A.P.) will present Storytellers on November 20th from 6:00pm until 7:00pm at the Kleeman Center, located at 166 Cunningham Lane. «Read the rest of this article»

Clarksville, TN – Dunbar Cave's annual "Cooling at the Cave" event is this afternoon. The Friends of Dunbar Cave present music, games and refreshments at the cool cave entrance. Refreshments for a donation, t-shirts and postcards available to purchase.
Everything starts at 3:00pm and continues until 5:00pm. Red River Breeze will be at the cave entrance playing celtic music.
So come out and enjoy natural air conditioning and show your support for Dunbar Cave.