Topic: Ricky Young

Clarksville, TN – At 8:00pm on Friday, September 27th, 6 directors will meet with six casts to rehearse and stage a 10 minute play. The only problem? They have only 24 hours to produce it.
Show time starts at 8:00pm on Saturday the 28th at the Austin Peay State University Morgan University Center Ballroom and like the saying goes, the show must go on!

«Read the rest of this article»

Clarksville, TN – Fronkensteen Experimental Theatre Group is proud to announce that they will be putting on the last play of their first season, "Last Hope for Twenty Miles" at The Coup starting on Thursday December 15th through Saturday the 17th. All performances are at 4:00pm and tickets are only $4.00.
Directed by Sara Schichtel this play, written by Fronkensteen's founder, Ricky Steven Young Jr., is an excellent capstone to Fronkensteen's first season. "We have had so many stops and starts, gotten so many bumps and bruises along the way that this performance is almost a celebration that we have made it through this year. «Read the rest of this article»
A New Play by Robert Tonner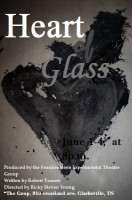 Clarksville, TN – Fronkensteen continues it's first season next week staging Heart of Glass by local playwright Robert Tonner.
Heart of Glass is the story of Tabitha, a successful officer in the Air Force, who tries to take back control over her life and kick out the piece of trash boyfriend that's been leeching off of her while she's been deployed. Robert Tonner, a former mission planner with the air force, says of his own play, "Everyone has been through, or knows someone who has been through, a really bad breakup. «Read the rest of this article»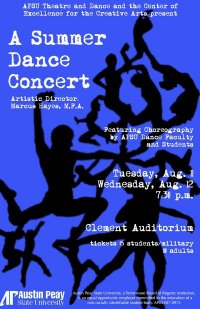 Dance is the noblest of the Arts. Using a human body as their canvas, a dancers' performance treats the audience to a visual poetry written with their bodies in both form and motion. That is how I felt this evening when I watched the APSU Center of Excellence for the Creative Arts and the APSU Dance Program holding their Summer Dance Concert. One performance remains;  on Wednesday, August 12th, at 7:30PM, Clement Auditorium.
Tick leads the show with three dancers clad in green, Laquimah van Dunk, Alaina Runions, and Caitlin Proctor to the sounds of Tashweesh (interference) by Kronos Quartet.
Followed by the lovely Brittany Hardaway performing a ballet called Gentle Lullaby to the sounds of Se Ymnumen by George Skaroulis. Many of the dancers held neutral expressions on their faces when they performed not so with Brittany. You could see her love and passion for dance etched on her face with every leap and pirouette.
«Read the rest of this article»