Topic: Riverfest
Clarksville, TN – The Clarksville Parks and Recreation Department has earned two 2018 Kaleidoscope Awards at the Southeast Events and Festival Association Conference.
Clarksville won second place (Silver Award) for Best Festival over $75,000 for Riverfest, and third place (Bronze Award) for Best Photograph: Dining Downtown for the Farm to Table Dinner. The awards were presented Monday night at the conference in Murfreesboro Tennessee.
«Read the rest of this article»
City of Clarksville welcomes South Korean visitors
Clarksville, TN – An 11-person delegation from Gunpo, South Korea, recently completed a Sister City visit to the City of Clarksville that included tours of City facilities, a local factory and visits to RiverFest and local entertainment venues.
In 1999, Gunpo and Clarksville both approved an agreement establishing a Sister City relationship, designed to expand cultural understanding and cooperation.
«Read the rest of this article»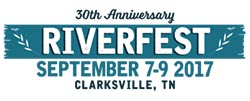 Clarksville, TN – Riverfest 2017 is shaping up to to be one of the most successful of recent years, (based on attendance) according to Clarksville Parks and Recreation's Robert Rayburn.
"We hear from a lot of people that say we are limited by McGregor Park," Rayburn said. "I think the success of this weekend shows that we can do more. We want this event to keep growing and improving."
«Read the rest of this article»
Post Offers to #ClarksvilleHelpsFlorida Facebook Page

Clarksville, TN – Clarksville hotels are filling up with Florida families affected by the evacuation in preparation for Hurricane Irma.
The Chamber of Commerce, Visit Clarksville, City of Clarksville and Montgomery County Government encourage businesses to offer discounts to displaced individuals for meals or other needed services.

«Read the rest of this article»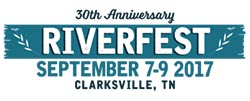 Clarksville, TN – Riverfest 2017 kicked off Thursday night, September 7th, 2017 with its annual Art Experience, a juried art competition open to people of all ages and experience levels.
Kara Zahn is Clarksville Parks and Recreation's event planning specialist and Art Experience coordinator. "This event was formerly known as Tour D'Art," Zahn said. "For the last three years the different elements have all been combined to create a single event which has been held at the Wilma Rudolph Event Center."
«Read the rest of this article»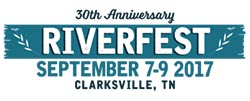 Clarksville, TN – Waterdogs Scuba and Safety has partnered with the National Diving Education Association to bring the "Go Dive Now" program to Clarksville's Riverfest Festival. If you have ever wondered what it would be like to scuba dive, then here is your chance.
The "Go Dive Now" program will let you try scuba diving under the direction of professional scuba instructors. You will learn how to use scuba gear in shallow water and experience what it's like to breath underwater.
«Read the rest of this article»

Clarksville, TN – The Clarksville Police Department has released lane closure information for Riverside Drive during the Riverfest Festival. Riverside Drive will have intermittent changes to traffic flow during Riverfest.
The changes can potentially cause delays in traffic flow through the area. If you plan on traveling though this area, it might be a good idea to seek an alternate route.
Also, be aware, there will be large amounts of pedestrian traffic through the area, so be vigilant and watch for officers directing traffic. Please be patient.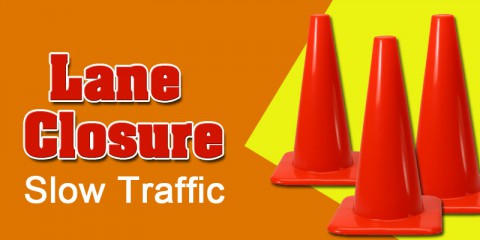 «Read the rest of this article»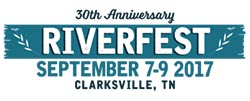 Clarksville, TN – Sunny and pleasant weather is forecast Thursday through Saturday for Clarksville's Riverfest Celebration, offering a welcome change from last week's storms and flooding.
Heavy rains swept through Clarksville early Friday, pushing the Cumberland River to flood stage, covering McGregor Park's two outdoor stages and forcing Clarksville Parks and Recreation to close the park.
«Read the rest of this article»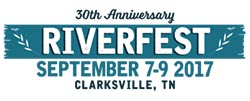 Clarksville, TN – Join the City of Clarksville and Budweiser along the banks of the Cumberland River to celebrate Clarksville's river heritage and the 30th anniversary of the annual Riverfest Celebration, September 7th-9th, 2017.
This free, three-day music and arts festival features three stages of diverse local and nationally known entertainers and cultural groups, plus delicious food and fun for the entire family.
«Read the rest of this article»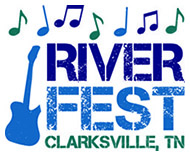 Clarksville, TN – Clarksville Parks and Recreation is accepting registration for the Eleventh Annual Riverfest Regatta. Participants can enter as an individual or as a team for a chance to win award. The Riverfest Regatta will take place Saturday, September 9th, 2017 at the McGregor Park boat ramp. New this year, the event will take place at 1:00pm instead of early in the morning like in past races.
This boat race is not like any ordinary boat race. Participants will compete in their boats made of cardboard, plastic bottles, or a few other approved materials. There will be several divisions all racing down the 100-yard long course on the Cumberland River.
«Read the rest of this article»