Topic: Ryan Bowie

Clarksville, TN – Frank Sinatra made women scream when he walked up to the microphone; and with a twist of a phrase, men wept. His ability to interpret a song defined an American generation. Relive the magic of Ol' Blue Eyes at the Roxy Regional Theatre, February 7th – March 1st, with the must-see musical celebrating the songs he made famous — MY WAY: A Musical Tribute to Frank Sinatra.
Featuring over four dozen hits — including "Strangers in the Night," "I've Got You Under My Skin," "Fly Me to the Moon," "The Lady Is A Tramp," "New York, New York" and, of course, the perennial favorite "My Way" — this musical revue was co-created by David Grapes and Todd Olson.
«Read the rest of this article»

Clarksville, TN – You'll be dreaming of a "Plaid" Christmas this holiday season when the boys from Forever Plaid return to the Roxy Regional Theatre!
At first Frankie, Jinx, Smudge and Sparky aren't sure why they've returned to Earth for another posthumous performance, but a phone call from the heavenly Rosemary Clooney lets them know that they're needed to put a little four-part harmony into a discordant holiday.
«Read the rest of this article»

Clarksville, TN – It's been 40 years – 40 years! – since "The Rocky Horror Show" hit a London stage and had a 5-year run as a popular musical.
Think about that kind of staying power, and you will understand why audiences continue to flock to midnight showings of the 1975 film inspired by the musical.
You'll also see why it captures new audiences, as in 2010 when the popular TV show "Glee" used it as the basis for a plot.
«Read the rest of this article»

Clarksville, TN – Dig out your fishnet stockings and sharpen your stilettos … that sweet transvestite and his motley crew are back by popular demand! Following last season's wildly successful run, "The Rocky Horror Show" returns to the Roxy Regional Theatre, October 25th through November 2nd, for six performances only.
Richard O'Brien's cult favorite tells the story of Brad Majors and his fiancée Janet Weiss, two clean-cut young people on the way to visit an old college professor.
«Read the rest of this article»

Clarksville, TN – Flying cows, killer rabbits, beautiful show girls and rude Frenchmen are just some of the oddities and marvels which will be on hand to usher in the Roxy Regional Theatre's 31st season with the opening of the Tony Award-winning musical comedy sensation Monty Python's "Spamalot" on Friday, September 13th, at 8:00pm.
Lovingly ripped off from the classic film comedy "Monty Python and the Holy Grail," this hysterically irreverent musical retells the legend of King Arthur and his Knights of the Round Table as they embark on their quest for the Holy Grail. But before they can find the grail, they're taking a little side-trip to the Queen City!  Ooh-la-la!
«Read the rest of this article»

Clarksville, TN – The Roxy regional theaters is currently staging their production of the classic Rodgers and Hammerstein musical South Pacific. This show features an amazing cast without exception, along with the incredible vocal talents of John Boehr and Alicia Kelly.
"South Pacific" is set on an island paradise during World War II and centers on an American nurse Nellie Forbush (Alicia Kelly) stationed on the island who falls in love with a middle-aged French plantation owner Emile de Becque (John Boehr) but struggles to accept his mixed-race children.
«Read the rest of this article»

Clarksville, TN – The Roxy Regional Theatre does it again with their exquisite production of Rodgers and Hammerstein's  musical "South Pacific". Stars John Boehr and Alicia Kelly give soulful vocal performances that brings to life the emotions and anguish of their characters on the Roxy Stage.
Backed by Michael Spaziani, Elena Pascullo and the rest of this powerhouse cast, "South Pacific" creates a chemistry with the audience that takes you back to a time of men and women torn by war, romance, and prejudice.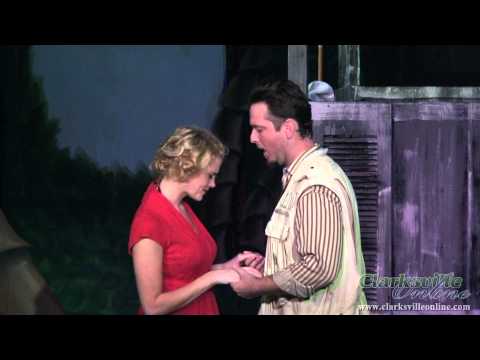 «Read the rest of this article»

Clarksville, TN – Set sail for "South Pacific" this summer with the Roxy Regional Theatre, Clarksville's oldest live theatre and only professional theatre.
Starring powerhouse vocalists John Boehr and Alicia Kelly as Emile de Becque and Nellie Forbush, the Rodgers & Hammerstein classic will close out the Roxy's 30th Anniversary Season, beginning Friday, July 12th, at 8:00pm.
Recently off runs as Velma in Chicago with Royal Caribbean's Allure of the Seas and as Marty in the national tour of Grease, Kelly is a veteran of the Roxy stage, having previously appeared in A Streetcar Named Desire (Blanche), RENT (Maureen) and CATS (Grizabella), among others.
«Read the rest of this article»

Clarksville, TN – "Second star to the right, and straight on 'til morning …" Let your inner child soar to new heights and fly away to Neverland with the Roxy Regional Theatre!  Enchanting fun for audiences of all ages, the award-winning Peter Pan: A Musical Adventure makes its regional premiere on Friday, April 12th, at 8:00pm.
Based on J.M. Barrie's original play, with permission from Great Ormond Street Hospital for Children, Peter Pan features music and lyrics by George Stiles and Anthony Drewe (award-winning composers of Honk! and Mary Poppins) and book by Willis Hall.
«Read the rest of this article»

Clarksville, TN – The tale of Romeo and Juliet is one which truly transcends time and place — and beginning March 8th, the Roxy Regional Theatre will prove it by setting one of William Shakespeare's most famous plays during the American Civil War.
This historical twist to the classic love story could not come at a more fitting time, as we commemorate the 150th Anniversary of the American Civil War, a time when deeply rooted hatreds often pitted neighbor against neighbor and family against family, compelling lovers to risk everything to be together.
«Read the rest of this article»