Topic: Saudi Arabia
Oil market will keep gas prices volatile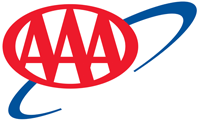 Tampa, FL – Nationally, motorists are paying $2.11 per gallon, up 7 cents from last week, and the highest price at the pump since November 2015. The national average has remained above $2.00 a gallon for 25 consecutive days and could rise another 10-15 cents by Memorial Day.
"Many drivers saw gas prices jump up this week," said Josh Carrasco, spokesman, AAA – The Auto Club Group. "Oil averaged $4.00 higher than last week, which put upward pressure on gasoline prices. Even though prices are up nearly 15 cents from a month ago, motorists are still enjoying a 30 cent savings year over year."
«Read the rest of this article»
Fuel Savings Approach $10 Billion in the First Quarter of 2016 Compared to the Same Period Last Year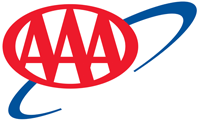 Tampa, FL – Americans paid the cheapest quarterly gas prices in twelve years during the first three months of 2016. Motorists have saved nearly $10 billion on gas so far this year compared to the same period in 2015.
The national average price of gas during the first quarter was $1.86 per gallon, making it the cheapest quarter for gasoline since January-March 2004. Gas prices are expected to remain relatively low compared to recent years, though average prices could rise another 25 cents per gallon by Memorial Day.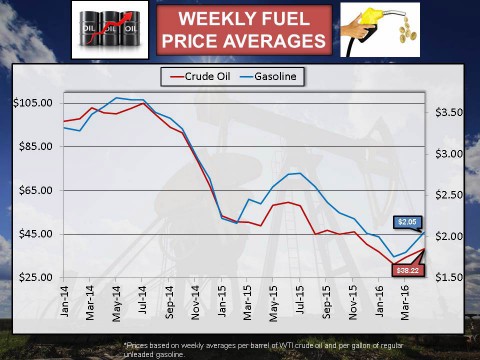 «Read the rest of this article»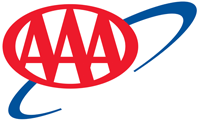 Tampa, FL – Motorists are enjoying the lowest gas prices during this time of year since 2004. However, the current average remains at an all-time low since January 2009.
"Motorists are saving 60-70 cents for every gallon of gasoline compared to this time last year," said Mark Jenkins, spokesman, AAA – The Auto Club Group. "But the price of oil increased last week, and gas prices rose for the third consecutive day. Georgia and Tennessee residents are seeing prices higher than this time last week, but recent increases in Florida have not exceeded price declines from early last week."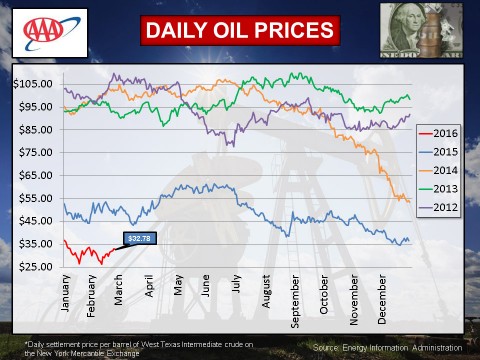 «Read the rest of this article»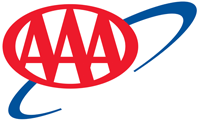 Tampa, FL – Gas prices continue falling at a rate of a half cent a day, despite increases in the price of oil last week. Crude prices rose more than $3.00 last week, while the national average dropped 3 cents.
Pump prices have fallen 25 out of the past 30 days. The current average price for a gallon of regular unleaded is $1.80 nationwide, $1.83 in Florida, $1.73 in Georgia, and $1.61 in Tennessee.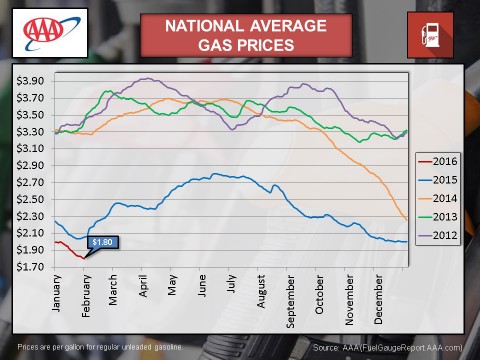 «Read the rest of this article»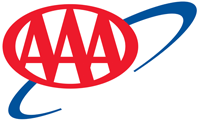 Washington, D.C. – Gas prices rang in the New Year by reaching the lowest average price ($1.997) for the holiday since 2009.  Today's average price of $1.99 per gallon is the cheapest average since March 25th, 2009, and the national average has moved lower for 50 of the past 59 days, largely due to an abundance of crude oil. Pump prices are discounted by fractions of a penny on the week, by five cents per gallon on the month, and are down by 22 cents on the year.
In 2015, consumers paid an annual average of $2.40 per gallon, which was the lowest annual average since 2009.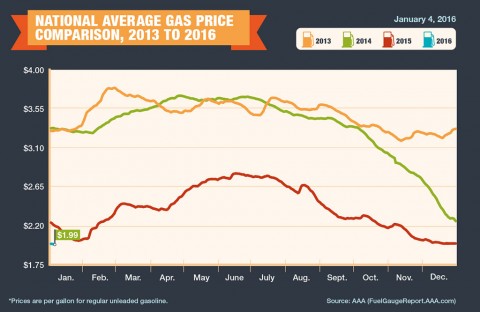 «Read the rest of this article»
Written by Maj. Ireka Sanders
2nd Brigade Combat Team, 101st Airborne Division (AA) Public Affairs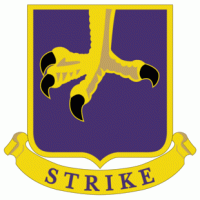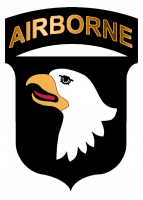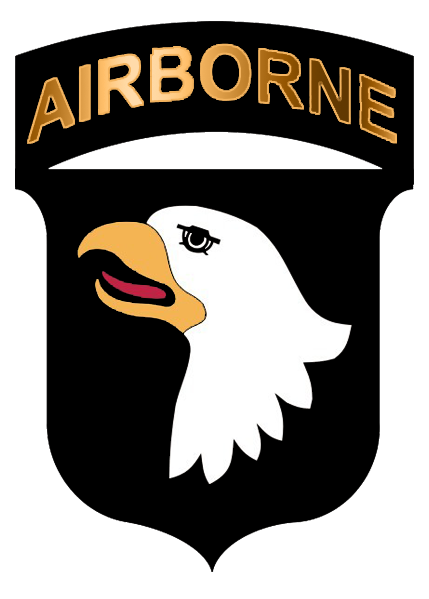 Fort Campbell, KY – The 2nd Brigade Combat Team, 101st Airborne Division (Air Assault), held a rededication ceremony here July 30th, 2015, officially moving the memorials to their new location.
The ceremony was one of the many events featured during the Day of the Eagles.
The Strike brigade memorial is the first of the BCT memorials to go on what will become Memorial Row.
«Read the rest of this article»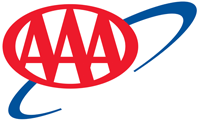 Tampa, FL – The national average price for regular unleaded gasoline slipped 1-cent since last week's AAA Gas Price Brief and is currently $2.79 a gallon. Today's average remains significantly lower than on this same date last year (-89 cents).
The national average declined by fractions of a cent for six consecutive days. Meanwhile prices in Florida, Georgia, and Tennessee have declined three, six, and four consecutive days respectively.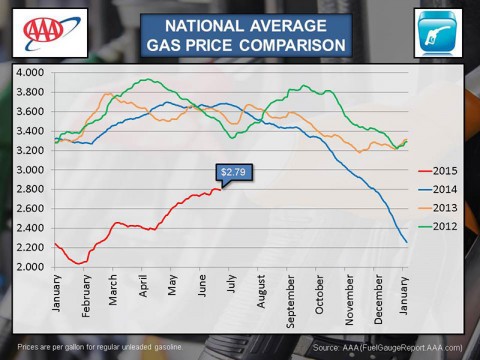 «Read the rest of this article»

Nashville, TN – In response to a Korean outbreak of Middle East Respiratory Syndrome coronavirus, commonly known as MERS Co-V, the Tennessee Department of Health has issued an alert to healthcare providers.
The alert issued Friday, June 12th, urges clinicians to ask their patients about recent travel, to look for evidence of the illness in patient assessments and to share their findings and information with public health officials.
«Read the rest of this article»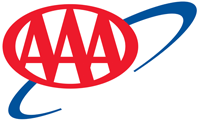 Tampa, FL – Motorists across the country saw increases at the pump last week, but that trend is not likely to continue. The EIA updated its forecast, expecting monthly average gas prices to decline through the end of the year, reaching as low as $2.27 in December.
According to the report, the average price of gasoline from June 1st – August 31st would be $2.60 – the lowest since 2009. The average price through the end of 2015 is forecast to be $2.47. If that forecast holds true, the average price for this year ($2.43) would also be the lowest since 2009.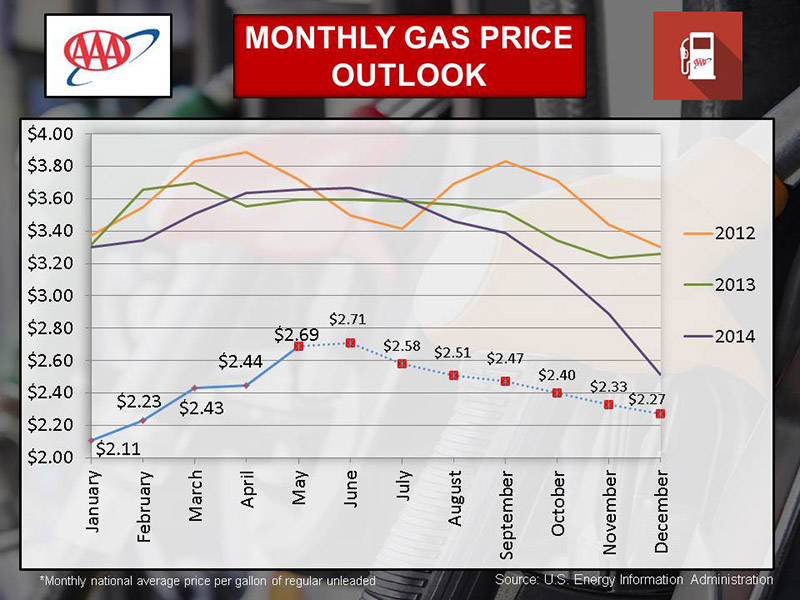 «Read the rest of this article»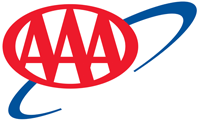 Tampa, FL – Tensions between Saudi Arabia and Libya caused oil prices to briefly spike last week, and Florida gas prices responded in kind. The average price for a gallon of gasoline rose 10 cents in Florida, but is about the same in Georgia and Tennessee.
"The increase in oil came at a time when gasoline supplies in Florida are already tight," said Mark Jenkins, spokesman, AAA – The Auto Club Group. "March is the peak month for gasoline demand in Florida, because the weather warms up, people drive more, and there are more visitors for spring break and Major League Baseball Spring Training. Plus, it is still maintenance season, and refinery gasoline output is reduced." «Read the rest of this article»