Topic: Soda Fountain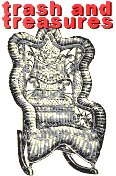 Cross Plains, TN – Trash and Treasures celebrated its 25th Anniversary this year. This yard sale extravaganza  takes place in Cross Plains, a small town on Route 25 East, about 15 miles from Springfield. If you've never visited the town, you don't know what a great time you've missed.
On Friday and Saturday during the last weekend in June, the town becomes a yard sale junkie's paradise. Up and down both sides of the main street of Cross Plains are scores of yard sales with everything from furniture to tiny collectibles.
You can find wooden ironing boards, toys, clothing, books, glassware, flowering plants, sorghum, canned jams and jellies, antiques, lemonade, bird houses, mounted deer heads, knives, lamps, cars, pedal cars, old and new tools, dishes, crystal, jewelry, handmade cards, stationery, barbecue, baked goods, and almost anything else you can think of! «Read the rest of this article»