Topic: Stolen Vehicle
Updated News Release, read the original Story


Clarksville, TN – The vehicle which was reported stolen and the man who allegedly stole the vehicle were located by officers on the parking lot of the North Second Street McDonald's (Clarksville) in the parking lot around 1:30 pm today.The man, Craig A. Funches, was taken in custody without incident.
The continuing investigation by Detective Chris Nolder, uncovered some facts which were not previously provided to officers.
«Read the rest of this article»
Clarksville Police wants to make the public aware of the dangers of leaving your keys in an unattended vehicle

Clarksville, TN – On January 25th, 2013, around 8:45am, a 20 year old woman parked her 2005 Nissan Altima at the gas pumps at the Shell Station, 600 Rossview Road. She left the keys inside of the vehicle (allegedly not running) and went into the Shell Station.
When she returned to her vehicle, it had been driven off by an unknown person. The vehicle was spotted by Sgt Scott Hendrickson on the 76 Connector shortly after the theft. He attempted to stop the vehicle, but the driver fled onto I-24 eastbound at a high rate of speed.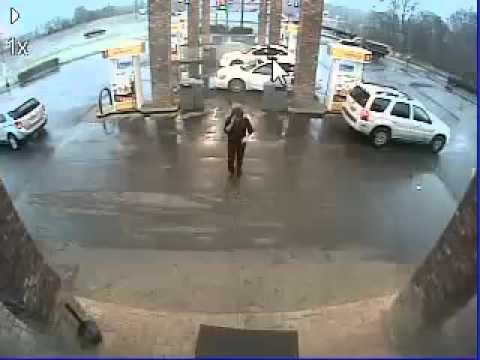 «Read the rest of this article»

Clarksville, TN – On September 15th, 2012 around 1:00pm, Clarksville Police were called to investigate a robbery which occurred early in the morning, around 5:00am at 480 Ringgold Road.
According to a 43 year old male victim and a witness, the victim was at 480 Ringgold Road with his friend, Keno Holmes, when they got into a verbal altercation.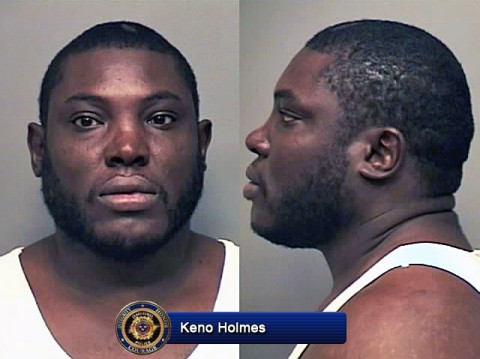 «Read the rest of this article»

Clarksville, TN – On June 17th-18th sometime between 5:00pm and 5:00am, there was lumber, shingles, Teledyne forklift, Stihl blower and chainsaw taken from a business' lot at 595 Alfred Thun Road. There were also two vehicles taken: 2012 Sterling LT8, White, TN Tag #H809585  and a 2005 HINO 165, White, TN Tag #H248776.
Both of the vehicles had the 84 Lumber logo on the vehicles. There was over $65,000 in property taken from the business.
«Read the rest of this article»

Clarksville, TN – On June 20th, 2012, around 3:00am, Clarksville Police Officer Brian Coghill spotted a vehicle believed to have been involved in the June 18th, 2012 thefts at Best Motors on Fort Campbell Boulevard.
He made voluntary contact with the vehicle's occupants Daniel Huff and Shawn Jones on the parking lot of Kangaroo Express at which time he found drugs and paraphernalia inside the vehicle. There was also other electronic equipment found in the vehicle.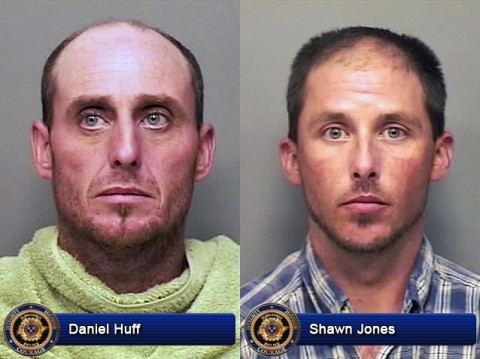 «Read the rest of this article»

Clarksville, TN – On May 28th, 2012, around 3:20am, Clarksville Police were called to 121 Bluegrass Road about a Building Supply Truck that had crashed into a house.
When officers arrived on the scene, they found a truck had left the roadway, hit a tree, continued on, crashed into a house, and then overturned in the front yard. There was a large portion of the front brick on the house torn away.
«Read the rest of this article»

Clarksville, TN – One of local law enforcement's frequent fliers has been arrested again. On April 26th, 2012, Marcellus Flynn was in possession of a stolen vehicle and driving on a revoked license when he was taken in custody on Providence Boulevard.
He already had several warrants on file when he had took the 2010 Dodge Avenger on April 24th, 2012. Officers tried to stop him on multiple times after the theft, but Flynn fled each time.

«Read the rest of this article»

Clarksville, TN – Clarksville Police need help identifying a man that used a deceased person's identity after stealing two vehicles.
A man stole two vehicles, a 2002 Nissan Pathfinder and a 1998 Nissan Frontier, and sold them to a salvage yard. He used a Tennessee driver's license as identification which belonged to Stephen Anthony Tiell, 29, Clarksville who has been deceased since July 2011. The vehicles value was approximately $9,000.
Anyone with information is asked to call the TIPSLINE, 931.645.8477.

Clarksville, TN – On June 22nd, around 5:53pm, a stolen vehicle was involved in an injury crash at the intersection of Martin Street and Crossland Avenue. A 2003 Ford Expedition driven by an unknown male was traveling north on Martin Street, did not stop at the Stop sign, and collided with a 97 Ford F-150, driven by Larry Rogers, 55, of Clarksville traveling west on Crossland Avenue.
«Read the rest of this article»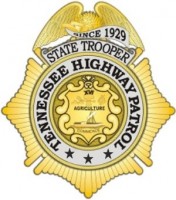 Nashville, TN – A Tennessee State Trooper stopped a suspected stolen vehicle in Cheatham County Monday leading to the arrest of a man facing kidnapping charges in the state of Missouri.
On Monday, February 14th, 2011 at approximately 3:17pm, Trooper Travis Plotzer was traveling westbound on I-40 near mile marker 192 in Cheatham County when he noticed a possible stolen vehicle. After confirming the stolen tag through dispatch, Trooper Plotzer initiated a stop of the vehicle at exit 188 in Kingston Springs. Upon approaching the Mitsubishi, the male driver indicated he had no driver license. After a brief conversation the driver fled on foot but was later apprehended. «Read the rest of this article»