Topic: Superman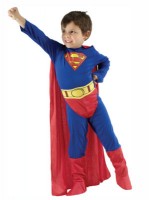 Bill, my dear husband, was like most little boys when he was growing up—eagerly interested in trying out new and exciting adventures.
That's why Superman—and all super heroes—are so fascinating to children. The urge to fly is somehow innate. We see birds do it. We see butterflies do it. We see tiny insects do it. Why can't we?
In Bill's case, he decided that if Superman could do it, so could he. Confiscating a towel to use as a cape, he sneaked over to a neighbor's farm and climbed up into the barn. Climbing the ladder into the loft was a cinch as was opening the doors to the outside.
That's when things became a bit complicated.
Bill didn't think of Superman as his only hero; he also wanted to be Lash Larue, Roy Rogers and Hopalong Cassidy all rolled into one. He had seen these guys do fantastic horse riding tricks like jumping from the ground onto the back of the horse and into the saddle. He figured that the next step would be to jump from the hayloft, fly like Superman, and land on the back of the horse to ride off into the sunset.
It just so happened that no horse appeared to be available at that moment.
Enter an unsuspecting goat. «Read the rest of this article»