Topic: Tennessee Department of Agriculture

Nashville, TN – The Tennessee Department of Agriculture Division of Forestry and Huber Engineered Woods LLC (HEW) are teaming up to initiate the Trees for Tennessee Seedling Program.
The program aims to provide an avenue for the establishment of as many as 1 million pine seedlings on at least 400 acres throughout the greater Tennessee Valley and Cumberland Plateau.
«Read the rest of this article»

Nashville, TN – If you can't find your way into the path of totality for the August 21st, 2107 total solar eclipse, don't worry. There's enough darkness to go around.
Although a total eclipse will be visible across a mere 70 mile swath through Tennessee, the rest of the state will still be treated to a minimum 90 percent eclipse experience. Any open area is a great place to enjoy the event, and many of Tennessee's farms and all of Tennessee's wineries are ready to share their space with spectators who want to celebrate the phenomenon.
«Read the rest of this article»

Nashville, TN – Tennessee's wet and muddy spring quickly gave way to a hot and sunny summer. For the state's farmers and for the customers who wait anxiously for seasonal you-pick farms and farmers markets to open, the race is on to fill buckets, market booths, pantries and home freezers with local produce.
Fruits in particular have relatively brief growing seasons, and the recent turn in the weather caused blueberry and blackberry crops to ripen rapidly. Early peaches are available at some Tennessee orchards.
«Read the rest of this article»
Written by Curtis Johnson
Tennessee State Representative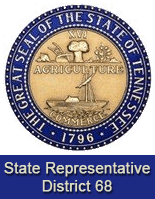 Nashville, TN – The first session of the 110th Tennessee General Assembly adjourned on May 10th, 2017, after passing major legislation that will benefit Tennesseans for generations to come. This is Part 10 of a 12 Part report.
This includes a measure making Tennessee the first state in the nation to offer all adults without a degree tuition-free access to community college; a new law rebuilding a safe and reliable transportation network, while reallocating revenues to maximize taxpayers' return on that investment; and a bill which provides a responsible path to improve access to broadband through investment, deregulation, and education.
Action in the General Assembly also included passage of a balanced budget which takes on no new debt, as well as legislation protecting the elderly, enhancing the state's robust job growth, cracking down on crime, and boosting efforts as the fastest improving state in the nation in K-12 student achievement. Following is a report on key legislation passed this year.
«Read the rest of this article»

Nashville, TN – The state veterinarian is advising dog owners to monitor their pets due to reports of canine influenza in Tennessee.
The UT College of Veterinary Medicine recently confirmed detection of canine influenza (CI) in four dogs in East Tennessee. The illness in three of the dogs is believed to have originated at a dog show in Perry, Georgia.
«Read the rest of this article»

Nashville, TN – The state veterinarian for Tennessee is urging all poultry owners to take extra precautions to protect their flocks from illness.
"We are working to protect the poultry population from exposure to avian influenza," State Veterinarian Dr. Charles Hatcher said. "The best way to protect your birds is to increase your biosecurity measures and particularly, to keep your birds at home for now."
«Read the rest of this article»

Nashville, TN – The state veterinarian confirms that a flock of chickens at a commercial poultry breeding operation has tested positive for low pathogenic avian influenza (LPAI).
This chicken breeding operation is located in Giles County, Tennessee. The company that operates it is a different company from the one associated with the recent detection of highly pathogenic avian influenza (HPAI) in Lincoln County. At this time, officials do not believe one premises sickened the other.
«Read the rest of this article»

Nashville, TN – The Tennessee Department of Agriculture's Agricultural Crime Unit, along with authorities in Sequatchie County, have charged 24-year-old Dakota Ashton Tucker of Monteagle for deliberately setting a fire that burned 65 acres.
Tucker is now charged with setting fire to personal property or land for the fire that occurred November 14th near Sunshine Road in Sequatchie County. He is currently being held in the Grundy County jail. Additional charges against Tucker are pending.
«Read the rest of this article»

Nashville, TN – Christmas trees are not the only draw to Tennessee's Christmas tree farms.
"The best reason to visit a local Christmas tree farm is to make great memories," Tennessee Department of Agriculture Marketing Specialist Clay Dunivan said. "People have so much fun being outdoors at a farm during the holiday season."
"Friends and families can enjoy a wagon ride through the trees, drink hot chocolate or cider, see Santa Claus, take a holiday crafts class, and even make their own wreaths and garland—with the help of the farmer, of course," stated Dunivan.
«Read the rest of this article»

Nashville, TN – With unseasonably warm weather persisting well into the fall, mosquito-borne illnesses remain a serious health threat for horses in Tennessee.
A horse in Dyer County and a horse in Gibson County both recently tested positive for West Nile Virus (WNV).
A horse in Chester County has tested positive for Eastern Equine Encephalitis (EEE).
Sick horses cannot directly infect people with WNV or EEE.
«Read the rest of this article»