Topic: Tennessee State Representative
Written by Joe Pitts
Tennessee State Representative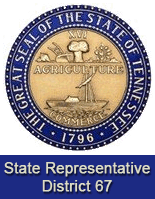 Nashville, TN – Tennesseans from Montgomery County will head to the polls on November 6th, 2018 with an updated way to proudly honor someone who is serving or has served our country.
The Honor Vote program allows registered Tennessee voters to dedicate their vote to a U.S. veteran or active duty military member, both online and with a commemorative button, to thank them for protecting our country.
Once enrolled, dedications are posted on the official Honor Vote List as well as the Honor Vote Twitter account @tnhonorvote. Voters can also share their dedication on Twitter, Facebook and Instagram using #GoVoteTN.
«Read the rest of this article»
Written by Joe Pitts
Tennessee State Representative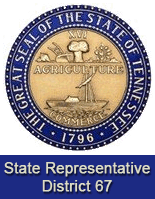 Clarksville, TN – On Thursday, July 19th, 2018 at 10:00am a ceremony will be held to officially designate the naming of a portion of Hwy 41A North, also known as Providence Boulevard, as the Pastor Jimmy Terry, Sr. Memorial Highway at First Baptist Church in Clarksville.
A presentation of the signage marking the designation will be made to Sister Servella Terry, widow of the late Pastor Jimmy Terry, and she will also make remarks at the event.
The Montgomery County delegation of the Tennessee General Assembly sought passage of the bill to honor the life, legacy and memory of Pastor Terry after his passing in June 2017.
«Read the rest of this article»
Clarksville Area Chamber of Commerce

Clarksville, TN – The Clarksville Area Chamber of Commerce is pleased to announce that Jay Albertia, President and CEO of Progressive Directions, Inc., will assume the role as Board Chairman for the 2018-2019 term.
"Jay is an excellent choice as the next Board Chairman for the Chamber and we are looking forward to being under his leadership this year," said Chamber Executive Director Melinda Shepard.
«Read the rest of this article»

Clarksville, TN – The Academy for Academic Excellence held it Class of 2018 Graduation and Awards Ceremony recently at First Baptist Church.
The evening began with a performance by the Music For Mercy Band, as friends and families of this year's seven graduating seniors entered the venue. The band was formed after the passing of AAE's Founder and Director Mercy Yrabedra in 2012, to honor her legacy as a musician and educator.
«Read the rest of this article»

Clarksville, TN – Tennessee State Representative Jay Reedy, a U.S. Army veteran and Austin Peay State University alumnus, will be the guest speaker at APSU's Spring 2018 Military and Veteran Graduate Recognition Ceremony and Coin Presentation next week.
The ceremony, set for 5:00pm on Wednesday, May 2nd, 2018 in the Morgan University Center Ballroom, honors Austin Peay's graduating students who are either veterans, National Guard, reservists or active-duty military personnel.
«Read the rest of this article»
Written by Curtis Johnson
Tennessee State Representative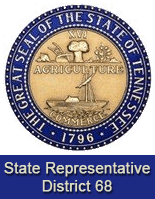 Nashville, TN – The Tennessee House passed several key bills this week, including the state budget and major legislation to curb opioid abuse, as the 2018 session of the Tennessee General Assembly draws to a close. The $37.5 billion "no growth" budget proposes state government spending for the next fiscal year that begins July 1st, 2018 and extends to June 30, 2019.
The balanced budget addresses opioid abuse, school safety, teacher funding, rural economic development and job growth, while allocating additional funds for the care of Tennessee's most vulnerable citizens. The bill focuses on the four "e's" of Tennessee: employment, education, economic opportunity and enforcement of the law.
«Read the rest of this article»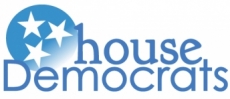 Nashville, TN – The Tennessee House Democratic Caucus yesterday called for the resignation of Candace McQueen, the state Commissioner of Education.
The move comes in the wake of problems administering the statewide testing system known as TN Ready.
The on-line tests experienced connectivity problems Tuesday across the state, followed by apparently different connection problems Wednesday. Education officials said on Twitter that Wednesday's issues may have been attributable to a cyber "attack".
«Read the rest of this article»
Written by Curtis Johnson
Tennessee State Representative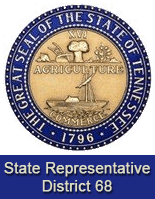 Nashville, TN – Wednesday morning, House members unanimously passed a measure to strengthen identity protections for our military veterans.
House Bill 2130, also known as the Tennessee Stolen Valor Act, is designed to safeguard the identities of Tennessee veterans who serve the state and nation by cracking down on instances of theft and fraud involving those who attempt to imitate them.
The measure creates a Class A misdemeanor, punishable by up to 11 months and 29 days in jail, as well as a fine of up to $2,500, for anyone who impersonates a veteran or individuals who fraudulently represent their service with the intent of obtaining money, property, services, or any other tangible benefits.
«Read the rest of this article»
Written by Joe Pitts
Tennessee State Representative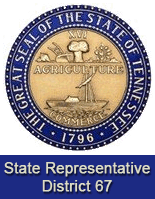 Nashville, TN – Art Therapy Licensing Bill – House Bill 2150 (Rep. Joe Pitts, D-Clarksville) and Senate Bill 2127 (Senator Ed Jackson, R-Jackson) would set up a licensing procedure through the Tennessee Department of Health. "This legislation was brought to me by a group of art therapy professionals requesting the State to set up this procedure," Pitts said.
Art therapy will be another tool in the toolbox to assist Tennesseans with mental illness, people with cancer, people with Dementias & Alzheimer's, as well as active duty military, veterans, and military families.
«Read the rest of this article»
Tennessee Governor Appoints UT Board of Trustees Members

Nashville, TN – Tennessee Governor Bill Haslam praised passage of the University of Tennessee Focusing On Campus and University Success (FOCUS) Act, legislation that restructures the UT Board of Trustees to improve governance of the UT system and establishes advisory boards for the primary UT campuses to create a local focus for each campus.
The University of Tennessee FOCUS Act, SB2260/HB2115, reduces the current size of the UT Board of Trustees, empowering the reconstructed board to better oversee the multiple campuses that comprise the UT system.
«Read the rest of this article»