Topic: Tennessee State Representative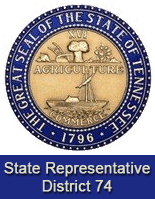 Clarksville, TN – Tennessee State representative John Tidwell has entered into a battle with Tennessee state troopers that unfairly ticketed motorcyclists while incorrectly citing a law that Tidwell authored.
A group of riders complained to Tidwell about a recent incident in which they were pulled over by a state trooper for allegedly not wearing Department of Transportation-approved helmets.
The trooper then made the riders wait on the shoulder of the interstate for 45 minutes, while a friend brought the appropriate helmets from Nashville.
«Read the rest of this article»
Clarksville, TN – In response to the Army's recent Supplemental Programmatic Environmental Assessment (SPEA), Clarksville Mayor Kim McMillan, joined by Montgomery County Mayor Carolyn Bowers and Clarksville Area Chamber of Commerce Executive Director Melinda Shepard, sent public comments on behalf of Clarksville-Montgomery County describing the significant impact a troop reduction could have on the community. «Read the rest of this article»
Montgomery County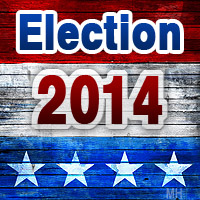 New Johnsonville, TN – Tennessee State Representative John Tidwell is announcing his re-election bid as the Democratic nominee for State House District 74, covering Humphreys, Houston and the western part of Montgomery County.
"We were able to accomplish some great things this year, but we still have a long way to go help working families in Tennessee," said Rep. Tidwell. "I hope to return next year and continue to find more ways to improve the lives of veterans, provide jobs for hard-working families, and ensure that all families have access to high-quality health care."
«Read the rest of this article»
Written by Joe Pitts
Tennessee State Representative – District 67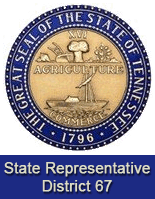 Nashville, TN – A cross burning outside the New Hope Missionary Baptist Church, 1300 Rossview Road is a tragedy of unspeakable proportions. Our community is better than that.
We are calling on the community to rally around this church on Thursday, July 31st, 7:00pm at the church. A few songs and a prayer for unity and forgiveness will be offered at the event. The event will end promptly at 7:30pm.
"Please share this news with your neighbors and fellow church members. Let us stand up as a community and say we will not tolerate this kind of hate," said Joe Pitts. «Read the rest of this article»
Tennessee State Representative Joe Pitts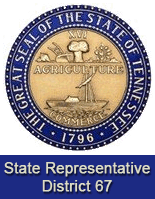 Nashville, TN – Since January 11th, Tennessee Housing Development Agency (THDA) has helped more than 7,000 families avoid foreclosure through our Keep My Tennessee Home program, funded by the U.S. Department of Treasury's Hardest Hit Fund.
We are proud that our program has enabled Tennessee to be among the most aggressive states in putting these funds to work on behalf of eligible households. I want to let you know that the funds awarded to Tennessee have been almost fully committed.
We are closing the program August 31st but for cases eligible under a separate, related fund provided by the National Mortgage Settlement.
«Read the rest of this article»

Clarksville, TN – Maria Jimenez, local accountant and creator of the "FUN Accounting for Preschoolers" program, issued a challenge to the children of the Summer Youth Program.
Participants in the Clarksville Parks and Recreation program were given the opportunity to develop a business plan for a fictional business or profession of their choosing.
«Read the rest of this article»

Clarksville, TN – The Clarksville Area Chamber of Commerce is pleased to announce the 2014-2015 Chamber Board of Directors.
The Chamber elects new leadership each fiscal year, with the fiscal year running from July 1st, 2014 to June 30th, 2015.
«Read the rest of this article»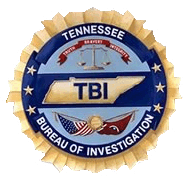 Nashville, TN – The Tennessee Bureau of Investigation has obtained indictments in the case of a Warren County political hopeful accused of passing a bad check to pay for his campaign signs.
At the request of 31st District Attorney General Lisa Zavogiannis, TBI Special Agents began investigating Kristopher Lynn Gore on May 8th.

«Read the rest of this article»

New Johnsonville, TN – On Thursday, Tennessee State Representative John Tidwell hosted a Jobs Fair with the support of the Tennessee Department of Labor.
Over 180 people attended the regional Jobs Fair held in Dickson County with 31 employers from around the region participating.
«Read the rest of this article»
Jobs4TN Hiring event will include over 30 regional employers

Dickson, TN – Tennessee State Representatives David Shepard (D-69) and John Tidwell (D-74) will be co-hosting a job fair on Thursday, June 19th from 10:00am to 2:00pm at the Lester Speyer Community Complex, 115 Tennsco Drive, Dickson, TN.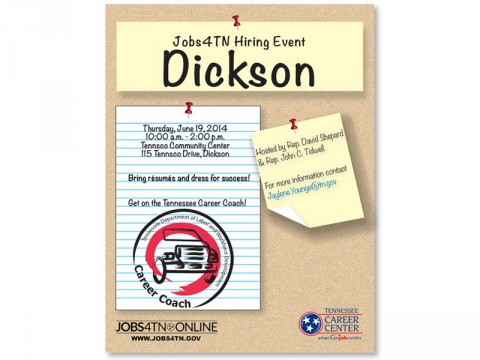 «Read the rest of this article»