Topic: Tennessee State Representative
Tennessee State Representative Curtis Johnson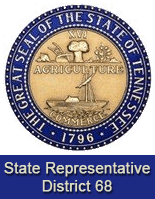 Nashville, TN – Tennessee Governor Bill Haslam delivered his annual State of the State Address to a joint convention of the legislature this week, unveiling his budget for the 2016-2017 fiscal year. Haslam addressed multiple issues during the State of the State, the most prominent of which include job recruitment and workforce development, a continued push to make government more efficient and effective, and major investments in both K-12 and higher education.
Among the key points in the Governor's speech was a focus on a balanced budget, low taxes, fiscal responsibility, and the proposal of 261 million in new dollars for Tennessee public education, including $104.6 million for teacher salaries — the largest investment in K-12 education without a tax increase in state history.
«Read the rest of this article»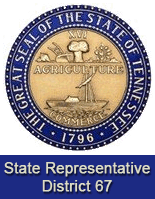 Nashville, TN – Tennessee State Representative Joe Pitts (D-Clarksville) has sponsored more than twelve bills during this legislative session and over the next few days we will send out a series of updates explaining the proposals and providing an update on their progress in the system.
House Bill 1629/Senate Bill 1615 (Senator Mark Green (R-Clarksville) is part of the Montgomery County government's legislative agenda and authorizes local governments to enter into cooperative purchasing agreements with federal agencies. This legislation cleared the Local Government Sub-committee this week and will be heard in the Local Government Full Committee on February 9th, 2016.
«Read the rest of this article»
Curtis Johnson sponsors measure to address cost parity among treatments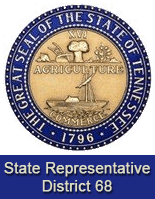 Nashville, TN – Tennessee State Representative Curtis Johnson (R-Clarksville) is sponsoring SB2091/HB2239, the Cancer Treatment Fairness Act, to ensure that cancer patients are able to get the most medically appropriate treatment, as decided between the physician and patient.
Traditional treatments are usually given through an IV or injection and are covered under health care benefits resulting in a small co-pay or no cost at all to patients. Oral treatments are usually part of the health plan's pharmacy benefit and result in high out-of-pocket costs for patients. This disparity is a result of our laws not keeping up with scientific advancements, which can negatively impact patients taking their medication as prescribed.
«Read the rest of this article»

Nashville, TN – Tennessee Governor Bill Haslam and Department of Veterans Services Commissioner Many-Bears Grinder dedicated the new Brigadier General Wendell H. Gilbert Tennessee State Veterans Home in Clarksville today.
Haslam was also joined by Speaker Pro Tem Curtis Johnson (R-Clarksville), Representative Joe Pitts (D-Clarksville), Senator Mark Green (R-Clarksville), Clarksville Mayor Kim McMillan, Montgomery County Mayor Jim Durrett, Tennessee State Veterans Homes Executive Director Ed Harries and Tennessee State Veterans Homes Administrator Warren Jasper.
«Read the rest of this article»
Tennessee Treasurer David Lillard Awards $10,000 in TNStars Scholarships to Winners from Around the State

Nashville, TN – Treasurer David H. Lillard, Jr. started 2016 by awarding $1,000 scholarships to the winners of the TNStars, 10 Kids: $10,000 Holiday Scholarship Giveaway.
The winners and their families gathered at the Tennessee State Capitol this week for a special celebration with the Treasurer, joined by Speaker Beth Harwell and Representatives Susan Lynn and Mike Carter.
«Read the rest of this article»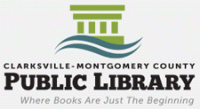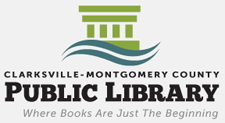 Clarksville, TN – Ava Ploeckelman, 13-year-old library user and Girl Scout recently did a good deed for the public library. "There was a need for a comfortable and attractive seating area in the teen section of the library," she said.
She chose as her Girl Scout Silver Award project to take on providing this seating. Ava proceeded to fundraise through a variety of methods, including producing and selling some of the best cupcakes Clarksville has seen. Ploeckelman also enlisted the help of the Friends of the Clarksville-Montgomery County Public Library and Tennessee State Representative Joe Pitts for donations.
«Read the rest of this article»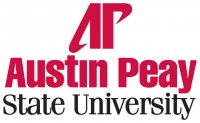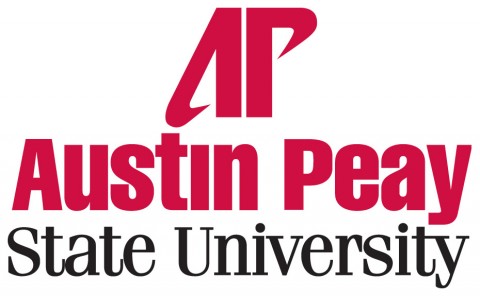 Clarksville, TN – At Kenwood High School on Tuesday, 18-year-old Skylar Hughes presented Austin Peay State University President Alisa White with a $25,000 check.
The money, which Skylar helped raise, will fund the Kathryn Watson Over Endowment—a new scholarship, named for Skylar's former teacher, that will be awarded each year to a Kenwood graduate majoring in education at APSU.
«Read the rest of this article»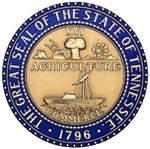 Nashville, TN – Earlier today, State Representative Eddie Smith (R–Knoxville) and State Senator Jim Tracy (R–Shelbyville) officially announced they have filed legislation to restore approximately $261 million that was raided from the state's highway fund between 2001 and 2007.
The money will be used for backlog transportation road projects across the state and will aid in avoiding an increase to the state's gasoline tax. Currently, Tennessee has a backlog of road projects totaling $6.1 billion. «Read the rest of this article»
Written by Leon Roberts
U.S. Army Corps of Engineers, Nashville District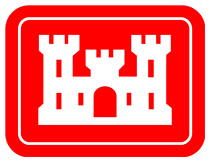 Nashville, TN – The Mississippi River Commission recently navigated the Tennessee River and Cumberland River to gain a fresh perspective for the development of plans to improve the condition of the Mississippi River Basin, foster navigation, promote commerce, and reduce flood risk.
The commission met with stakeholders while inspecting the waterways and visited U.S. Army Corps of Engineers Nashville District and Tennessee Valley Authority projects.
«Read the rest of this article»
Panel to include festival organizers, Tennessee city leaders

Nashville, TN – Senate Minority Leader Lee Harris and State Representative John Ray Clemmons will host a roundtable discussion on gun legislation and possible impacts on local economies at 9:00am August 13th in the legislative library in the state Capitol. «Read the rest of this article»