Topic: Terrence Smith
UT Martin vs. Austin Peay Governors
Saturday, March 2nd, 2013 | 7:30pm (CT)
Clarksville, TN | Dunn Center (7,257)

Clarksville, TN – Austin Peay State University will wrap up the 2012-13 season, 7:30pm, Saturday when it plays host to UT Martin.
Saturday's game will be the final in the star-crossed careers of Anthony Campbell and Jerome Clyburn, both fifth-year seniors.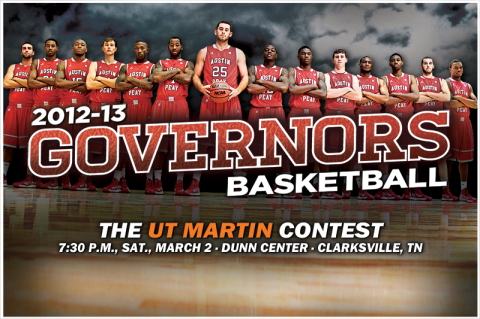 «Read the rest of this article»
Austin Peay Governors vs. UT Martin
Saturday, January 5th, 2013 | 6:00pm
Elam Center| Martin, TN

Martin, TN – After three straight excruciating defeats, including the last two by two points, Austin Peay will attempt to find that winning formula, 6:00pm, Saturday when it plays UT Martin at the Elam Center.
«Read the rest of this article»
APSU Men's Basketball

Martin, TN – On the surface Austin Peay's bid to open the 2010-11 Ohio Valley Conference at 6-0 would seem to be a mismatch when the Governors face UT Martin, 6:00pm, Monday.
The Governors come in amidst a five-game winning streak and already have won three league road games after ending Murray State's 25-game home winning streak, 66-64, Saturday.
Meanwhile, UT Martin enters the contest amidst a five-game losing streak and is winless in the OVC at 0-5.
«Read the rest of this article»