Topic: Texas
#3 Tennessee Vols vs. #14 Wright State
Thursday, March 15th, 2018 | 11:40pm CT
Dallas, TX | American Airlines Center | TV: trvTV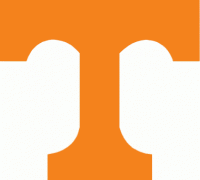 Dallas, TX – For the first time since 2014, Tennessee men's basketball is heading to the NCAA Tournament, preparing for a first-round matchup with Wright State on Thursday, March 15th at American Airlines Center. The game tips at 11:40pm CT and will be televised live on truTV.
The No. 3 seeded Volunteers (25-8) claimed a share of the SEC Regular-Season Championship after being picked to finish 13th by select media during the preseason. This year's squad is one of only four Tennessee teams to ever win 25 games in a single season and will be the 21st UT team to represent the Vols in the Big Dance.
«Read the rest of this article»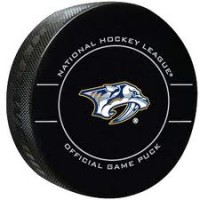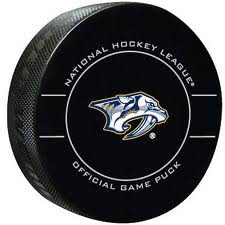 Nashville, TN – The Nashville Predators defeated the Dallas Stars 2-0 at Bridgestone Arena tonight, setting a franchise record for consecutive wins at 9 in a row.
Ryan Hartman scored the game winner after two lackluster periods at 5:33 of the third period when his backhanded shot went "top shelf" over Dallas goalie, Kari Lehtonen, for the 1-0 lead.
That was all the Predators would need on this night against the Stars, but for good measure, Nick Bonino scored an empty netter with 14 seconds remaining in regulation for the 2-0 final.
«Read the rest of this article»
APSU Sports Information

Bowling Green, KY – Austin Peay's softball team got outstanding pitching performances in both of their games, Saturday at the Western Kentucky Hilltopper Spring Fling Tournament, with the Governors defeating Dayton 3-0 and host Western Kentucky 6-1 to advance to the tournament's championship game.
Kelly Mardones was stellar for Austin Peay (6-6) in the opener versus Dayton (4-11), holding the Flyers to just two hits and a walk, while striking out four.
«Read the rest of this article»
#12 Tennessee Lady Vols vs. #8 South Carolina
Friday, March 2nd, 2018 | 6:00pm CT
Nashville, TN | Bridgestone Arena | TV: SEC Network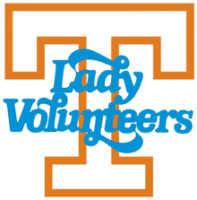 Nashville, TN – No. 12/12-ranked Tennessee (24-6, 11-5 SEC) faces No. 8/8 South Carolina (23-6, 12-4 SEC) in the quarterfinals of the SEC Tournament at 6:00pm CT (7:00pm ET) Friday at Bridgestone Arena.
This will mark UT's 100th SEC Tournament game, standing at 78-21 entering the contest. Tennessee also will be seeking its 25th win of the campaign, which would mark the 35th such season victory total all-time and the fourth occasion under Holly Warlick.
The Lady Vols, who tied for fourth in the SEC regular-season standings (one game out of second place), slid to a No. 7 seed by virtue of a tiebreaker with No. 4 LSU, No. 5 A&M and No. 6 Missouri. South Carolina tied for second in the standings and earned the No. 2 seed by tiebreaker over UGA.
«Read the rest of this article»

Nashville, TN – Tennessee Attorney General Herbert H. Slatery III has joined a coalition of 20 States asking a federal district court in Texas to hold the Affordable Care (ACA) unconstitutional and to enjoin the entire law.
"The lawsuit filed today explains that in 2012 in NFIB v. Sebelius the U.S. Supreme Court narrowly upheld the core provision of the ACA—the individual mandate—because the Court viewed ACA's penalty for not complying with the individual mandate as a 'tax'", said Attorney General Slatery.
«Read the rest of this article»
Written by Harold F. Pierce/Rob Gutro
NASA's Goddard Space Flight Center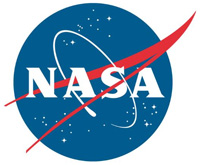 Greenbelt, MD – Much of the U.S. Midwest has received above normal precipitation this winter. A NASA rainfall analysis provided a look at the precipitation that contributed to current flooding.
Recent heavy rainfall and melting snow has caused flooding from eastern Texas to Michigan. Major flooding is expected along the Ohio River in Illinois and Kentucky.
On February 23rd, the National Weather Service noted that several locations along the Ohio River near Louisville were under flood warnings. Parts of Arkansas and Indiana are also preparing for major flooding.
«Read the rest of this article»
#15/14 Tennessee Lady Vols vs. #7/6 South Carolina
Sunday, February 25th, 2018 | 3:02pm CT
Knoxville, TN | Thompson-Boling Arena | TV: ESPN2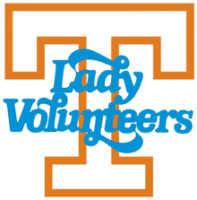 Knoxville, TN – No. 15/14 Tennessee (22-6, 10-5 SEC) and #7/6 South Carolina (23-5, 12-3 SEC) close out the regular season with a 3:02pm CT match-up on Sunday, February 25th at Thompson-Boling Arena. UT is expecting a crowd approaching 12,000, but good seats are still available.
South Carolina sits in second place in the SEC standings, while the Lady Vols are tied for fifth with Texas A&M and LSU.
This marks the 56th all-time meeting in the series, with Tennessee leading, 49-6. The Lady Vols are seeking a season sweep of the Gamecocks and will try to extend their win streak vs. South Carolina to three games.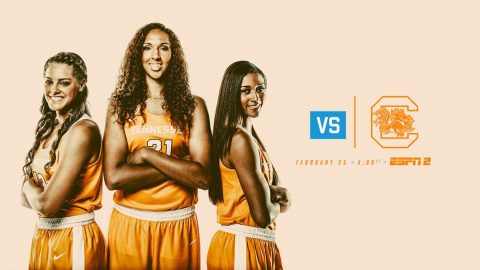 «Read the rest of this article»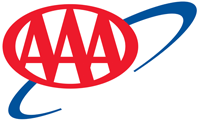 Tampa, FL – The national gas price average has been steadily decreasing for nearly two weeks dropping from the year-to-date high of $2.61 (on February 5th) to today's national average of $2.53.
Motorists in nearly every state are paying less on the week with Midwest and Southern states seeing the largest price drops at the pump. Hawaii (+2 cents) and Indiana (+1 cent) were the only states to see increases.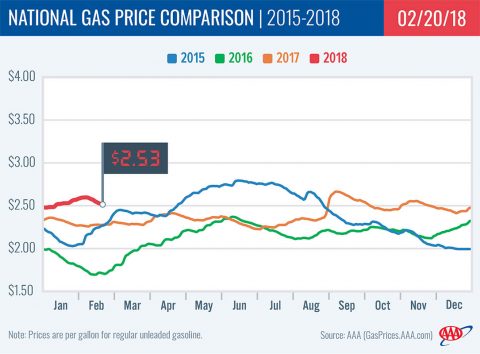 «Read the rest of this article»
#15/14 Tennessee Lady Vols at Florida Gators
Thursday, February 22nd, 2018 | 6:02pm CT
Gainesville, FL | Exactech Arena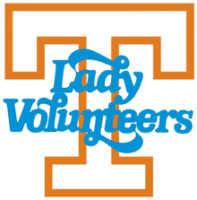 Knoxville, TN – No. 15/14 Tennessee (21-6, 9-5 SEC) makes its last road trip of the regular season, traveling to Gainesville to face Florida (11-16, 3-11 SEC) on Thursday at 6:02pm CT.
This will mark the 55th meeting between these schools in women's basketball, with UT holding a 50-4 series advantage, including 20-2 in Gainesville.
The Lady Vols and Gators also played in Tennessee's 28th game last season as well, with the Big Orange coming away with a 74-70 victory in Knoxville on February 23rd.
«Read the rest of this article»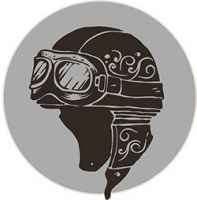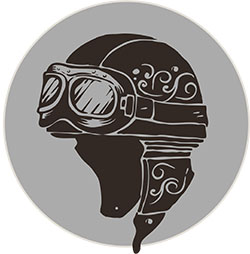 Clarksville, TN – Let me first apologize for not posting any updates in the last week. The flu bug/stomach bug has made the rounds through my household, so me and the "porcelain throne" have become "besties" this week.
One of the most common questions I get from the people I meet on this journey is, "do you stop and visit Harley dealerships when you travel?"
Yes.
I try to visit any and ALL dealerships when I'm on the road, especially Harley Davidson, because I collect Poker Chips.
«Read the rest of this article»