Topic: Thanksgiving
3,562 Deer Harvested in Montgomery County

Nashville, TN – The second of the season's youth hunts, scheduled for January 12th-13th, will conclude the 2012-13 deer hunting season in Tennessee.
Youth, ages 6-16 years of age may participate. The young sportsmen must be accompanied by a non-hunting adult at least 21 years of age who must remain in a position to take control of the hunting device.
The accompanying adult must comply with fluorescent orange regulations, as specified for legal hunters. Multiple youths may be accompanied nu a single qualifying adult. «Read the rest of this article»
Tennessee State Troopers will strictly enforce "No Refusal" Law in 16 Counties

Nashville, TN – Five people lost their lives in vehicular crashes on Tennessee roadways during last year's New Year's Eve holiday period. Sixty percent of those fatalities occurred in alcohol-related crashes.
That's why the Tennessee Highway Patrol will join with local law enforcement agencies to conduct another "No Refusal" DUI enforcement campaign during the 2012-13 New Year's Eve holiday, beginning at 6:00pm, Friday, December 28th and concluding at midnight on Tuesday, January 1st, 2013. «Read the rest of this article»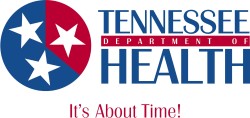 Nashville, TN – Since Thanksgiving, the Tennessee Department of Health has resumed efforts to contact patients who received tainted steroid injections, believing some were at risk for new or additional infections at or near the injection site.
That has, indeed, been the case as a total of 23 people have been identified as having new, localized infections.
Altogether 107 persons in Tennessee have confirmed illnesses of some type associated with injections of contaminated methylprednisolone acetate from New England Compounding Center. No infections from other contaminated NECC products have been identified in Tennessee to date. «Read the rest of this article»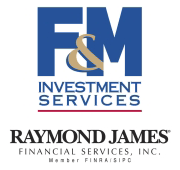 Clarksville, TN – Even though the market indexes showed little change in November, the end of 2012 looks promising as the U.S. economy rebounded despite a highly contentious election cycle and the devastating effects of Hurricane Sandy thanks to some encouraging numbers from key indicators.
The Dow Jones Industrial Average experienced a post-election trough and ended the month north of 13,000, but still flat compared to the end of October. The NASDAQ mirrored the DJIA, bottoming at 2,837 on November 15th to close at a near month-high at 3,010. Likewise, the S&P 500 rallied from a low of 1,353 for November to end the month at 1,416. «Read the rest of this article»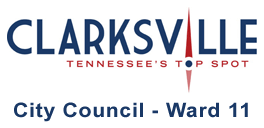 Clarksville, TN – Clarksville Ward 11 Councilwoman Kaye Jones will be holding a Town Hall Meeting on Monday, December 11th at 6:30pm at Clarksville Gas and Water on Madison Street.
Due to Clarksville Mayor Kim McMillan's visit to Saudi Arabia, the regular City Council schedule has changed. The Executive Session will be on December 10th, and then Regular Session on December 14th.
Because of this, her Town Hall meeting was moved to a later date than normal.
Kaye Jones hopes each of you had a very special Thanksgiving, and are ready for the Holiday Season.
Sunday, December 2nd, 2012 • Noon CT
LP Field • Nashville, TN • TV: CBS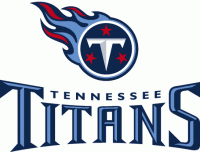 Nashville, TN – This week the Tennessee Titans (4-7) play their second of three consecutive games against AFC South opponents, as they host the division-leading Houston Texans (10-1). Kickoff at LP Field (capacity 69,143) is scheduled for noon CT on Sunday, December 2nd.
The clubs played their first of two annual contests on September 30th at Reliant Stadium. The Texans prevailed by a final score of 38-14, despite 141 rushing yards by Titans running back Chris Johnson—his first of four 100-yard efforts over the last eight games. «Read the rest of this article»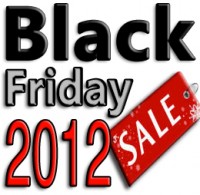 Clarksville, TN – In the traditional closing to the Thanksgiving holiday, thousands of people left their homes on Thanksgiving evening to stand out in the cold waiting for the chance to participate in Black Friday. Retailers across the country offer some of the best deals of the year to shoppers eager to begin the Christmas purchases.
Shaquana Harmon was waiting at the entrance to Governor Square Mall with her sisters and cousins. They were hoping to find some deals on some new outfits from Victoria's Secret and Old Navy. They arrived at the mall at around 8:00pm on Thanksgiving day for the midnight opening. "We were already out and about and had stopped at Walmart, and so we decided to come on over to the mall afterwards." They were the 2nd group to arrive at the main entrance with the other arriving shortly before at around 7:30 PM.
«Read the rest of this article»
Video by Staff Sgt. John Briggs
3rd Brigade Combat Team, 101st Airborne Division (AA) Public Affairs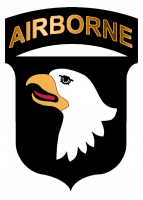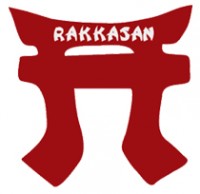 Salerno, Afghanistan – U.S. Army Soldiers from the 3rd Brigade Combat Team, 101st Airborne Division (Air Assault) out of Fort Campbelll, KY, as well as other units attend Thankgiving meal. Soldiers were served food by members of the various unit commands.
Soldiers and Civilians come together to celebrate Thanksgiving in Salerno, Afghanistan.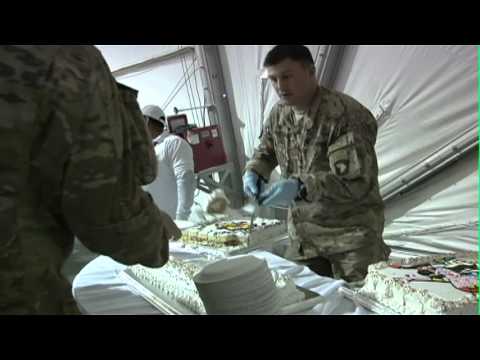 Throughout history, people have given thanks for many reasons. Thanks is given often in joyful celebration and sometimes in solemn, even prayerful, ceremony.
The United States, over hundreds of years, has come to observe a national holiday for giving thanks.
It is a time to celebrate family and friends, the arrival of crisp fall weather, the turning of the leaves, football, turkey, cornbread dressing and pumpkin pie. «Read the rest of this article»
Clarksville, TN – Tuesday night, I had the privilege of officially lighting more than one million lights to mark the start of the annual Christmas on the Cumberland activities.
We were joined by an amazing group of people from the community.
«Read the rest of this article»