Topic: Thanksgiving
Austin Peay (1-4) vs. Oakland City (2-0)
Wednesday, November 25th, 2015 | 7:00pm CT
Clarksville, TN | Dunn Center

Clarksville, TN – Austin Peay State University men's basketball team will attempt to build on its season's first victory when it plays host to Oakland City, 7:00pm, Wednesday in a pre-Thanksgiving matchup in Dave Aaron Arena.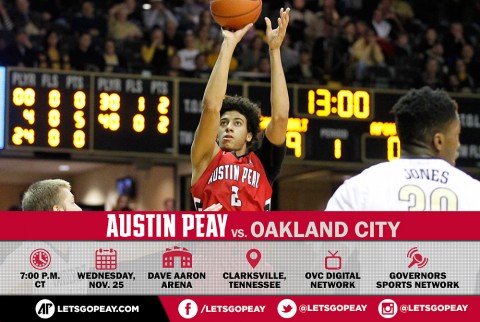 «Read the rest of this article»
Tow to Go service available November 25th – 28th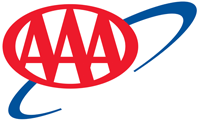 Tampa, FL – This Thanksgiving will see more travelers than it has in the past eight years. Almost 47 million people will be heading somewhere more than 50 miles from home and most of them will be doing so on the road.
With that in mind, AAA and Bud Light want motorists to plan ahead this year if they will be out drinking. This means choosing a designated driver, staying where you are celebrating, using a cab or finding another form of sober transportation.
«Read the rest of this article»
APSU Sports Information

Muncie, IN – Austin Peay State University women's basketball team saw its shooting struggles continue in a road-trip ending 72-44 loss at Ball State, Saturday, at Worthen Arena.
Austin Peay (2-4) got off to a good start as senior guard Tiasha Gray hit a pair of three pointers in the opening 2:05 to give it a 6-0 lead.
«Read the rest of this article»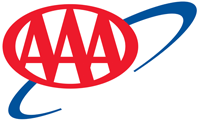 Tampa, FL – When 41.9 million Americans fill-up the car for a Thanksgiving road trip, they will pay the cheapest pump prices for the holiday since 2008. The average price of gasoline nationwide is $2.08, 72 cents lower than last year's average of $2.80 on Thanksgiving Day.
"Motorists are saving around $11 for a full tank of gas compared to this time last year," said Mark Jenkins, spokesman, AAA – The Auto Club Group. "That gives travelers more money to spend on lodging, shopping and dining out. For those on the fence about taking a trip, these low gas prices could be all the incentive one needs to hit the road."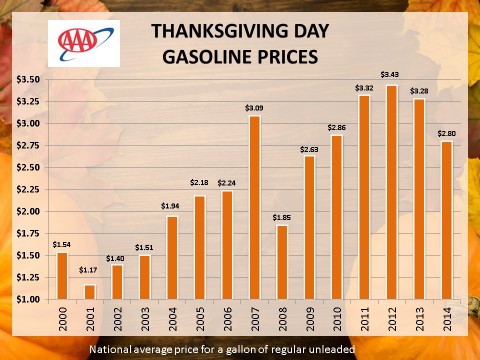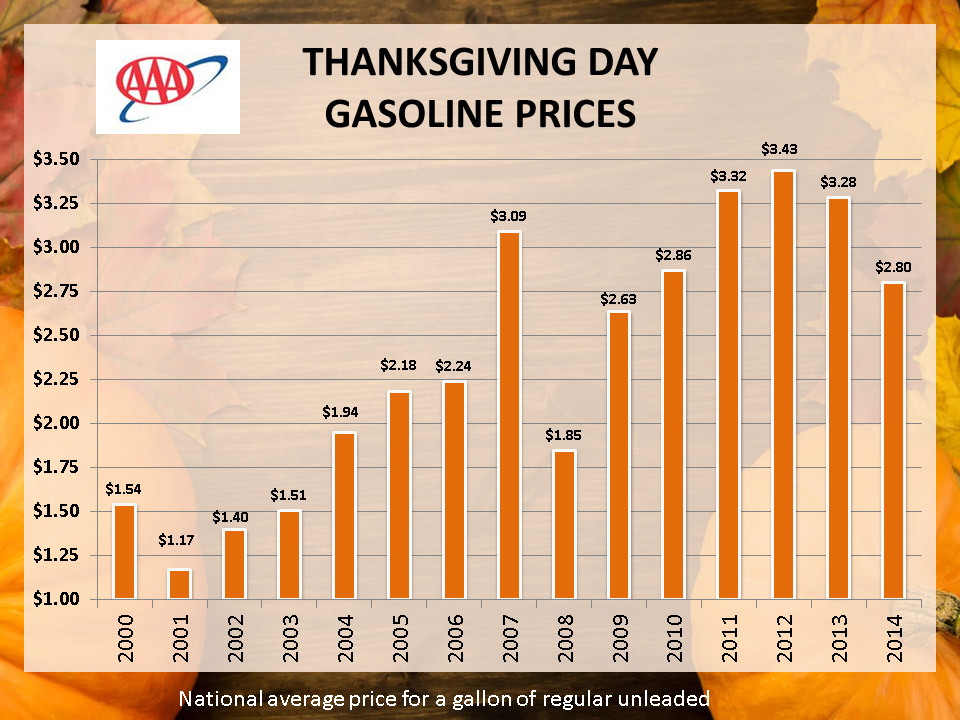 «Read the rest of this article»
Eight State Police or Highway Patrol Agencies across U.S. to Increase Patrols on I-40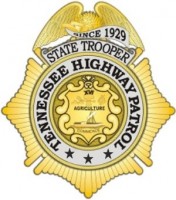 Nashville, TN – Tennessee Highway Patrol Colonel Tracy Trott on Friday announced the third annual "Interstate 40 Challenge: The Drive to Zero Fatalities" traffic safety initiative scheduled for the Thanksgiving holiday period. The announcement was held at the Carillon Pillars located within the Bicentennial Mall in Nashville.
Colonel Trott was joined by Tennessee Department of Safety and Homeland Security Commissioner Bill Gibbons, Tennessee Department of Transportation Commissioner John Schroer, Governor's Highway Safety Office Director Kendell Poole.
«Read the rest of this article»
Seventh consecutive year of growth; the most Thanksgiving travelers since 2007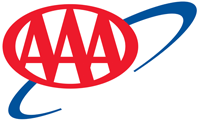 Knoxville, TN – AAA Travel forecasts 46.9 million Americans will journey 50 miles or more from home during the Thanksgiving holiday, a 0.6 percent increase from the 46.6 million people who traveled last year and the most in eight years.
With 300,000 additional holiday travelers, this marks the seventh consecutive year of growth for Thanksgiving travel.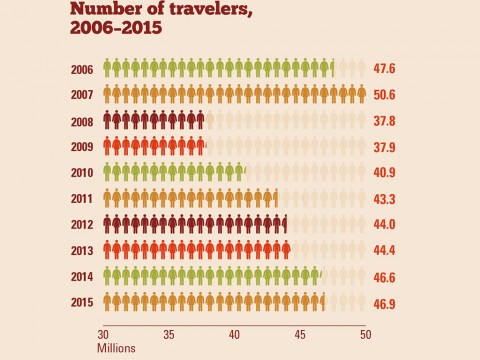 «Read the rest of this article»
7th District of Tennessee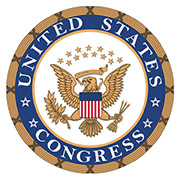 Washington, D.C. – Congressman Marsha Blackburn (R-TN) today released the following statement after House passage of H.R. 4038, the American Security Against Foreign Enemies (SAFE) Act.
This legislation would require the FBI, Homeland Security Department and director of national intelligence to certify to Congress that any refugee seeking entry to the United States from Syria or Iraq is not a threat to the security of the United States.
«Read the rest of this article»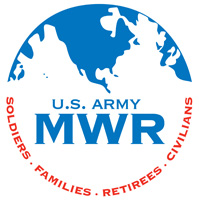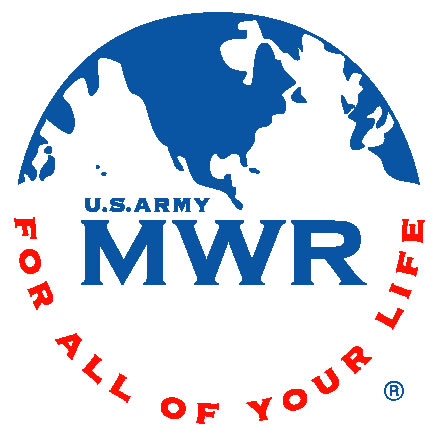 Fort Campbell, KY – Let us do all the work for you so you can enjoy your time with Family and friends!
For Thanksgiving, the Smokehaus at the Sportsman's Lodge is offering a feast for six that includes a 10-12 pound smoked turkey, 24 ounces of mashed potatoes, 24 ounces of green beans, 24 ounces of cornbread dressing, 24 ounces of gravy, 16 ounces of cranberry relish and 12 dinner rolls.
The menu is the same for Christmas but you get to choose between the smoked turkey or 4 pounds of sliced smoked ham.  You can also pick and choose your items and order ala carte.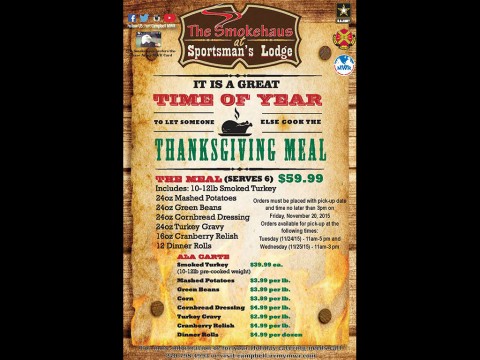 «Read the rest of this article»
Tennessee Muzzleloader Season for Deer Opened Saturday

Nashville, TN – The 2015 muzzleloader/archery season for deer opened in Tennessee on Saturday, November 7th and continues through Friday, November 20th in all three of  Tennessee's deer hunting units, according to the Tennessee Wildlife Resources Agency.
The opening of muzzleloader season in the state has a permanent opening date of the third Saturday before Thanksgiving.
Muzzleloading firearms are defined as those firearms which are incapable of being loaded from the breech. Muzzleloading firearms of .36 caliber minimum plus long bows, compound bows and crossbows are legal hunting equipment for this season. Hunters are also reminded that they must meet the blaze orange requirements while hunting. «Read the rest of this article»

Nashville, TN – The American Red Cross encourages eligible donors to give blood before the holiday season is in full swing.
Blood donations often decline from Thanksgiving to New Year's Day when holiday festivities pull people away from their donation appointments. This often causes a drop in the blood available for patients. Donations are needed in the weeks leading up to the holidays to help offset this seasonal decline.
«Read the rest of this article»