Topic: Theater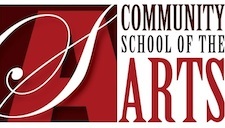 Clarksville, TN – The Austin Peay State University Community School of the Arts is gearing up for a busy summer of creative arts classes and camps for children and adults in the Clarksville community.
For more than two decades, the CSA has provided top-notch music, art, drama, creative writing and dance lessons. This summer, the CSA will offer programs from June 3rd through August 2nd.
Registration is now open. «Read the rest of this article»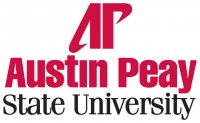 Clarksville, TN – Beginning with the Spring 2013 semester, students at Austin Peay State University will be able to earn their degrees faster so they can seek employment sooner after graduation.
That's because APSU has launched the new Three-Year Bachelor's Degree, as well as the 3+1 Bachelor's to Master's program. «Read the rest of this article»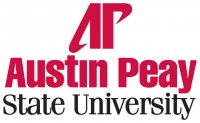 Clarksville, TN – The Austin Peay State University Community School of the Arts is about to begin a new session of creative arts courses this fall, offering classes to the public in subjects such as ceramics, creative writing, theater and dance.
For more than two decades, the CSA has provided music, art and dance lessons for children and adults throughout Clarksville, and the new fall session is set to begin October 8th. «Read the rest of this article»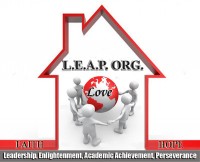 Clarksville, TN – The LEAP Organization is preparing to take 50 middle and high school students on a chartered bus to Washington DC from June 22nd to June 26th.
The purpose of this trip is to provide our youth with an opportunity to journey through our past and see history in the making through an historical and relevant tour of the Capitol.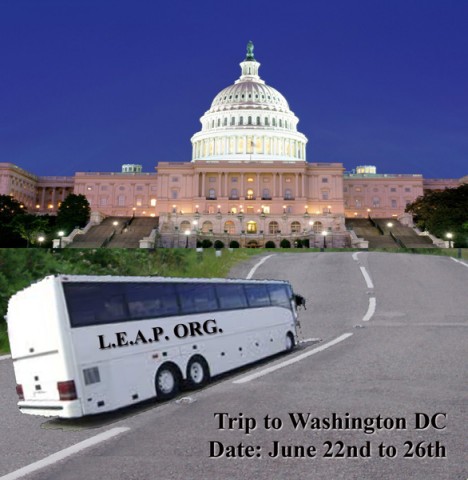 «Read the rest of this article»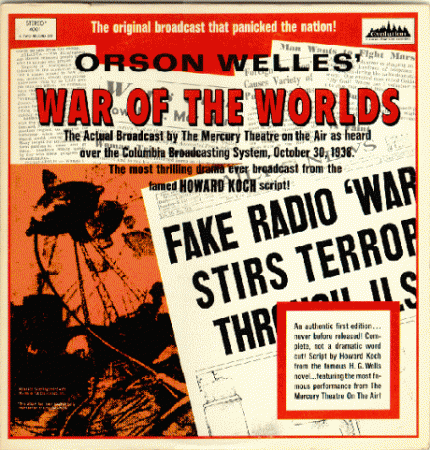 Mass hysteria. Alien invasion.  The radio broadcast that terrorized a nation.
The 1938 Mercury Theatre broadcast of H.G. Well's classic sci-fi thriller, The War of the Worlds, will be recreated tonight and Saturday night, (Oct. 31-Nov. 1), at 8 p.m.  in "the other space" at the Roxy Regional Theatre. Admission is $10.
Pop Watch Blog says:
"Seventy years ago today (Oct 30, 1938), a 21-year-old Orson Welles, along with his Mercury Theater players, gathered at New York City's CBS studios to perform a one-hour radio play—an adaptation of H.G. Wells' War of the Worlds. Panic would ensue—though much of it was probably blown a wee bit out of proportion by newspapermen unhappy with radio's increasing dominance—and mass media would never be the same. It's easy to say that we were a younger, more naive society in 1938 and it was cake for Welles to convince six million listeners than Martians really were invading Earth, starting with Grover's Mill, NJ." «Read the rest of this article»
Iph…, a new adaptation of Euripides' Iphigeneia at Aulis by Irish playwright Colin Teevan,will be staged at Austin Peay State University October 1-4 at 7:30 p.m. and October 5 at 2:00 p.m.
Agamemnon, the great warrior general, leads the Greek army to war in Troy.  On their journey, they arrive at the island of Aulis to rest and prepare for the battle.  However, the wind ceases to blow, paralyzing their ships and trapping them on the island.  The goddess Artemis, angered by the Greeks' lack of respect, has punished the entire army and demands from Agamemnon a sacrifice – his daughter, Iphigeneia.  Now Agamemnon must decide between his love for his family and his duty to his country, while his wife, Klytaemnestra, must battle for the life of her daughter.  Caught between these two powerful forces stands the innocent, good-hearted Iphigeneia – a young girl faced with making the ultimate sacrifice for the greater good of her people. «Read the rest of this article»
The Roxy Regional Theatre's 26th Season will enrich all the senses!
Although the 2008-09 season opens September 19, the annual gala is slated from September 20. The first play to hit the stage: The Robber Bridegroom, book and Lyrics by Alfred Uhry, music by Robert Waldman, adapted from the novella by Eudora Welty.
One of the only genuine bluegrass scores ever heard in a Broadway musical, this unusual tale of the Natchez Trace has a distinctive sound all its own. The Robber Bridegroom is the story of the courting of Rosamund, the only daughter of the richest planter in the country, by Jamie Lockhart, a rascally robber of the woods. The proceedings go awry, thanks to an unconventional case of double-mistaken identity. Throw in an evil stepmother intent on Rosamund's demise, her pea-brained henchman and a hostile talking head-in-a-trunk, and you have the recipe for a rollicking country romp. Play dates are September 19, through October11. «Read the rest of this article»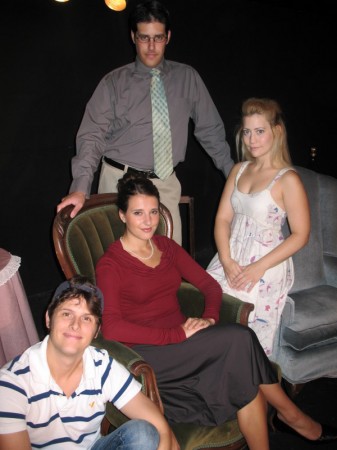 Bradley Vile from the Roxy Regional Theatre has written and is currently directing a one-act piece entitled Fostered Ideal, which will be presented in theotherspace on August 15-16 at 6 p.m.
The play concerns the Foster family and their perpetual struggle to maintain the ideal family image throughout the last five decades. They ravenously defend their obligatory family relationships despite their total lack of communication or recognition of love.
The play features (pictured at left) Bryan Davis as the Son, Harmony Livingston as the Mom, Brendan Cataldo as the Dad, and Beth Koperwhats as the Daughter.
theotherspace at the Roxy is a smaller theater dedicated to presenting alternative plays and staged readings of new anddeveloping oworks, and has hosted some superior works in development .
A minimalist production of Tuesdays with Morrie opened this week at the Roxy Regional Theater with breathtaking performances by its two stars: Jay Doolittle and Joe Sonenshein. The finely woven connection between both men manifests itself as a tour-de-force performance of Broadway caliber.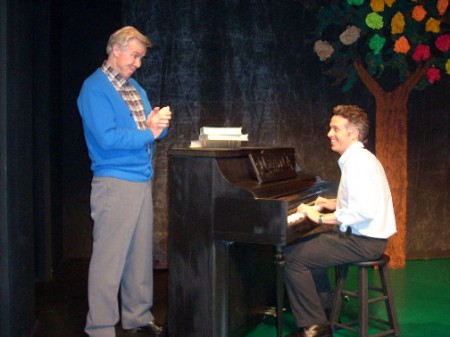 Morrie (Jay Doolittle at left) with Mitch (Joe Sonenshein) in the Roxy Regional theatre production of Mitch Albom's Tuesdays with Morrie.
Doolittle as the aged professor Morrie Schwartz and Sonenshein as student/author Mitch Albom loom larger than life even as they navigate the simplest truths of living, dying and what it means to love. The play is based on real-life Albom's memoir of the same title. This is adaptation of another medium at its finest and our actors capitalize on that. «Read the rest of this article»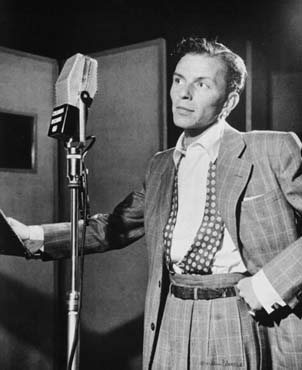 As a little girl, one of the stories my mother told me was of a trip to New York City with fellow singers to see a Carnegie Hall concert. My mother had other plans though, an ulterior motive for this Big Apple sojourn, and gave up Carnegie Hall for a chance to see a new young heart throb, a skinny crooner with dreamy blue eyes in one of his earliest performances … Frank Sinatra. It was 1942.
For nearly 60 years, old blues eyes — Frank Sinatra — was larger than life, a singer, movie star, and worldwide legend with 1300 songs to his credit. The Roxy Regional Theater captures a collection of the very best in their current production of My Way: A Musical Tribute to Frank Sinatra.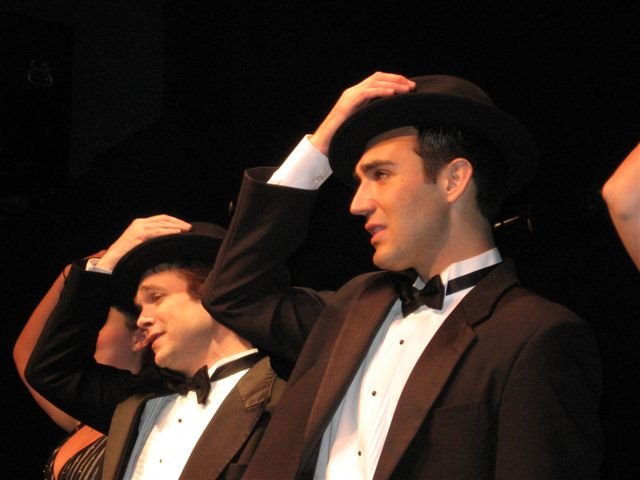 Even before the show began the mood was set with soft music from yesterday that hasn't lost is charm — hummable, dance-able music that continues to endure. As the combo took their seats and began to play, as the singers stepped back in time, they carried their audience with them all the way. «Read the rest of this article»