Topic: Theft of a Motor Vehicle

Clarksville, TN – After the story was published yesterday, Clarksville Police received calls from a business in Joelton Tennessee and the Henry County Sheriff's Office implicating Ray Anthony Farmer in burglaries which occurred in their community.
Crime Stoppers is offering up to a $1000.00  for information leading to the arrest of Ray Farmer. Please call Crime Stoppers at 931.645.TIPS (8477) with any information.
«Read the rest of this article»

Clarksville, TN – Career criminal, Ray Anthony Farmer continues on his crime spree and has expanded beyond the boundaries of the Clarksville-Montgomery county area.
He has amassed at least 28 warrants on file out of Clarksville/Montgomery County, Cadiz, KY, Guthrie, KY, and Davidson County since leaving a halfway house and being spotted in Clarksville in September 2012.
The majority of the warrants are felonies.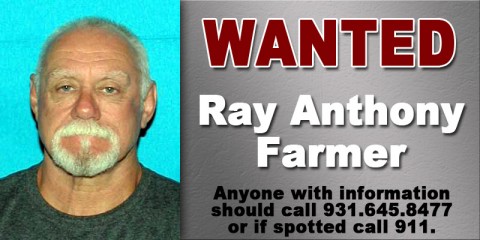 «Read the rest of this article»

Clarksville, TN – On November 30th, 2012, the Clarksville Police Department, with the assistance of Tennessee Highway Patrol's aviation unit, took to the air today trying to locate Ray Farmer.
Farmer has eluded police and is known for his willingness to reside in wilderness areas when he is not actually in the act of committing crimes.
«Read the rest of this article»