Topic: Thompson-Boling Arena
UT Athletics Department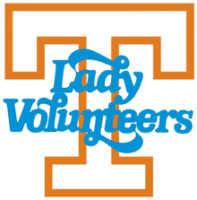 Knoxville, TN – Notre Dame, Baylor, Texas and Stanford headline a stout non-conference Tennessee women's basketball schedule that was released on Monday by fifth-year Lady Vol Head Coach Holly Warlick (108-34, .761).
Tip times and television network assignments will be available at a later date when that information is approved for release.
UT, which returns four starters from a team that finished 22-14 and rallied for the program's fourth NCAA Elite Eight appearance in five seasons, is ranked No. 11 in Charlie Creme's ESPN.com "Way-Too-Early Preseason top 25". The Lady Vols welcome back their top scorer in redshirt junior guard Diamond DeShields (14.3 ppg.) and top rebounder in redshirt junior center Mercedes Russell (8.3 rpg.).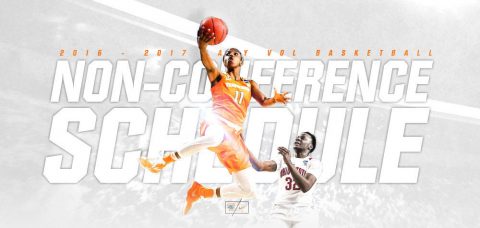 «Read the rest of this article»
Tennessee Mourns Loss Of Iconic Coach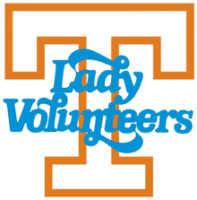 Knoxville, TN –  Legendary Tennessee Lady Vol basketball coach Pat Summitt, mentor and mother-figure to her players; a revered ambassador for her university and state; a trailblazer for women; and a role model for people all over the world passed away Tuesday, June 28th, in Knoxville at the age of 64.
Born Patricia Sue Head on June 14th, 1952 in Clarksville, Tennessee, Summitt arrived at the University of Tennessee for her first job as a 22-year-old physical education teacher and coach in 1974. As it turned out, the move to Knoxville would be the only one she'd make in her career. She leaves a legacy of greatness and grace that will never be forgotten.
«Read the rest of this article»
#12 Tennessee (13-18/6-12 SEC) vs. #13 Auburn (11-19/5-13 SEC)
Wednesday, March 9th, 2016 | 8:00pm ET/7:00pm ET
Nashville, TN | Bridgestone Arena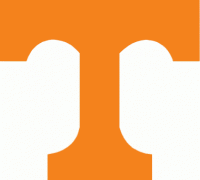 Knoxville, TN – Tennessee meets Auburn for the third time this season when the two teams square off in the opening game of the SEC Tournament on Wednesday night. Televised nationally on the SEC Network, Wednesday's tipoff is slated for 8:00pm ET/7:00pm CT from Nashville's Bridgestone Arena.
The 12th-seeded Volunteers (13-18, 6-12 SEC) head to the Music City looking to make it four consecutive years with an opening-round victory at the SEC Tournament. Last year, the Vols were victorious over Vanderbilt in the second round of the tournament before falling in the quarterfinals against Arkansas.
«Read the rest of this article»
UT Athletics Department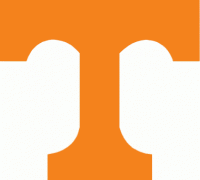 Knoxville, TN – Behind an array of 3-pointers and second-chance opportunities, the Ole Miss Rebels secured an 83-60 win over Tennessee on Senior Day in Thompson-Boling Arena Saturday.
Tennessee (13-18, 6-12 SEC) dropped its fourth consecutive game for the first time this season, while the Rebels (20-11, 10-8 SEC) earned their fourth victory in the last five games.
Senior Devon Baulkman shined in his final game in Thompson-Boling Arena, with a team-high 19 points on 6-of-12 shooting, leading the Vols in scoring for the second time this season. Fellow senior Armani Moore posted 13 points, while Admiral Schofield added 12 points. Ole Miss' Sebastian Saiz scored a game-high 23 points, and Tomasz Gielo posted 16 points.
«Read the rest of this article»
Tennessee (13-16, 6-10 SEC) at Vanderbilt (18-11, 10-6 SEC)
Tuesday, March 1st | 6:01pm CT/7:01pm ET
Nashville, TN | Memorial Gym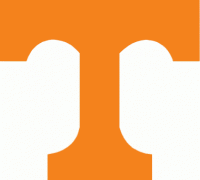 Knoxville, TN – The final week of the regular season gets underway on Tuesday night when Tennessee travels to face SEC and in-state rival Vanderbilt at 7:00pm ET/6:00pm CT on the SEC Network.
The Volunteers (13-16, 6-10 SEC) and Commodores (18-11, 10-6 SEC) cross paths on contrasting trajectories as UT looks to bounce back from a pair of losses last week while VU is currently enjoying a three-game winning streak.
In its most recent action, Tennessee suffered just its third home defeat of the season when it fell to Arkansas by a 75-65 count on Saturday.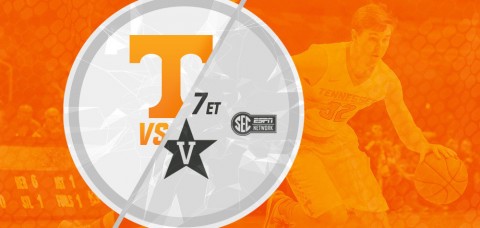 «Read the rest of this article»
UT Athletics Department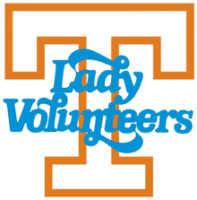 Knoxville, TN – Diamond DeShields scored a game-high 22 points and Bashaara Graves recorded her 29th career double-double as Tennessee rolled past Georgia in the season finale, 80-60, at Thompson-Boling Arena.
With 80 total points, Tennessee (17-12, 8-8 SEC) notched its highest points total in SEC play this season and its most in any game this season since scoring 90 in a win over Stetson on December 30th.
Following DeShields' 22 points, freshman Te'a Cooper logged just the third 20-point performance of her season on Sunday, finishing with 21 for the game. Graves, playing in front of the home faithful on Senior Day, rounded out UT's double-digit scorers, notching 12 points to go along with her game-high 10 rebounds.
«Read the rest of this article»
UT Athletics Department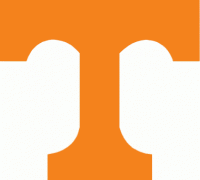 Knoxville, TN – A fourth straight double-digit scoring performance from Armani Moore wasn't enough as Tennessee fell to Arkansas, 75-65, Saturday night at Thompson-Boling Arena.
Moore led the Volunteers with 17 points and 11 rebounds for his sixth double-double of the season. Admiral Schofield scored 15 points, while Shembari Phillips followed up his career-high 16 points against South Carolina with 13 for his third-straight game in double-digits.
The Vols, who played without the services of two of their three leading scorers in Kevin Punter Jr. and Robert Hubbs III, trailed by just a point at halftime, 34-33.
«Read the rest of this article»
Tennessee (13-15/6-9 SEC) vs. Arkansas (14-14/7-8 SEC)
Saturday, February 27th | 7:31pm ET/6:31pm CT
Knoxville, TN | Thompson-Boling Arena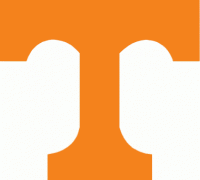 Knoxville, TN – With just three games remaining in the regular season, Tennessee plays its penultimate home game Saturday night when it hosts Arkansas at Thompson-Boling Arena. The Vols and Razorbacks tip off at 7:30pm ET/6:30pm CT on the SEC Network.
Tennessee (13-15, 6-9 SEC) is coming off an 84-58 loss at the hands of South Carolina on Saturday night in Columbia. Playing without leading scorer Kevin Punter Jr. (22.2 ppg) for the second consecutive game, the Vols were led by 19 points from Devon Baulkman — who hit five threes along the way — and a season-best 16 points from freshman Shembari Phillips. The Atlanta native has now scored in double figures in three of his last five games.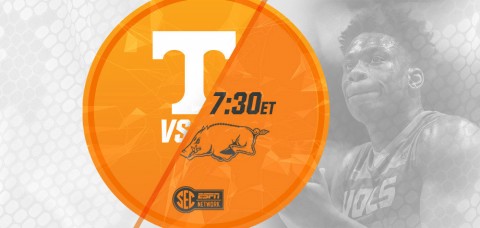 «Read the rest of this article»
UT Athletics Department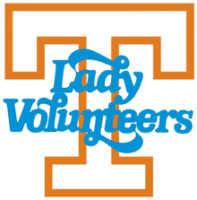 Tuscaloosa, AL – Bashaara Graves led Tennessee with 15 points, but the Lady Vols could not battle back from an 11-point halftime deficit, falling to Alabama, 54-46, on Thursday at Foster Auditorium.
The loss ended Tennessee's (16-12, 7-8 SEC) 42-game winning streak against Alabama (15-13, 4-11) and marked the Lady Vols' first-ever loss in Tuscaloosa. UT's last loss to Alabama entering Thursday was on March 3rd, 1984.
Graves finished with 15 points and eight rebounds. Mercedes Russell recorded a double-double with 10 points and 11 rebounds. Jaime Nared added 13 points and seven boards.
«Read the rest of this article»
Tennessee (16-11, 7-7 SEC) vs. Alabama (14-13, 3-11 SEC)
Thursday, February 25th, 2016 | 7:31pm CT/8:31pm ET
Tuscaloosa, AL | Foster Auditorium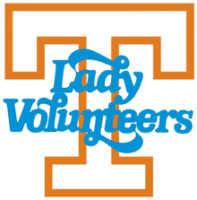 Knoxville, TN –  The Tennessee Lady Vols (16-11, 7-7 SEC) will play their final road game of the season as they look to sweep Alabama (14-13, 3-11 SEC) . Tipoff is slated for 7:30pm CT/8:30pm ET at Foster Auditorium and the game will be available on SEC Network + (Online) and WatchESPN.
Additionally the game will also be a part of SEC Network's Whip-Around coverage. The multi-game TV coverage will alternate between the seven games being played, 7:00pm-11:00pm ET.
Every SEC women's team is featured in the television presentation. SEC Now will recap the events with highlights at 11:00pm, as well as news and information from the day.
«Read the rest of this article»