Topic: Tom Thayer

Clarksville, TN – In response to last September's vicious attack of a gay Philadelphia couple, Roxy Regional Theatre executive director Tom Thayer felt compelled to produce Neil LaBute's bash: latterday plays.
A trio of darkly brilliant, unblinking portraits of evil in everyday life, this collection of one-act plays will be presented in theotherspace for three more performances only, May 26th – June 2nd.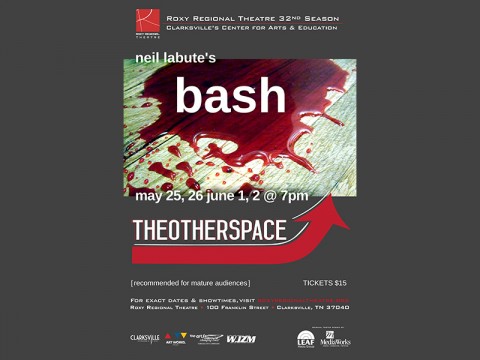 «Read the rest of this article»

Clarksville, TN – Move over, Tammy, Dolly and Loretta … there's a new trio in town! Classic country gets a musical makeover in Ted Swindley's "Honky Tonk Angels" at the Roxy Regional Theatre, beginning February 13th at 8:00pm.
Audiences who could not get enough of Always…Patsy Cline will find the perfect match in creator Ted Swindley's follow-up, which combines over 30 classic country tunes (including "I'll Fly Away," "Stand by Your Man," "Harper Valley PTA," "9 to 5," "Coal Miner's Daughter," "Ode to Billy Jo," "These Boots Are Made for Walking," "Rocky Top" and "I Will Always Love You") with a hilarious story about three gutsy gals who are determined to better their lives and follow their dreams to Nashville.
«Read the rest of this article»

Clarksville, TN – A holiday tradition returns to the corner of Franklin and First! John McDonald is Ebenezer Scrooge in the Roxy Regional Theatre's production of Charles Dickens' "A Christmas Carol", December 10th – December 20th.
Under the direction of Tom Thayer, Dickens' classic tale of Christmases Past, Present and Future meets such holiday standards as "Deck the Halls," "Silent Night," "God Rest Ye Merry Gentlemen" and more.
«Read the rest of this article»

Clarksville, TN – The Roxy regional Theatre is currently staging the production of Louisa May Alcott's classic Little women. These books have been a childhood favorite for generations of little girls. As the Roxy regional Theatre's first release for the show states Louisa May Alcott's acclaimed story of love and family stands the test of time.
The Musical brings together the best from the books along with the talented cast of actresses and actors put together by the Roxy. The cast is outstanding the cast is simply outstanding!
«Read the rest of this article»

Clarksville, TN – This fall, the Roxy Regional Theatre aims to tear down conventional boundaries with John Cameron Mitchell's groundbreaking award-winning musical "Hedwig and the Angry Inch", playing upstairs in theotherspace for four nights only, November 10th – November 18th.
Following in the footsteps of Neil Patrick Harris, Michael C. Hall and John Cameron Mitchell himself, Ryan Bowie stars as "internationally ignored song stylist" Hedwig Schmidt, a fourth-wall smashing East German rock 'n' roll goddess who also happens to be the victim of a botched sex-change operation.
«Read the rest of this article»

Clarksville, TN – Originally published at the turn of the nineteenth century, Louisa May Alcott's acclaimed story of love and family stands the test of time. This fall, the Roxy Regional Theatre presents a new version of this enduring American classic with "Little Women: The Musical", November 7th – November 29th.
Based on Alcott's own life and originally starring Sutton Foster and Maureen McGovern in the Broadway production, "Little Women" follows the adventures of sisters Jo (Allie McCaw), Meg (Elena Pascullo), Beth (Laura Donnelly) and Amy March (Corinne Bupp) and their experiences growing up in Civil War America.
«Read the rest of this article»
Let's Do the Time Warp Again!

Clarksville, TN – Prepare to do the "Time Warp" like you have never done it before! Dig out your fishnet stockings and sharpen your stilettos … that sweet transvestite and his motley crew are back by popular demand! Richard O'Brien's cult classic "The Rocky Horror Show" returns to the Roxy Regional Theatre for five performances only, October 24th through October 31st.
Cameron Perry and Elena Pascullo star as Brad Majors and his fiancée Janet Weiss, two clean-cut young people on the way to visit an old college professor.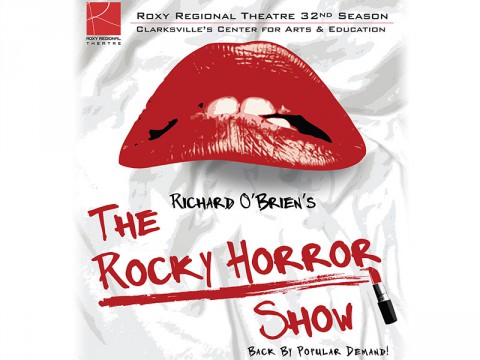 «Read the rest of this article»

Clarksville, TN – The Leonard Bernstein musical On the Town is currently playing at the Roxy regional Theatre in historic downtown Clarksville Tennessee. The show runs through October 4th and is definitely worth going to see if you have not yet done so.
This musical extravaganza follows the antics of three sailors at the height of World War II who are heading into the New York City for 24 hours of liberty. Sailors on liberty generally look for the action, maybe a little food, drink, and most definitely a date! You have all heard of the old Navy axiom a girl in every port; well these three sailors try their best to live up to it.
The video below is from the Broadway version of this show, but it gives you a great idea of what you can expect at the Roxy.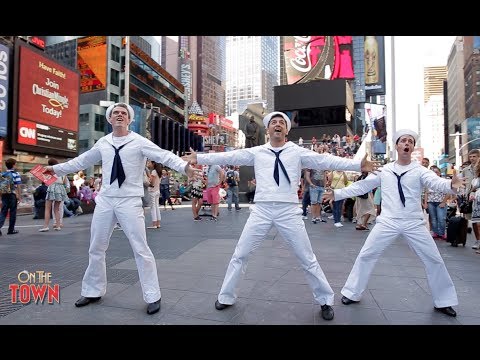 «Read the rest of this article»
"On the Town" runs at the Roxy from September 17th-October 4th

Clarksville, TN – "New York, New York, it's a wonderful town!" This fall, the Roxy Regional Theatre embarks on its 32nd season of live entertainment with the 70th Anniversary of Leonard Bernstein's legendary musical about three sailors who manage to find love and incredible adventures in the Big Apple while on a 24-hour leave.
"On the Town" docks at the corner of Franklin and First Street, September 17th – October 4th, 2014.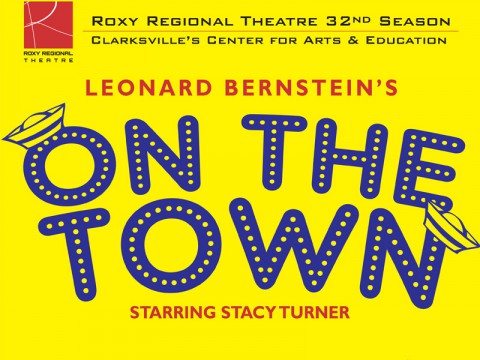 «Read the rest of this article»

Clarksville, TN – Before embarking on its 32nd season of professional live theatre, the Roxy Regional Theatre invites patrons to take a walk down memory lane with songs and stories from the theatre's past three decades in "A Night on the Terrazzo", August 22nd-September 12th.
Performed in a cabaret setting in the theatre's lobby, "A Night on the Terrazzo" features over two dozen songs from the company's history, from its inaugural performance of Mack and Mabel to subsequent productions of Cabaret, Singin' in the Rain, Kiss Me Kate, West Side Story, Footloose and others.  Selections include "I Could Have Danced All Night," "Where the Boys Are," "Memory," "Mr. Cellophane," "Johnny B. Goode" and more, performed by Ryan Bowie, Corinne Bupp, Allie McCaw and Chase Miller, with Tom Thayer on piano.
«Read the rest of this article»