Topic: Tornado
Written by Stephen Lang / Rob Gutro
NASA's Goddard Space Flight Center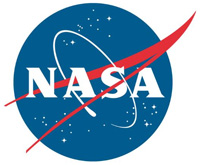 Greenbelt, MD – On Sunday April 15th, 2018 a line of strong storms at one point stretched from the Florida Straits below the Florida Keys all the way up the East Coast and into Ohio. The Global Precipitation Measurement mission or GPM core satellite analyzed the severe storms as it passed overhead. GPM is a joint mission between NASA and the Japan Aerospace Exploration Agency, JAXA.
Many of the storms were strong with wide spread reports of wind damage from north Florida up through the Carolinas and into central Virginia.
«Read the rest of this article»
Written by Joe Pitts
Tennessee State Representative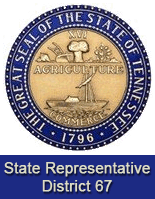 Nashville, TN – The Property Tax Relief for disabled Veterans, disabled persons and elderly low-income homeowners, House Bill 1496/Senate Bill 1675 (Sen. Mark Green, R-Clarksville), passed the House Finance, Ways and is scheduled for a House Floor vote on March 12th, 2018, and as amended which includes the veterans spouse.
This legislation corrects a rule change made in October, 2017 which would have caused individuals to lose their eligibility for tax relief if the veteran, low-income elderly, and disabled person if admitted to a nursing home for an indeterminate amount of time.
"I am hopeful we will see this bill pass and the tax relief programs will be left intact and alone in the future," said Pitts.
«Read the rest of this article»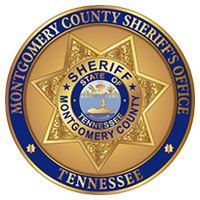 Montgomery County, TN – The Montgomery County EMA office along with Montgomery County Building & Codes, Montgomery County Assessor's Office, TEMA, and the APSU GIS Center will be conducting damage assessments today, February 26th, 2018.
Agencies will be evaluating the need for a possible organized clean-up this coming weekend.
Those interested in volunteering should call the Emergency Operations Center at 931.553.5162 and leave their contact information.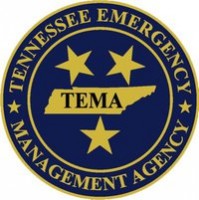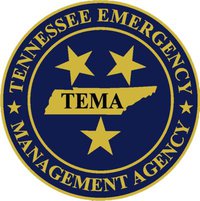 Nashville, TN – A powerful storm front moved across Tennessee on Saturday, February 24th, 2018, and produced localized flooding, lightning impacts, and unconfirmed reports of tornado touchdowns. Several Tennessee counties have rescued individuals from damaged structures and transported those with injuries.
The State Emergency Operations Center in Nashville is activated at a Level 4 – Elevated status and staffed with Emergency Service Coordinators from many State of Tennessee departments with personnel providing direct assistance to the impacted counties.
«Read the rest of this article»

Clarksville, TN – Clarksville unveiled its 21st public art piece this month. Twelve of the pieces – at least – are in a proximity that's easily walkable within the city's downtown core.
Murals, sculptures, fountains, and flames are among the art pieces you'll see showcased along city streets, urban trails, buildings and throughout the campus of Austin Peay State University, which is adjacent to downtown. Many of the works were designed or created by Clarksville artists.
«Read the rest of this article»

Clarksville, TN – In the immediate wake of a devastating tornado, lives have been lost and homes destroyed, but the damage done to a cherished family business has created more strife for two siblings than high-speed winds could ever hope to cause.
"One of the siblings was focused on being out half a million dollars in damages, while the other one was focused more on the sentimental aspect of having their family business destroyed," Dr. Kim Coggins, Austin Peay State University assistant professor of psychological sciences and counseling, said.
«Read the rest of this article»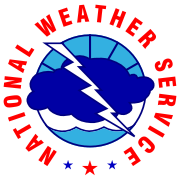 Nashville, TN – The National Weather Service says there is an enhanced risk of severe thunderstorms for Clarksville-Montgomery County and Middle Tennessee on Wednesday, April 5th.
Storms are expected to develop during the afternoon and evening hours. Although severe storms will be possible west of I-65, the highest chances of severe weather appear to be east of I-65.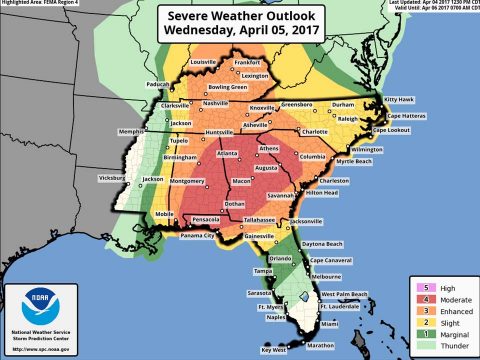 «Read the rest of this article»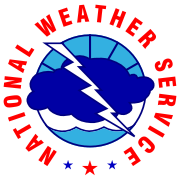 Nashville, TN – The National Weather Service has issued a Severe Thunderstorm Watch today for Clarksville-Montgomery County and Middle Tennessee until 8:00pm tonight.
Strong to severe thunderstorms are possible this afternoon and evening across all of Middle Tennessee. The greatest chance for severe storms however remains along and west of I-65.
«Read the rest of this article»
Federal assistance requested to aid in recovery from Wildfires, Severe Storms

Nashville, TN – Tennessee Governor Bill Haslam Friday sent a request to President Barack Obama to expedite a major disaster declaration for five Tennessee counties in order to get needed federal assistance to aid in recovery from wildfires and severe storms.
The counties included in Haslam's declaration request are Coffee County, McMinn County, Polk County, Sequatchie County and Sevier County.
«Read the rest of this article»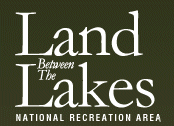 Dear Editor,
As many know, Land Between the Lakes has experienced widespread wind and water damage.
It has been confirmed that the same storm that traveled through Marshall County on Wednesday, July 6th also crossed Land Between the Lakes.
It contained a tornado which touched down near Cravens Bay Campground, traveling along the ground for approximately a quarter mile before it went across Lake Barkley into Trigg County. The high winds impacted trees, open lands and other resources along its path.
«Read the rest of this article»