Topic: U.S. Army
Written by Staff Sgt. Joel Salgado
101st Airborne Division Public Affairs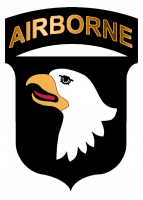 Fort Campbell, KY – From its roots as one of the U.S. Army's first airborne divisions in World War II, to defining air mobile operations in Vietnam, to its current status as the world's only air assault division, the 101st Airborne Division (Air Assault) has a history of change and innovation.
The 101st will again answer the call as it begins implementing Operation Agile Eagle II, designed to localize and implement the larger Department of the Army-directed BCT 2020 initiative. This overarching move mandates development of a plan that will reduce the overall strength of the Army in order to meet current and future mission requirements.
«Read the rest of this article»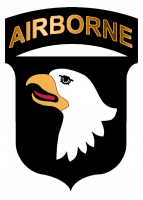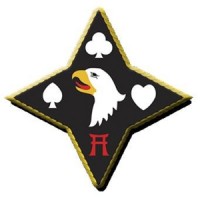 Fort Campbell, KY – During a ceremony that emphasized the role of Army noncommissioned officers, Command Sgt. Maj. Eugene Thomas relinquished responsibility as Command Sgt. Maj. Ian Griffin assumed responsibility of the 101st Sustainment Brigade "Lifeliners", April 14th, at Fort Campbell, KY. The change of responsibility ceremony honors the traditions embodied by the noncommissioned officers in the unit.
During the ceremony, the Soldiers, families and friends bid an emotional farewell to Thomas, who is preparing for retirement after 32 years of admirable military service.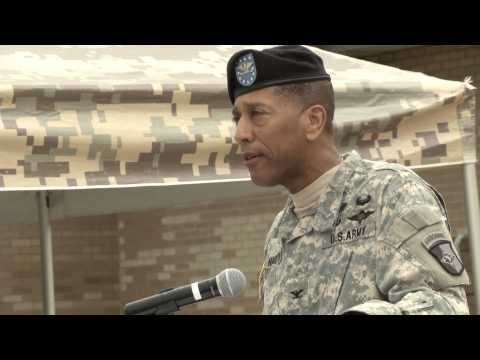 «Read the rest of this article»
101st Sustainment Brigade, 101st Airborne Division (AA) Public Affairs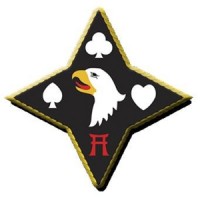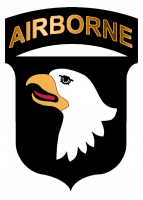 Camp Arifjan, Kuwait – The 101st Sustainment Brigade's 594th Transportation Company, also known as the "Professionals," officially started its nine-month deployment with a relief in place transfer of authority ceremony at Camp Arifjan, Kuwait, March 28th.
The medium truck company took over a heavy and medium transportation mission supporting contingency operations in Kuwait.
«Read the rest of this article»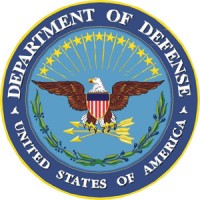 Washington, D.C. – On Tuesday, April 15th, 2014, the Department of Defense released a report that documents the damaging cuts to military forces, modernization, and readiness that will be required if defense budgets are held at sequester-levels in the years beyond fiscal 2015.  This report fulfills a commitment made by Secretary Chuck Hagel to provide details on the effects of these undesirable budget cuts.
As the report says, sequester level budgets would result in continued force-level cuts across the military services.
The Army would be reduced to 420,000 active duty soldiers along with 315,000 in the Guard and 185,000 in the Reserve. «Read the rest of this article»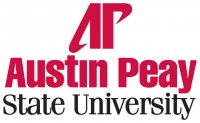 Clarksville, TN – In 2011, Dr. Minoa Uffelman, Austin Peay State University associate professor of history, set out to honor the legacy of her late father, O.S. Uffelman.
For several decades, he'd inspired countless individuals as a teacher, coach, principal and superintendent of Houston County Schools. Since education was so important to her father, Minoa and her husband, Joel Evans, decided to create the O.S. Uffelman Exemplary History Student Award at APSU.
«Read the rest of this article»

Clarksville, TN – In March, the 744th Ordnance Company (EOD) part of the 52 Ordnance Group (EOD) from Fort Campbell, along with members of the Tennessee Trails Association, volunteered over 50 man hours and removed 400 lbs. of cinder blocks, 300 lbs. of tires, 200 lbs. of metal and over 50 lbs. of trash.  Platoon leader, Lt. Chris Weber stated, "We worked our butts off."  He added "Everyone had a great time and really enjoyed ourselves."
Friends Group President, Lionel Senseney is grateful for the community's effort to help the Friends Group and expand our park.  "What an effort!" Lionel said, "Many thanks to everyone that is helping."
«Read the rest of this article»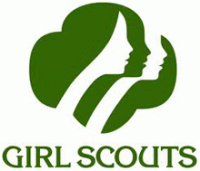 Nashville, TN – Girl Scouts of Middle Tennessee in partnership with Hugs for Our Soldiers delivered more than 27,000 packages of Girl Scout Cookies to soldiers at Fort Campbell on March 28th.
"We are excited to show our appreciation to our local service men and women through this cookie donation," said Cathy Ratliff, Director of Product Programs at Girl Scouts of Middle Tennessee. "About half of the cookies donated will be shipped to local soldiers deployed overseas and the rest will be distributed on base."
«Read the rest of this article»
Written by Sgt. Duncan Brennan
101st Combat Aviation Brigade Public Affairs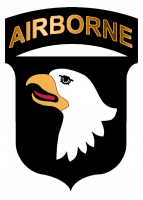 Fort Campbell, KY – In preparation for the 3rd Brigade Combat Team's upcoming brigade-level air assault exercise, the 101st Combat Aviation Brigade, 101st Airborne Division (Air Assault), held an air commanders brief at 5th Battalion, 101st CAB headquarters April 2nd.
The briefing was held to inform commanders, pilots, and crews about the roles they would play during Exercise Golden Eagle. The exercise will include lifts of equipment and personnel and integrate all aspects of a full-spectrum CAB in conjunction with ground forces.
«Read the rest of this article»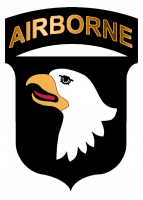 Fort Campbell, KY – The Fort Campbell Warrior Transition Battalion is hosting Warrior Games trials March 31st to April 17th at Fort Campbell, KY. These preliminary trials will select active duty and veteran athletes to compete for a spot on the 40-person Army team in the 2014 Warrior Games at the Olympic Training Center in Colorado Springs this October.
This Paralympic-style competition allows wounded, ill and injured athletes from all military branches to compete against one another in seven different events, including track and field, swimming, shooting, archery, cycling, sitting volleyball and wheelchair basketball. «Read the rest of this article»
Written by Staff Sgt. Joel Salgado
3rd Brigade Combat Team Public Affairs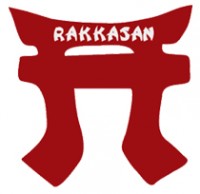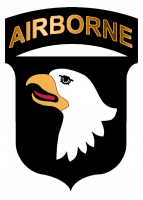 Fort Campbell, KY – Fourteen future Soldiers from the Bloomington, IN Recruiting Station were given a glimpse of their future during a visit here March 19th.
"This is the first major [tour] we've done like this where we've gotten the post and an entire Brigade involved," said Staff Sgt. Forrest Uribe, a recruiter with the Bloomington Recruiting Station.
The primary focus of the tour was observing training and interacting with Soldiers of 3rd Brigade Combat Team 'Rakkasans', 101st Airborne Division (Air Assault).
«Read the rest of this article»