Topic: U.S. Treasury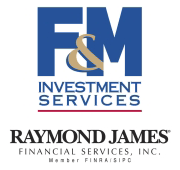 Clarksville, TN – The FOMC minutes from the April 26th-27th policy meeting showed that "most [meeting] participants judged that if incoming data were consistent with economic growth picking up in the second quarter, labor market conditions continuing to strengthen, and inflation making progress toward the Committee's 2 percent objective, then it likely would be appropriate for the Committee to increase the target range for the federal funds rate in June."
However, "participants expressed a range of views about the likelihood that incoming information would make it appropriate to adjust the stance of policy at the time of the next meeting."
«Read the rest of this article»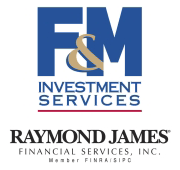 Clarksville, TN – The economic calendar was quiet until the end of the week. April retail sales results surprised to upside, with upward revisions to February and March. This ran counter to generally weak monthly sales reports from a number of individual retailers.
March sales were likely distorted (and depressed) by the early Easter. Results reflected strong trends in nonstore retailers (which includes Internet retailers), restaurants (helped by low gasoline prices, but also reflecting a long-term trend of households taking more meals outside the home), and drug stores (which likely reflects runaway prices of pharmaceuticals).
«Read the rest of this article»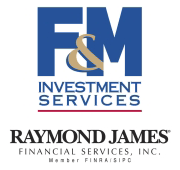 Clarksville, TN – The economic data were mixed, but generally consistent with moderately strong economic growth in the near term. Motor vehicle sales rebounded in April, from what appears to have been an Easter-related decline in March.
The ISM surveys split; manufacturing a bit softer, non-manufacturing a bit stronger. Nonfarm payrolls rose by 160,000 in the initial estimate for April, below the median forecast (+200,000), but not horrible (note that the economy added 1.057 million jobs before seasonal adjustment).
«Read the rest of this article»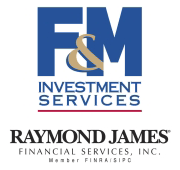 Clarksville, TN – As expected, the Federal Open Market Committee left short-term interest rates unchanged. In its policy statement, the FOMC noted that "labor market conditions have improved further even as growth in economic activity appears to have slowed."
The key phrase from the mid-March statement, "global economic and financial developments continue to pose risks," was removed, although officials promised to closely monitor conditions. Equities rallied on the Fed statement (in part, perhaps, because the meeting was simply out of the way), but global markets weakened after the Bank of Japan failed to stimulate further.
«Read the rest of this article»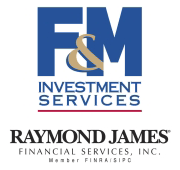 Clarksville, TN – The economic data remained consistent with a lackluster to moderate pace of growth in the near term. Building permits and housing starts disappointed in March, reflecting a pullback in multi-family activity (which appears to have been unsustainably strong in 2015).
Single-family permits, the key figure in the report, fell 1.2%, but the first quarter total was 15.2% higher than in 1Q15. Existing home sales rebounded from a soft February (likely reflecting weather effects in the Northeast and Midwest). The Index of Leading Economic Indicators rose 0.2%, following three consecutive monthly declines.
«Read the rest of this article»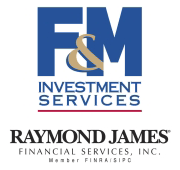 Clarksville, TN – The economic data were mixed, but mostly on the soft side of expectations. Retail sales fell in March, reflecting a pullback in auto sales (dealers noted lean inventories of popular models and a lack of dealer incentives). Ex-autos, gasoline and building materials, sales were flat (+3.2% y/y), but February was revised higher (making it about a wash relative to expectations).
Industrial production fell 0.6% in March, reflecting warm temperatures (another drop in the output of utilities) and a further contraction in oil and gas well drilling (down 72% since the end of 2014).
«Read the rest of this article»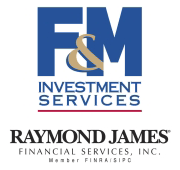 Clarksville, TN – The minutes of the March 15th-16th FOMC meeting showed that most officials did not see much change in their growth outlooks since December, due partly to expectations of a more gradual policy path (recall that most officials had expected four 25-basis-point hikes in 2016, but now see two).
"Several" meeting participants "argued for proceeding cautiously in reducing policy accommodation," noting the downside risks from the rest of the world and the possibility that inflation expectations could fall.
«Read the rest of this article»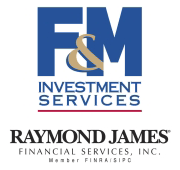 Clarksville, TN – In her speech, Fed Chair Yellen indicated that "given the risks, I consider it appropriate for the [FOMC] to proceed cautiously in adjusting policy." This dovish stance was taken well by financial market participants.
Yellen emphasized that the Fed's projections (such as the dots in the dot plot) are expectations and "not a plan written in stone." Fed policy decisions will remain data-dependent, but Yellen stressed that the central bank has a limited ability to respond to downside shocks to the economy.
«Read the rest of this article»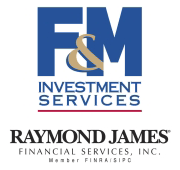 Clarksville, TN – The economic calendar was thin. Jobless claims fell more than expected (not too unusual), while the four-week average remained very low (about as low as it can go given the normal labor market frictions). Small business optimism fell in February. The Quarterly Services Survey pointed to an upward revision to the estimate of consumer spending growth for 4Q15.
The European Central Bank surprised the markets by doing much more than expected (lowering interest rates, expanding QE, and making other efforts to boost growth).
«Read the rest of this article»
Atlanta, GA – Refunds totaling $950 million may be waiting for an estimated one million taxpayers in the nation who did not file a federal income tax return for 2012. In Tennessee, over $17 million in unclaimed refunds awaits 19,700 individuals. However, to collect the money, a return for 2012 must be filed with the IRS no later than Monday, April 18th 2016.
"Time is running out if you want to get your refund," said IRS Spokesman Mark Green. "Taxpayers should review their 2012 statements for refundable credits and withholdings.  We want all taxpayers to get the refund they're due."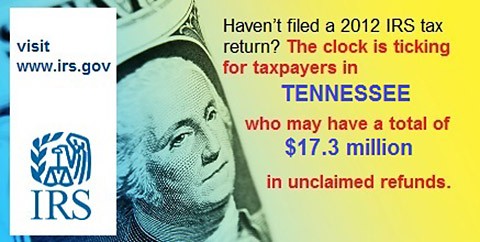 «Read the rest of this article»