Topic: University of Tennessee
Tennessee vs. Missouri
Saturday, November 18th, 2016 | 2:30pm CT
Knoxville, TN | Neyland Stadium | TV: CBS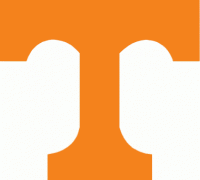 Knoxville, TN – Tennessee celebrates Senior Day on Saturday as it closes out its home schedule against Missouri at 2:30pm CT at Neyland Stadium.
Saturday's game will be broadcast on CBS with Verne Lundquist and Gary Danielson in the booth and Allie LaForce reporting from the sidelines.
Tennessee (7-3, 3-3 SEC) will be making its fifth appearance on the SEC on CBS Game of the Week this season, its most since 1998 when it made six regular season appearances on the network. Earlier this season, the Vols are the first team in history to be featured on CBS in four straight weeks.
«Read the rest of this article»
Tennessee vs. Tennessee Tech
Saturday, November 5th, 2016 | 3:00pm CT
Knoxville, TN | Neyland Stadium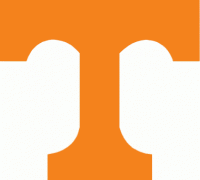 Knoxville, TN – Tennessee starts a three-game homestand on Saturday when it plays host to in-state foe Tennessee Tech at 3:00pm CT in the 93rd homecoming game on Rocky Top.
Saturday's game will be broadcast on SEC Network Alternate with Taylor Zarzour (play-by-play), Jordan Rodgers (analyst) and Dawn Davenport (sideline) calling the action. SEC Network Alternate is typically listed adjacently to the SEC Network in your cable or satellite channel guide. Use the SEC Network Channel Finder or call your television provider for help finding SEC Network Alternate.
Fans can also tune in to their local Vol Network affiliate to hear Bob Kesling, Tim Priest, Brent Hubbs, Eddie Moore and John Brice describing the action.
«Read the rest of this article»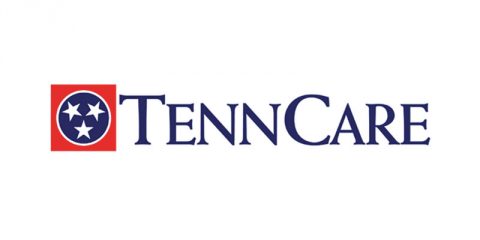 Knoxville, TN – For the third year in a row, the estimated number of uninsured people in Tennessee dropped, according to a report released today by the University of Tennessee, Knoxville, Boyd Center for Business and Economic Research, which is housed in the Haslam College of Business.
The percentage of uninsured people in Tennessee—5.5 percent—is the lowest in the past 20 years.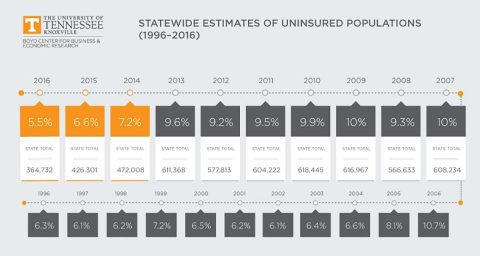 «Read the rest of this article»
APSU Sports Information

Clarksville, TN – Head men's tennis coach Ross Brown has announced Austin Peay State University's 2017 spring schedule, featuring 16 matches.
APSU will play nine matches at the Governors Tennis Center throughout the campaign.
«Read the rest of this article»
APSU to Have Increased Autonomy with Local Governing Board

Clarksville, TN – Tennessee Governor Bill Haslam has appointed eight individuals to the newly created institutional governing board at Austin Peay State University.
The purpose of the appointments is to give the University increased autonomy to support student success as the state continues its Drive to 55 Initiative. Austin Peay State University's governing board is one of six to be appointed by the governor, a result of the governor's FOCUS Act passed by the Tennessee General Assembly earlier this year.
«Read the rest of this article»

Nashville, TN – The Tennessee Wildlife Resources Agency is partnering with the University of Tennessee to conduct a comprehensive 6-year wild turkey research project after receiving inconclusive results from a 3-year turkey disease study.
A recently-concluded turkey disease project, conducted by TWRA and the UT College of Veterinary Medicine, was conducted in response to concerns expressed by citizens in southern Middle Tennessee that the agricultural use of chicken litter as fertilizer may serve as a means of disease transmission to wild turkeys.
«Read the rest of this article»

Clarksville, TN – While much of America focused on each word said during the recent first presidential debate, something else was gnawing at the back of the mind of Austin Peay State University professor of history, Dr. Minoa Uffelman.
For the last seven years, the University's Phi Alpha Theta National Honor Society (PAT), which Uffelman advises, has been recognized each fall with the national Best Chapter Award, but September was drawing to a close without word on a possible eighth consecutive award.
«Read the rest of this article»

Clarksville, TN – Austin Peay State University music education student Austin Ward is far from a natural-born politician; his first love will always be music.
However, Ward's time as a university student has taught him that there is much more to music than just his instrument – and that music is worth fighting for at the highest levels of government.
«Read the rest of this article»

Clarksville, TN – The University of Tennessee honored Sheriff John Fuson as a Certified Public Administrator at a Capstone event at Montgomery Bell State Park.
To achieve the designation, a participant must complete 80 credit hours in the County Officials Certificate Training Program (COCTP). The program is administered by the UT County Technical Assistance Service (CTAS) and is available to every county official and county employee in the state.
«Read the rest of this article»
Purkey Has Served as Homeland Security Advisor for Past Five Years

Nashville, TN – Tennessee Governor Bill Haslam announced the appointment of David Purkey as commissioner of the Tennessee Department of Safety and Homeland Security beginning September 1st, 2016.
Purkey, 57, has served as the department's assistant commissioner and homeland security advisor since 2011. Under his leadership, the Office of Homeland Security has transformed into a proactive agency, overseeing school security plans, training citizens and law enforcement agencies in active shooter response, and leading the state's efforts to combat cybercrime.
«Read the rest of this article»