Topic: U.S. Conference of Mayors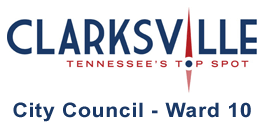 Clarksville, TN – The Clarksville City Council met in its usual first Thursday of the month voting session. As I had mentioned in comments of the agenda that I sent out, there were an assortment of issues to address. This is Part I of my report.
Ordinance 5-2013-14 (Funding new LED street lights with Conservation Bonds)
In this project the mayor wants to use/spend $1.2 million in Treasury backed bonds to buy 765 LED replacement streetlights. Energy savings are projected to bring a payback in just under 16 years. «Read the rest of this article»
"Life's most persistent and urgent question is, 'What are you doing for others?'"
Martin Luther King, Jr.
Clarksville, TN – I have just returned from a U.S. Conference of Mayors conference in Washington D.C. where I spent a couple of days with mayors from across the nation.
During that time, I had the opportunity to hear about the issues and challenges that other towns face. Many we share, some we don't.
«Read the rest of this article»
Clarksville, TN – A few weeks ago, I was extremely honored to be asked to represent Clarksville on an economic development and cultural exchange trip to Saudi Arabia. The trip was organized by the U.S. Conference of Mayors and was fully funded by the Saudi Arabian government.
It was not funded by the taxpayers in any way. This is the fifth year that select U.S. mayors have been invited to Saudi Arabia. I was so pleased that Clarksville was selected as one of the represented cities because I believe it shows that our reputation as a growing and vibrant city is being recognized around the country and now around the world. «Read the rest of this article»

Clarksville, TN – Clarksville Mayor Kim McMillan gave her State of the City address at the Customs House Museum today. The Mayor started out speaking about the challenges she has faced since taking office in January 2011, the economic growth of the city, and new programs that are being planned to improve the quality of life for all Clarksville residents.
New programs include:  a new parking facility located in downtown Clarksville, along with refurbishments to the existing parking garages; public transit services from Clarksville to Nashville for commuters, bringing a riverboat back to Clarksville; a Summer Night Lights Program keeping Clarksville Parks open after dark to provide safe places for Clarksville Teens; along with a public-private partnership to bring a new convention center to Clarksville. For full details continue reading as a transcript of her speech is included below.
«Read the rest of this article»
Clarksville, TN – Clarksville Mayor Kim McMillan is joining more than 250 mayors from across the United States, including the Mayors from Memphis, Nashville, Knoxville, Chattanooga and Gallatin, for the 80th Winter Meeting of The U.S. Conference of Mayors in Washington D.C. The focus of the meeting is to discuss job creation, foreclosures and public safety.
A highlight of the meeting is the release of an economic report with 2012 employment forecasts. The Report produced by IHS Global Insight, forecasts some job growth for all metro areas but a mild to weak increase for many. The Report also predicts that 22% of metro areas hardest hit by housing crisis will take five years to recover. «Read the rest of this article»
Clarksville, TN – Clarksville Mayor Kim McMillan will attend a program presented by Harvard University's Institute of Politics. The seminar, which is offered by invitation only, focuses on training newly elected mayors and takes place every two years. All expenses for the seminar are paid by the Institute.
"I'm very honored to be invited to this seminar and look forward to hearing from some of the most respected leaders in public policy and leadership. Having the opportunity to talk and work with mayors from across the country about the issues we all face is good for Clarksville," said Mayor McMillan. «Read the rest of this article»
Clarksville, TN – Clarksville Mayor Kim McMillan has been elected to the U.S. Conference of Mayors top leadership team during the organization's 79th Annual Meeting in Baltimore.  She joins 29 other mayors from cities across the country on the Advisory Board.  She and Chattanooga Mayor Ron Littlefield are the only mayors from Tennessee to serve in leadership positions in the Conference.  «Read the rest of this article»
Clarksville, TN – On January 25th, 2011, at 8:45am, Clarksville Mayor Kim McMillan held a press conference where she discussed the U.S. Conference of Mayors she attended last week in Washington, D.C.
Other important topics discussed were energy conservation and the new Clarksville-Montgomery County Green Certification program that is about to kick off. As well as the Civility Accord that was brought forward by the mayor of Tucson, Robert Walkup, in light of the recent shooting in his city.
The press conference was held at the Riverview Inn ballroom.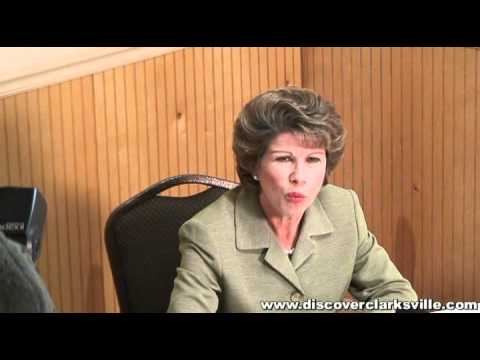 «Read the rest of this article»
Win some, lose some. It's a fact of life in the Washington wheeling and dealing on legislation, including bail-out and "economic recovery" bills.Every proposal begins with comprehensive "needs" and gets whittled down to what should be a manageable size. Or in this case, what will hopefully be the bare essentials to jumpstart cities, towns and businesses across America. Many items did not make the Senate cut.
Here, as presented in Daily Kos and courtesy of Senator Pat Leahy's office, is what the Senate compromise proposes to ax in the American Recovery and Reinvestment Act of 2009: «Read the rest of this article»