Topic: USS Tennessee
It was 11:48am local time 71 years ago people in Clarksville Tennessee were just getting getting out of church, and were looking forward to Sunday lunch; when the Empire of Japan launched their sneak attack on the naval base at Pearl Harbor in Hawaii.
The time was  7:48am in Hawaii on Sunday December 7th 1941, and the sailors of the U.S. Fleet were conducting their Sunday morning worship services when Japanese aircraft attacked. The attack consisted of two waves of 354 aircraft which took off from six Japanese aircraft carriers, the Akagi, Kaga, Sōryū, Hiryū, Shōkaku, and Zuikak.
The first warning of the air raid was sent out via radio to U.S Forces at 7:58am Hawaiian Time on Sunday December 7th 1941.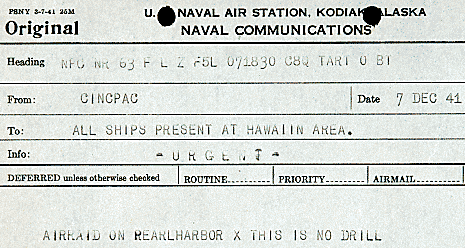 «Read the rest of this article»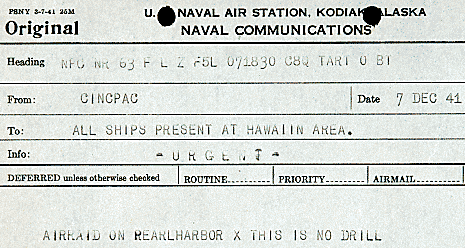 68 years ago today our nation suffered an attack that then President Franklin D. Roosevelt referred to as "A date which will live in infamy". The attack propelled a reticent America into the Second World War, a conflict that started two years prior and would continue for another four years. The attack was aimed at preventing the United States from using its Naval forces to interfere with the Imperial ambitions of the Japanese Military.
The Japanese launched a total of 354 aircraft from six aircraft carriers, in two distinct waves. The first warning of the attack was sent out via radio  to U.S Forces at 7:58 AM Hawaiian Time on Sunday December 7th 1941 as the U.S. Fleet conducted their Sunday morning worship services
The attack sank four battleships and damaged another four. It also sank or damaged three cruisers, three destroyers, and one minelayer.  A total of 188 U.S. aircraft were destroyed, most of them on the ground. The human toll was staggering with 2,402 killed, and 1,282 wounded. A total of 16 Medals of Honor, 51 Navy Crosses, 53 Silver Crosses, four Navy and Marine Corps Medals, one Distinguished Flying Cross, four Distinguished Service Crosses, one Distinguished Service Medal, and three Bronze Stars were awarded to the soldiers, sailors, and airmen who responded to the attack. «Read the rest of this article»