Topic: Valentine's Day
Written by Elizabeth Landau
NASA's Jet Propulsion Laboratory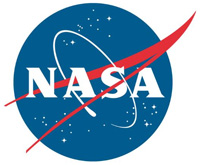 Pasadena, CA – Valentine's Day is special for NASA's Voyager mission. It was on February 14th, 1990, that the Voyager 1 spacecraft looked back at our solar system and snapped the first-ever pictures of the planets from its perch at that time beyond Neptune.
This "family portrait" captures Neptune, Uranus, Saturn, Jupiter, Earth and Venus from Voyager 1's unique vantage point. A few key members did not make it in: Mars had little sunlight, Mercury was too close to the sun, and dwarf planet Pluto turned out too dim.
«Read the rest of this article»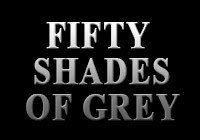 Clarksville, TN – It's finally here: opening weekend for Fifty Shades of Grey, "the hotly anticipated film adaptation of the bestselling book that has become a global phenomenon" (Fandango).
I confess that I didn't want to write this post, but as opening weekend crept closer and closer, it became more and more obvious that a lot of the folks who will be standing in line to see this film are Christians. And I can't keep silent about that. Therefore, this post is for believers (and not just women; according to MovieTickets.com, 80 percent of Valentine's Day tickets are being purchased by couples).
«Read the rest of this article»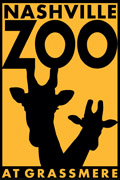 Nashville, TN – Nashville Zoo animals are celebrating Valentine's Day with special enrichment items on Saturday, February 14th.
"Valentine's Day is a chance for our animals to receive new items and toys for enrichment, and for our keepers to have a little fun," said Jac Menish, curator of behavioral husbandry at Nashville Zoo. "Cardboard in the shape of candy kisses, purple and red paper mache balls, and pink paper chains are just a few of the sweet items the animals will be enjoying during the day."
«Read the rest of this article»

Clarksville, TN – Move over, Tammy, Dolly and Loretta … there's a new trio in town! Classic country gets a musical makeover in Ted Swindley's "Honky Tonk Angels" at the Roxy Regional Theatre, beginning February 13th at 8:00pm.
Audiences who could not get enough of Always…Patsy Cline will find the perfect match in creator Ted Swindley's follow-up, which combines over 30 classic country tunes (including "I'll Fly Away," "Stand by Your Man," "Harper Valley PTA," "9 to 5," "Coal Miner's Daughter," "Ode to Billy Jo," "These Boots Are Made for Walking," "Rocky Top" and "I Will Always Love You") with a hilarious story about three gutsy gals who are determined to better their lives and follow their dreams to Nashville.
«Read the rest of this article»
Clarksville, TN – Come and celebrate a romantic Valentine's Day at the Tandoor Indian Bistro with the one you love. Enjoy eastern flavors and exotic spices for a Valentine's Day dinner that won't be forgotten.
There will be live music throughout the evening featuring the lovely Harpist Deanna Loveland along with Master Violinist Tim Lorsch who will be playing the violin and mandolin.
If you wish to avoid the Valentine's Day rush, Deanna Loveland will also be playing at the restaurant on February 13th, and 15th.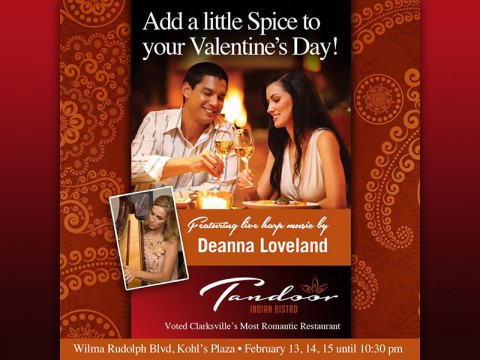 «Read the rest of this article»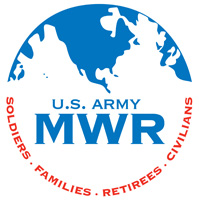 Fort Campbell, KY – Join MWR on February 14th for a Valentine's Day Sweetheart Meal at The Smokehaus at the Sportsman's Lodge.
You will have a choice of a 6 oz steak, grilled salmon or grilled chicken breast with two sides, tossed salad, dessert and beverage. Two can dine for $25.00.
Dinner will be served from 5:00pm until 8:00pm.
Reservations are recommended.
For more information, please call 270.798.4993.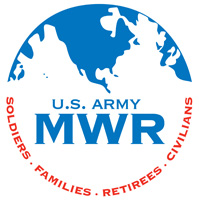 Fort Campbell, KY – Are you looking for something fun and different yet still romantic to do for Valentine's Day? Join MWR at the Fort Campbell Riding Stables for a Sweetheart Trail Ride.
We'll hold the rides on February 7th and 8th from 1:00pm to 4:30pm. The cost is $100.00 per couple and this includes a romantic two hour trail ride through the woods followed by a hay ride to scenic Lake Taal for fresh hot cocoa, a box of chocolates and a warm fire.
Each ride is limited to six couples so don't delay – make your reservation now. You must pay at the time of reservation.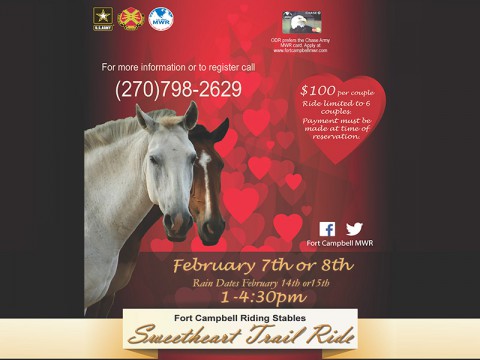 «Read the rest of this article»
February ArtWalk to benefit American Heart Association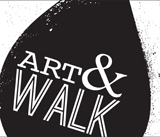 Clarksville, TN – Produced by The Downtown Clarksville Association, First Thursday Art Walk is a free, self-guided tour spanning a 5-block radius that combines visual art, live music, engaging events and more in the heart of Downtown Clarksville.
With February being American Heart Month, several businesses will be supporting the American Heart Association with donations or a percentage of sales going to the association.  In addition, we encourage people to participate in National Wear Red Day on February 5th and wear red to promote awareness of heart disease in women.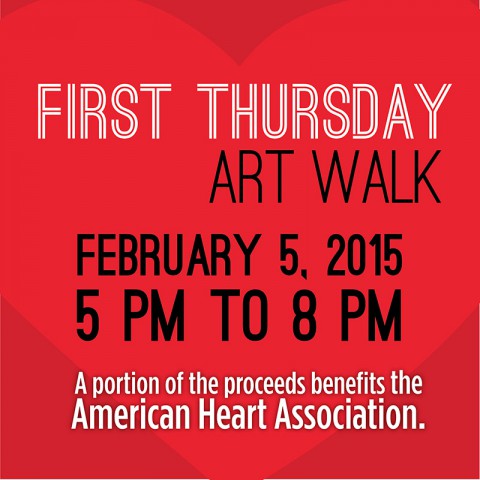 «Read the rest of this article»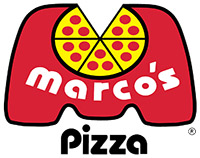 Clarksville, TN – On Monday, February 2nd, 2015, owners Matthew Buehrle and Ben Diquattro will be opening Clarksville's first Marco's Pizza at 1761 Tiny Town Road. Marco's is the only national pizza chain founded by a native Italian and takes pride in making fresh ah!thentic italian handmade pizza.
"I saw a need in the Clarksville market for better pizza," stated Buehrle. "We chose the Exit 1 area because of the growth in this part of town. Also, other pizza places have to drive from Exit 4 and we are here to service them direct."
«Read the rest of this article»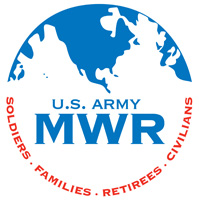 Fort Campbell, KY – Are you a chocoholic? If you just answered yes – then D.W. Recreation Center has a free event coming up that you won't want to miss!
On February 15th, we will be holding the University of Phoenix – Military Division Community Family and Soldier Event, "All Things Chocolate" starting at 3:00pm.
You'll get to sample a wide variety of chocolate items in honor of Valentine's Day. «Read the rest of this article»