Topic: Veteran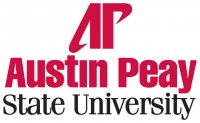 Clarksville, TN – The recipient of the 2015 Command Sgt. Maj. Darol Walker Award at Austin Peay State University is ROTC Cadet Kevin Doss, a decorated career soldier.
Doss, born in San Antonio, Texas, graduated from Boerne High School in 2001 and attended the University of Texas from 2001-03. He will graduate May 8th from APSU with a degree in Criminal Justice and a minor in Military Science.
«Read the rest of this article»
Chalks endorsement of Blackburn up to a 'business decision'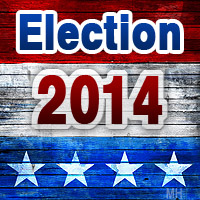 Clarksville, TN – Gannett's Nashville paper, the Tennessean, has endorsed the incumbent rather than retired Iraqi War veteran Dan Cramer, in the race for Tennessee's 7th congressional district. Cramer expressed amusement at the paper's choice but said he understands how supporting the presumed "safe bet" is a better business decision.
"I am always grateful and honored by any endorsement," Cramer said, "But one of the realities of politics is that not everyone will agree with you 100% of the time. In the case of the Tennessean's choice, I can see how their financial interests are better served by endorsing a presumed strong incumbent, but I think there are some interesting inconsistencies in their reasoning.
«Read the rest of this article»
Recognized for Impacting the Quality of Life of Service Members and their Families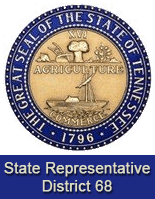 Nashville, TN – Tennessee State Representative Curtis Johnson (R-Clarksville) was recognized recently by the United States Department of Defense for his "leadership on public policy changes positively impacting the quality of life of Service members and their families."
The award of appreciation comes after Rep. Johnson successfully passed several bills to aid military service members and their families, including House Bill 1372 which was approved this year. That new law would allow certain out-of-state veterans to pay in-state tuition and fees at state colleges and universities.
«Read the rest of this article»
Sends letter to supporters asking for $150,000 to fund reelection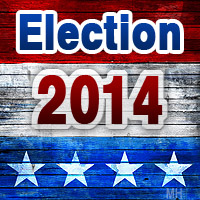 Clarksville, TN – Marsha Blackburn's campaign has refused to schedule a debate with her Democratic challenger, retired US Army veteran Dan Cramer, of Clarksville.
Cramer, the Democratic nominee who is running to unseat Blackburn in the US House of Representatives, received no response when he reached out to Blackburn's office last week by phone and mail.
«Read the rest of this article»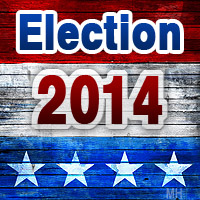 Cunningham, TN – Joe Sweeten, Register of Deeds candidate, attended the 106th Annual Lone Oak Picnic held by the Central Civitan Club talking to the people there on Saturday, July 27th, 2014.
"I am from Missouri originally, been here here 30 years. I'm pretty sure that mom, she' 79 years old, is chopping mutton at an event just like this. That's where I come from," stated Sweeten. ""I am a veteran, law school graduate, and a computer programmer with 15 years experience."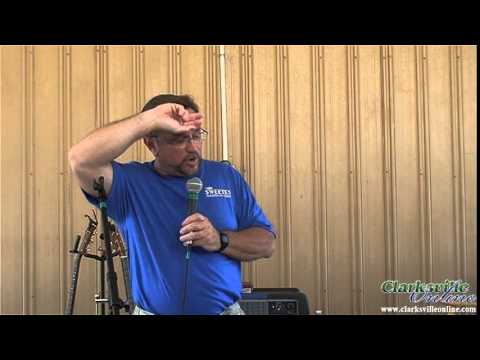 «Read the rest of this article»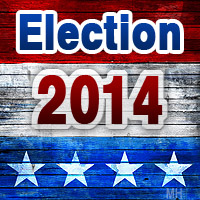 Cunningham, TN – U.S. House of Representatives District 7 candidate Credo Amouzouvik spoke at the 106th Annual Lone Oak Picnic held by the Central Civitan Club on Saturday, July 27th, 2014.
I am a war wounded veteran from Fort Campbell running for Congress in the 7th District of Tennessee. A fresh start and a new direction is what I am bringing to the table," said Amouzouvik.
A fresh start and a new direction where our senior citizens are not beat up on. A fresh start and a new direction where social security is guaranteed to those who have worked hard their entire life," stated Amouzouvik.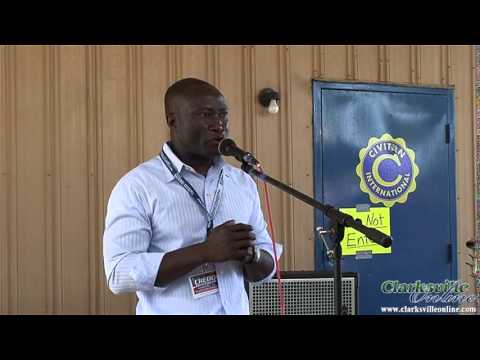 «Read the rest of this article»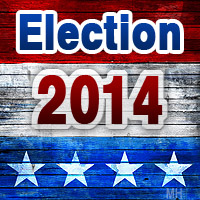 Clarksville, TN – Credo Amouzouvik, U.S. Congressional democratic candidate for Tennessee District 7 has been visiting the counties in the district and is set to speak at the Clarksville Association of Realtors' 2014 Political Candidate Forum today in Clarksville Tennessee.
Credo believes that consistent contact with constituents and an open flow of communication be-tween government leaders and their constituents is essential to a successful term in office. "Visiting the counties puts me in touch with the people so that they can share how they feel about current policies and politics affecting them," says Amouzouvik (Credo). "When it comes to healthcare, education, jobs and the economy; I want them to share that with me."
«Read the rest of this article»

Clarksville, TN – When Rich Whitaker opened his Fresh Coat Painters franchise, he knew he wanted to prioritize giving back to the community. So when the Clarksville Home Builders Association asked him to paint a house for a fellow veteran, there was no question that the answer would be yes.
Whitaker and the team at Fresh Coat Painters of Clarksville recently painted an entire home for Staff Sergeant Adam J. Montavon and his wife, Sasha, free of charge.
«Read the rest of this article»
Written by Sgt. Leejay Lockhart
101st Sustainment Brigade, 101st Airborne Division (AA) Public Affairs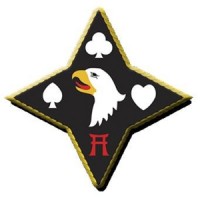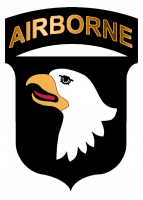 Fort Campbell, KY – Fort Campbell and the 101st Airborne Division (Air Assault) held the 2014 Week of the Eagles Car Show here May 17th.
The event gave auto enthusiasts an opportunity to view 43 superb vehicles as part of the Spectacular Saturday events on the installation. The cars ranged from a 1923 Ford T Bucket built out of scrap parts with a Chevy drive train to a 35th Anniversary Edition Nissan 350Z.
«Read the rest of this article»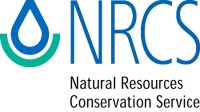 Nashville, TN – Disabled veteran and outdoorsman Jason Seaton of East Tennessee dreamed of hearing the distinctive call of bob white quail on his farm again. He ordered trees from the Sevier County Soil Conservation District back in 2008, but they didn't survive due the drought.
Not one to give up, Seaton and his mother, Beverly, went to the Sevierville Field Office and met with Natural Resources Conservation Service (NRCS) Soil Conservationist Mitchell Aman, who helped him develop a comprehensive conservation plan. Seaton then applied for and was funded through NRCS Environmental Quality Incentives Program.
«Read the rest of this article»