Topic: Veteran

Clarksville, TN – Nothing worth having comes easy – a lesson that former soldier Kali Cooper understands as well as anyone. But the services Austin Peay State University provides military and veteran students did make the transition to college life a little less difficult.
A Minnesota native who left her home and enlisted in the army at the age of 17, Cooper's life has more or less revolved around the military ever since.
«Read the rest of this article»

Clarksville, TN – Colonel Rob Salome, garrison commander at Fort Campbell, will visit Austin Peay State University at 8:00am on April 28th to help recognize an outstanding APSU ROTC cadet during the annual CSM Darol Walker Award Ceremony and Breakfast.
Jack B. Turner established the award several years ago in honor of Darol Walker, retired vice president of Jack B. Turner and Associates Inc. in Clarksville and retired command sergeant major in the U.S. Army.
«Read the rest of this article»
APSU Sports Information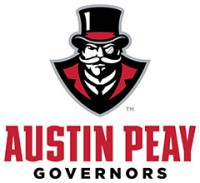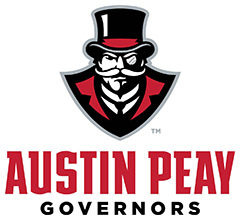 Clarksville, TN – Austin Peay State University Student-Athlete Advisory (SAAC) and Altra Federal Credit Union will serve as hosts to the Hoops for Heroes Spaghetti Dinner Fundraiser, 5:30pm, Wednesday, prior to the APSU women's 7:00pm. basketball game with SIU Edwardsville.
The dinner will take place in the Govs Club area on the Dunn Center third-floor level. Cost for the dinner is $10.00 per ticket, with proceeds going towards sending a military veteran and family to the Ohio Valley Conference Basketball Championships.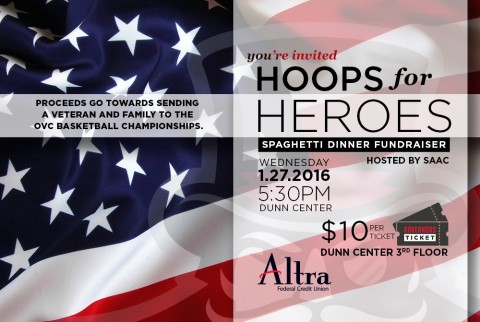 «Read the rest of this article»

Clarksville, TN – Thirty year veteran with the Montgomery County Sheriff's Office, Investigator Larry Hodge, 55, has passed away.
Hodge is the son of an Air Force veteran and grew up all over the world. As a child he rose to the rank of Eagle Scout with the Boy Scouts. He graduated from Jacksonville High School in 1978 and shortly thereafter settled in Clarksville with his family.
«Read the rest of this article»

Clarksville, TN – Investigators with the Montgomery County Sheriff's Office have identified the human remains found in Palmyra Thursday morning as Melissa Sue Napier (Woodruff), 30, of Clarksville Tennessee.
Napier, originally from New York, is an Army veteran. She served in the military for 4 1/2 years and rose to the rank of an E-5 Sergeant.  She completed 2 tours in Iraq working as a Chemical Operations Specialist.
«Read the rest of this article»

Clarksville, TN – During a special alumni awards ceremony on Saturday, October 24th, Austin Peay State University honored six distinguished individuals as part of its 2015 Homecoming celebration.
This year's honorees were Outstanding Service Award recipients Maggie Kulback ('77) and Mike O'Malley; Outstanding Young Alumnus Award recipients Michael Wall ('00) and Chad Kimmel ('02); and Outstanding Alumni Award recipients Fred Landiss ('69) and Dr. Joe Greer ('70).
«Read the rest of this article»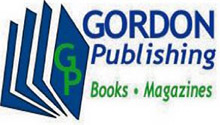 Clarksville, TN – Pastor Frank Washington, Sr., Clarksville, TN has written his first book titled, From The Heart A Collection of Poems to inspire the masses. This book of poetry is first published by Gordon Publishing, Clarksville, TN with a book signing event scheduled in the works for July 3rd at the Fort Campbell Main Exchange from 10:00am-2:00pm.
From The Heart A Collection of Poems contains poems written from different eras of more than 20 years throughout Washington's life.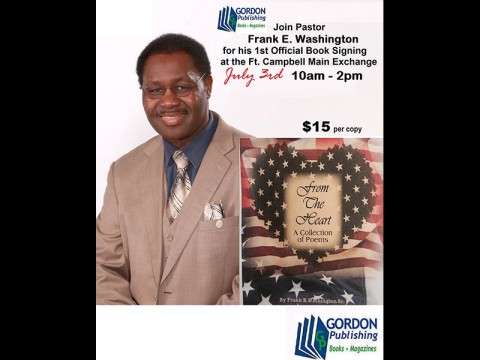 «Read the rest of this article»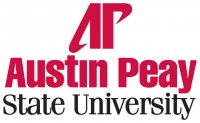 Clarksville, TN – The recipient of the 2015 Command Sgt. Maj. Darol Walker Award at Austin Peay State University is ROTC Cadet Kevin Doss, a decorated career soldier.
Doss, born in San Antonio, Texas, graduated from Boerne High School in 2001 and attended the University of Texas from 2001-03. He will graduate May 8th from APSU with a degree in Criminal Justice and a minor in Military Science.
«Read the rest of this article»
Chalks endorsement of Blackburn up to a 'business decision'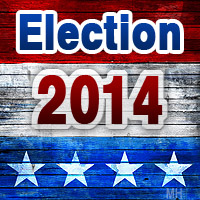 Clarksville, TN – Gannett's Nashville paper, the Tennessean, has endorsed the incumbent rather than retired Iraqi War veteran Dan Cramer, in the race for Tennessee's 7th congressional district. Cramer expressed amusement at the paper's choice but said he understands how supporting the presumed "safe bet" is a better business decision.
"I am always grateful and honored by any endorsement," Cramer said, "But one of the realities of politics is that not everyone will agree with you 100% of the time. In the case of the Tennessean's choice, I can see how their financial interests are better served by endorsing a presumed strong incumbent, but I think there are some interesting inconsistencies in their reasoning.
«Read the rest of this article»
Recognized for Impacting the Quality of Life of Service Members and their Families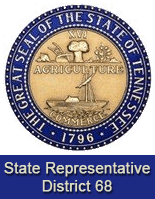 Nashville, TN – Tennessee State Representative Curtis Johnson (R-Clarksville) was recognized recently by the United States Department of Defense for his "leadership on public policy changes positively impacting the quality of life of Service members and their families."
The award of appreciation comes after Rep. Johnson successfully passed several bills to aid military service members and their families, including House Bill 1372 which was approved this year. That new law would allow certain out-of-state veterans to pay in-state tuition and fees at state colleges and universities.
«Read the rest of this article»