Topic: Wayne Wilkinson
Clarksville, TN – Clarksville Mayor Kim McMillan will host the first organizational meeting of the newly appointed Design Review Task Force on February 5th, 2013 at 3:00pm.
The public meeting will take place in the City Hall Conference Room on the fourth floor of City Hall. The Task Force's goal is to review Clarksville's design review committee structure and present recommendations to simplify and streamline the design approval process. «Read the rest of this article»
This week marked a new chapter in my life, as I sold my radio station, WJZM 1400am. I have spent most of my entire life there, and it's been very good to me. Interesting how time flies when you're having fun, and I've had a blast.
The people I want to thank is a lengthy list, and I can't thank them all, but I would like to reflect back on a few.
First, to God almighty, who has blessed me with a little talent, good health, and a strong work ethic.
To my wife Grace, who has stood by me under some very difficult situations and probably wishes I had been an accountant. A lesser woman would have cut me loose a long time ago and I would have deserved it. Trust me. «Read the rest of this article»
Clarksville, TN – Rick Ingram, the former superindentent of the Clarksville Department of Electricity, is facing a 36 count indictment that alleges he conspired to defraud CDE of thousands of dollars, but using his influence to steer contracts to two companies, without the knowledge of the CDE Power Board.
In the indictment handed down by the United States District Court, it's alleged that during Ingrams time at CDE, between November 2008 until the time he was fired in July of 2009, he conspired with Tommy Walton Sr to defraud the utility and it's ratepayers. «Read the rest of this article»
Court dismisses lawsuit filed to silence those who oppose eminent domain abuse
ARLINGTON, VA:  Evidently you can fight city hall—and fight private developers who use city hall's power, too.
In an order issued on March 26, 2009, Judge C.L. "Buck" Rogers of the Circuit Court for Sumner County, Tenn., vindicated the right to protest government abuse by dismissing the libel lawsuit brought by Richard Swift, a developer who is a former member of the Clarksville City Council, and Wayne Wilkinson, a member of Clarksville's Downtown District Partnership, against members of the Clarksville Property Rights Coalition (CPRC). «Read the rest of this article»
CPRC, Institute for Justice: Thin-skinned politician and developers filed lawsuit to stifle debate over eminent domain

ARLINGTON VA: It is time to throw out the frivolous lawsuit meant to silence the free speech of those who oppose eminent domain abuse.
That is the message members of the Clarksville Property Rights Coalition,  grassroots group formed to fight the abuse of eminent domain in their community, delivered at 8 a.m. today through their attorneys from the Institute for Justice.  A hearing on the coalition's motion to dismiss the case will be held at the Circuit Court for the 18th Judicial District, 105 Public Square, Sumner County Courthouse in Gallatin, Tenn., in the second-floor courtroom before the Honorable C.L. "Buck" Rogers. «Read the rest of this article»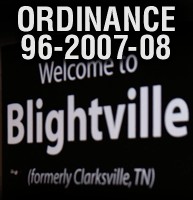 With the CPRC vindicated just last week, Montgomery Court now says it made "a mistake." The libel suit against the Clarksville Property Rights Coalition has been resurrected, with motions, discovery on August 4.
Last week the Montgomery County Circuit Court dismissed a libel suit filed against the grassroots Clarksville Property Rights Coalition regarding downtown redevelopment, but late today the Court notified the Institute for Justice of Virginia, CPRC's legal representatives, that the signing of the order was "a mistake," that oral arguments and discovery in this case will in fact be heard on Monday, August 4.
The Institute for Justice has just been informed by the clerk's office of the Circuit Court for Montgomery County, that a mistake in that office led to the accidental signing of an order granting IJ's motion to dismiss a libel lawsuit brought against members of the Clarksville Property Rights Coalition (CPRC). As a result, that order will be rescinded and Judge Ross Hicks will hear oral argument on IJ's motion to dismiss the lawsuit on Monday, August 11. The court will also conduct a discovery hearing on Monday, August 4.
The case, borne of a highly controversial ordinance passed by the Clarksville City Council in November, 2007, that "blighted" some two square miles of downtown Clarksville, culminated in a libel suit over a newspaper ad taking some city officials to task for their actions in supporting the ordinance that potentially opened the door for taking of properties by eminent domain and for private development. «Read the rest of this article»
Property Rights group faces $500,000 libel suit
Controversial development plan under fire
Councilor Richard Swift, DDP member Wayne Wilkinson claim harm to public image and integrity
Is this a SLAPP suit?
CPRC will "vigorously defend" against "frivolous" suit
Another punch has been thrown in the ongoing battle between the Clarksville Property Rights Coalition and both city officials and the Downtown District Partnership: the CPRC has been slapped with a lawsuit over a dissenting advertisement on the issue of redevelopment.
The suit was filed by Wilkinson and Swift on Friday in the 19th Judicial District, Circuit Court of Montgomery County against the CPRC as an organization and, Pam Vandeveer, individually as CPRC treasurer. You can read the complete text of the lawsuit here at Clarksville Online.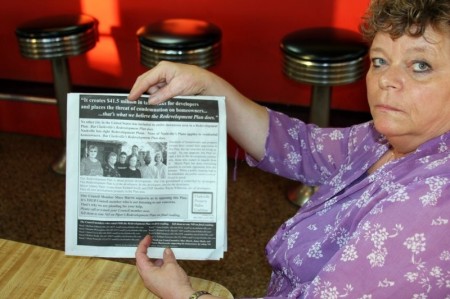 CCRP member Joyce Vanderbilt with the CPRC ad
At issue is the veracity of an ad which ran in the Leaf Chronicle on May 3, prior to the May 8 City Council special session at which the final reading and approval of the highly controversial Downtown Redevelopment and Urban Renewal Plan occurred. The ad stated that Clarksville Mayor Johnny Piper, Councilman Richard Swift and DDP member Wayne Wilkinson as developers who worked for passage of the comprehensive redevelopment plan that would cover roughly two square miles of down town Clarksville and which designated the area as blighted.
The lawsuit charges that the CPRC ad made "libelous" statements against plaintiffs Wilkinson and Swift when the CPRC ad implied that [the plaintiffs] placed their "development interests" above the wishes of the community and their constituency. «Read the rest of this article»