Topic: Wilma Rudolph Events Center
TDOT Issues Two Important Public Meeting Notices impacting Clarksville-Montgomery County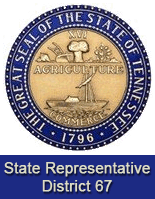 Nashville, TN – House Bill 0422 (Senate Bill 493) which would expedite issuance of certain professional licenses and temporarily extend certain licenses for active duty personnel that were deployed when their licenses came due for renewal passed unanimously in the House of Representatives on Monday, March 11th.
Tennessee State Representative Joe Pitts (D-Clarksville), sponsor of the House bill said "The legislation sets a clear process for professional license renewal when our active duty military personnel are deployed at the time of that renewal."
The House of Representatives passed the bill unanimously and the Senate will take up the bill on Monday, March 18th.
«Read the rest of this article»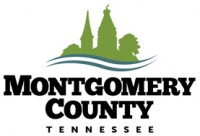 Montgomery County, TN – Montgomery County Government and the City of Clarksville will host a breakfast commemorating the 50th anniversary of the Vietnam War.
All Montgomery County Vietnam Veterans are invited to attend. This event is set for Wednesday, April 3rd at 7:30am at the Wilma Rudolph Events Center at Liberty Park. «Read the rest of this article»

Clarksville, TN – On Saturday March 9th the Legends of Clarksvegas will rock the Wilma Rudolph Events Center at Liberty Park to benefit animals and the Humane Society of Clarksville-Montgomery County.
The Legends of Clarksvegas features some of the best professional impersonators in the business. Come see Shawn Barker as "Johnny Cash", Lance Lipinsky as "Jerry Lee Lewis", Freddy B as "Elvis Presley", and Steve Bobbitt as "Rod Stewart" along with special guests, the EAS Showband, the official tribute band for Graceland. Local Attorney Kevin Kennedy will be acting at the Emcee for the evening.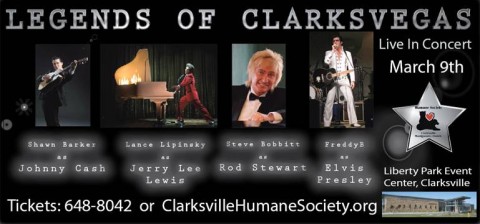 «Read the rest of this article»

Clarksville, TN – The Wilma Rudolph Event Center, located at Liberty Park, played host to "Handmade Holidays," a Crafters Bazaar which featured holiday-themed handmade and handcrafted items. It featured more than 40 booths of crafts, art, jewelry, pottery, quilts, soaps, and more.
Matthew Nixon of the Clarksville Department of Parks and Recreation said, "The idea for the Handmade Holidays event was the brainchild of the team behind the downtown market. Towards the end of the season. We knew that the market was going to be closing and we wanted to see if a craft show such as other entities have, would work here in Clarksville. So we scheduled it in the new Wilma Rudolph Event Center, and so far it's been a huge success."
«Read the rest of this article»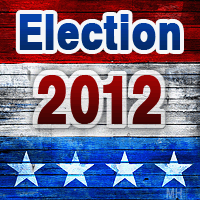 Clarksville TN-Voters are turning out in steady numbers all across Clarksville-Montgomery County today as America votes in the 2012 Presidential Election.  Montgomery County Election Commission officials say there have been no reports of major voting problems at any of their polling locations.
Clarksville Online had visited several locations throughout the morning and the number of people who had voted varied from each location.
«Read the rest of this article»
Clarksville, TN – Clarksville Mayor Kim McMillan is announcing the lifting of mandatory water restrictions placed on commercial customers.
"Although we currently have a little break from the extreme heat, we are still seeing an increase in water usage due to the very dry weather conditions. We are making every attempt to lift the water usage restrictions in place as quickly and efficiently as possible. This is the first step in that process," said Mayor McMillan. «Read the rest of this article»