Topic: Wyatt-Johnson Auto Group

Montgomery County, TN – Two back-to-back events will be held Saturday in honor of fallen Montgomery County Sheriff's Office Deputy David "Bubba" Johnson.
First, the Inaugural Bubba Johnson Memorial 5K Road Race begins at 8:30am Saturday, July 19th beginning at The Montgomery County Historic Courthouse, Clarksville, TN. There is also a 1-mile "fun run-walk" that will begin and end at Clarksville First Baptist Church.
«Read the rest of this article»

Clarksville, TN – When Comedy on the Cumberland began in Clarksville two years ago, the man behind the event said it was just an idea to generate advertising revenue, and raise money for local charity.  Now the event has become one of the most popular stops by comedians around the country.
«Read the rest of this article»

Clarksville, TN – The Clarksville Area Chamber of Commerce announces upcoming events during the month of March.
The Chamber's Business After Hours will be held on Thursday, March 15th from 5:00pm-7:00pm. The event will be hosted by Wyatt-Johnson at their Hyundai, Subaru, Mazda location, 2425 Wilma Rudolph Boulevard. Join us at this March Madness themed event to shoot some hoops, enjoy music, food, friends and giveaways! Business After Hours is offered at no cost. «Read the rest of this article»
The longtime Clarksville auto family will take over Joe Heitz Toyota and begin selling Toyota cars & trucks immediately

Clarksville, TN – The Wyatt-Johnson Automotive Group has officially announced their acquisition of Joe Heitz Toyota and will add the world's largest automobile manufacturer to their list of fine quality automotive brands the longtime Clarksville business offers. Wyatt-Johnson already offers GMC, Buick, Subaru, Hyundai, and Mazda new and used vehicles, and effective immediately, now will also offer Toyota cars and trucks as well.
"We've been interested in the Toyota franchise for several years. Toyota is a very strong brand and its customer base is very loyal," said Wyatt-Johnson owner and Dealer Principal Katherine Cannata.  "Their product is so dependable and quality-built. We are extremely proud to add them to our fleet." «Read the rest of this article»

Clarksville, TN – Clarksville's wildly popular stand up comedy series, Comedy on the Cumberland,  has announced that Brian Kiley has been signed to return to Clarksville for the December show.
Held at the Roxy Regional Theater, Comedy on the Cumberland is a charity event, raising money for local organizations and providing a much needed "Night of Laughter" in Clarksville.  Kiley had the audience in stitches during the July 2010 show, and promises to deliver again December 6th.  Kiley is known for his good clean humor and "jabs" at his own life as a "fat man in a weight-watchers world."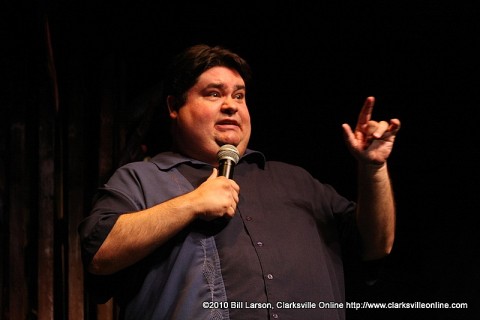 «Read the rest of this article»

Clarksville, TN – For the second year in a row, Wyatt-Johnson has been named "GMC Dealer of the Year" – an honor awarded to only 18 dealerships out of 700 nationwide.
To commemorate this premier achievement, five GM executives visited Clarksville last week to host lunch and celebrate with 75 Wyatt-Johnson employees. This high honor was based on sales volume of Buick and GMC cars and trucks in 2010 as well as service records and customer satisfaction.
«Read the rest of this article»
Rising Gas Prices drive demand for Fuel-Efficient Vehicles, resulting in manufacturer's Best Month Ever

Clarksville, TN –  When Sidney Johnson purchased a fledgling Hyundai franchise in 1991 and welcomed it into the Wyatt-Johnson family, a gallon of gas cost $1.14. Two decades later, gas costs three times as much and the Wyatt-Johnson Auto Group recently marked the 20th anniversary of their partnership with the auto maker with the brand's highest monthly sales to date. 
«Read the rest of this article»
Wyatt-Johnson Auto Group sells more vehicles in 2010 than any other Buick GMC dealership in Tennessee
Named #1 GMC-Buick Dealer in the state, #3rd in the Southeast United States

Clarksville, TN – Sixty-five years ago, Henry Wyatt opened a small auto dealership in the heart of Clarksville built on the foundations of honesty and integrity.  Henry's son-in-law Sid Johnson spent the next fifty years at the helm, expanding on these core values and growing the family-owned dealership into the Clarksville institution it is now. 
Honoring the legacies left by their founders, The Wyatt-Johnson Automotive Group has continued this tradition of excellence and was recently rewarded for their years of perseverance by being named the #1 Buick-GMC Dealership in Tennessee for the second year in a row.
«Read the rest of this article»