Topic: Yonkers NY

Yonkers, NY – Thousands of doctors are currently practicing medicine while being on probation for issues ranging from sexual misconduct and drug addiction to unprofessional and dangerous treatment of patients. But it's difficult and time-consuming for consumers to find out if their doctor is one of them, according to Consumer Reports.
A survey by Consumer Reports finds that 82 percent of Americans are in favor of requiring doctors to tell their patients if they are on probation and why. And 66 percent lean toward barring doctors from seeing patients until their probationary period ends.
«Read the rest of this article»
Audi, Subaru, Lexus, Porsche, BMW lead the pack

Yonkers, NY – Consumers don't always have to spend top dollar to get a great car. The Consumer Reports 2016 Brand Report Card reveals mainstream brands like Subaru and Mazda can often deliver as much quality as more opulent luxury brands.
The highest overall brand scores in Consumer Reports' annual indicator of which brands make the best cars went to Audi (80) and Subaru (78). Consumer Reports currently Recommends 100 percent of each brand's models that it has tested. Luxury brands Lexus (76), Porsche (76), and BMW (76) rounded out the top five in CR's rankings.
«Read the rest of this article»

Yonkers, NY – Seven new vehicles made Consumer Reports' 2016 Annual Top Picks list—the Mazda MX-5 Miata, Kia Sorento, Toyota Sienna, Toyota Camry, Lexus RX, Honda Fit, and Ford F-150 — in each of their respective categories.
The redesigned Ford F-150 was named best Pickup Truck, thanks in part to its fuel economy, quiet and spacious cabin, and much-improved infotainment system. It's Ford's first win in the category since 1999 and its first overall Top Pick honor since 2012.
«Read the rest of this article»

Yonkers, NY – In a national price scan of more than 200 pharmacies, Consumer Reports uncovered startling variation in drug costs at a time when unpredictable drug pricing is an increasing national concern.
The scan found that some drugs can cost as much as 10 times more at one retailer versus another—even within the same zip code.
«Read the rest of this article»

Yonkers, NY – When it comes to banking, bigger isn't always better.  A recent subscriber survey conducted by Consumer Reports found that customers of credit unions, primarily online, and smaller traditional banks were more satisfied with their overall banking experience than those who do business with one of the nation's four dominant mega banks: Bank of America, Chase, Citibank, and Wells Fargo.
The full report, "Choose the Best Bank for You," is in the January 2016 issue of Consumer Reports and at ConsumerReports.org.   «Read the rest of this article»

Yonkers, NY – A review of a series of in-depth studies conducted by Consumer Reports show that, in general, meat, poultry and shrimp from animals raised without antibiotics are less likely to harbor multidrug-resistant bacteria than conventionally-produced meat from animals that get the drugs routinely.
During the past three years, Consumer Reports' Food Safety and Sustainability Center has conducted tests of bacterial contamination in four different types of primarily raw and uncooked meat while also examining antibiotic resistance of bacteria as a consequence of antibiotic overuse, including the presence of dangerous "superbugs." Hundreds of packages of meat, poultry and shrimp were methodically tested for bacteria and antibiotic resistance and analyzed by an expert team of scientists and statisticians.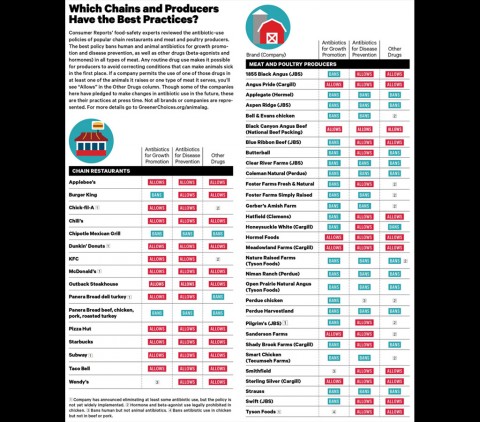 «Read the rest of this article»

Yonkers, NY – In Consumer Reports new tests of ground beef, 18 percent of the beef samples from conventionally-raised cows contained dangerous superbugs resistant to three or more classes of antibiotics used to treat illness in humans compared with just 9 percent of beef from samples that were sustainably produced.
Consumer Reports' investigation comes as food poisonings are striking an estimated 48 million people in the U.S. each year with beef being a top cause of outbreaks. «Read the rest of this article»
Poor Credit May Raise Premiums Higher Than a Drunk Driving Conviction

Yonkers, NY – The amounts drivers pay for their car insurance premiums are based on confounding algorithms that increasingly have more to do with socioeconomic factors than driving habits, according to extensive research conducted by Consumer Reports.
The organization, w­hich believes that knowledge about the going rate of any product or service is a fundamental consumer right, has released the findings of a two-year, in-depth car insurance investigation. The report analyzed more than 2 billion price quotes for sample drivers that were obtained in August and November 2014 from more than 700 companies across all 33,419 general U.S. ZIP codes. «Read the rest of this article»
Pressure Builds for Phone Carriers to Provide Customers With Call-Blocking Tools

Yonkers, NY – Attorneys General from 45 states around the country called on the major phone companies today to provide their customers with effective tools to help stop the flood of unwanted robocalls.
The effort comes just weeks after the Federal Communications Commission made clear that phone companies can and should offer such tools and as nearly 330,000 Americans have joined Consumers Union's End Robocalls campaign calling on them to do so. «Read the rest of this article»
Citing continued danger to young children, CR calls for tougher safety standards

Yonkers, NY – Consumer Reports today announced that it would no longer recommend liquid laundry detergent pods because of the continued high-rate of accidental poisonings of young children attributable to those products.
The organization now strongly urges households where children younger than 6 are ever present to refrain from purchasing them. «Read the rest of this article»