The FreeThinkers for Peace and Civil Liberties held a Peace Vigil Sunday at Patriot's Park in Clarksville to mark another milestone in the Iraq War: 3,000 troops lost over the duration of the war.
Coming on the last day of 2006, the 3,000th death marks a sad ending to a grim year of loss, and sets a tragic baseline from which to start the New Year.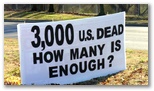 Large signs placed facing both north and southbound traffic asked the question: "3,000 dead; how many more have to die?" They also cited statistics that included the number of non-fatal injuries (45,000+) and the high incidence of mental health issues including post-traumatic stress that according to government reports affect about 25% of returning soldiers, a number some local psychologists and therapists feel is grossly understated. Iraq civilian casualties are estimated to be between 52,000 and 57,000. (Statistics from icasualties.org)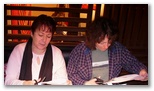 The vigil was organized by FreeThinkers founder, artist and activist Debbie Boen and activist/writer Christine Piesyk. Boen was saddened and frustrated by today's milestone number, which has been relatively unheralded, unnoticed in the bustle of the holiday season. «Read the rest of this article»

At a recent community meeting the citizens of Clarksville, TN voted and confirmed that they will take their plea before the Clarksville Board of Zoning Appeals on January 3, 2007, 100 – Spring Street Clarksville TN @ 8: 30 A.M., to stop the Salvation Army from placing a homeless shelter and possible alcohol and drug rehabilitation center next to Byrns – Darden Elementary School.
The Montgomery County Parents & Teachers Organization (PTO) along with local School Board members and several County Commissioners will present evidence, petitions and signed affidavits. We all agreed that this possible shelter would not only pose a safety risk to the students of Byrns – Darden Elementary School, but would cause irreparable damage to the community as a whole. «Read the rest of this article»