The FreeThinkers for Peace and Civil Liberties held a Peace Vigil Sunday at Patriot's Park in Clarksville to mark another milestone in the Iraq War: 3,000 troops lost over the duration of the war.
Coming on the last day of 2006, the 3,000th death marks a sad ending to a grim year of loss, and sets a tragic baseline from which to start the New Year.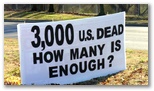 Large signs placed facing both north and southbound traffic asked the question: "3,000 dead; how many more have to die?" They also cited statistics that included the number of non-fatal injuries (45,000+) and the high incidence of mental health issues including post-traumatic stress that according to government reports affect about 25% of returning soldiers, a number some local psychologists and therapists feel is grossly understated. Iraq civilian casualties are estimated to be between 52,000 and 57,000. (Statistics from icasualties.org)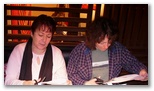 The vigil was organized by FreeThinkers founder, artist and activist Debbie Boen and activist/writer Christine Piesyk. Boen was saddened and frustrated by today's milestone number, which has been relatively unheralded, unnoticed in the bustle of the holiday season.
"I didn't want to have to do this vigil and I don't want to do another one, but we will do them as long as we have to." Both women said the group wholeheartedly supports the troops and their families, but believe the war is being waged "for the wrong reasons," and was launched on lies and misinformation. Their efforts are intended to raise awareness of the human toll of the Iraq War.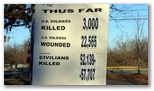 "The human cost of this war, the price paid by our soldiers and their families, is staggering," Piesyk said. Piesyk, who was activist in the Vietnam era, said the War in Iraq was "deja-vu" for her, "something I didn't expect to be doing again in this lifetime." She said the numbers are tragic, and noted that the American public is "increasingly discontent with the way things are going — or not going — in Iraq." That comment comes even as government and military officials acknowledge the war is not going well and changes in strategy and policy must be made.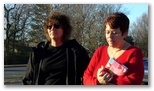 The vigil included moments of silent prayer, readings and comments from the participants.

A selection of other images from the vigil
Photographs by Bill Larson