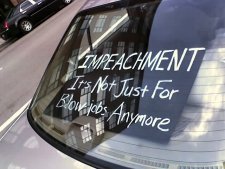 Below is a video clip of a Chuck Schumer and Diane Feinstein press conference about the politically motivated firing of US Attorneys and the resulting scandal.
If they won't step down It's time to impeach all complicit individuals in the Bush Administration, and let God sort them out. This includes the Attorney General, Harriet Myers, Karl Rove, and if they had any involvement at all the President and Vice President.
[youtube]u5p3S3zAt54[/youtube]
Howard Dean  also joined the chorus of people calling for Gonnzales to resign.
The best way for Attorney General Gonzales to accept responsibility is for him to step down," said Democratic National Committee Chairman Howard Dean. "The Bush White House has consistently put protecting the President and doing his bidding ahead of upholding the integrity of our nation's laws. Karl Rove should pack his bags and go too. His type of leadership doesn't belong at the White House. America deserves better. – Howard Dean

From the Associated Press comes information that this was planned, vetted, and approved by all levels of the Bush White House.
We're a go for the US Atty plan," Kelley wrote in a Dec. 4, 2006, e-mail to Sampson and Miers. "WH leg, political, communications have signed off and acknowledged that we have to be committed to following through once the pressure comes. – The Associated Press
Daily Kos summarizes it quite well:
Again, this is really, really simple. The whole White House gave the go-ahead on a plan to use provisions of the anti-terrorism Patriot Act to circumvent the authority of Congress in confirming replacements for U.S. Attorneys the White House was forcing out. It was purely, rawly political — they did it because they could, and they did it because it meant that their new appointees — some of them deeply controversial — wouldn't have to go through the confirmation process. Didn't have a damn thing to do with terrorism.

First they planned it. Then they did it.

Oh, and here's Gonzales lying through his teeth about it in front of the Senate Judiciary Committee. – Daily Kos
It's past the time for Congress to act and remove this administration from office.