In the beginning there was Errol Flynn. Then Tyrone Power in The Black Swan. And always, a fiesty, pretty woman. A generation ago. Our next swashbucklers were intergalatic — the light saber play between Darth Vader and Luke Skywalker. Father and son. With pretty woman Princess Lea in between.
Today Johnny Deep swooshes and swaggers (more swoosh than swagger) across the big screen in Pirates of the Caribbean III: At World's End, another theme-park-ride swashbuckler that is better than Pirates II, but a long way from the charm and manic humor and first run surprises of the original film.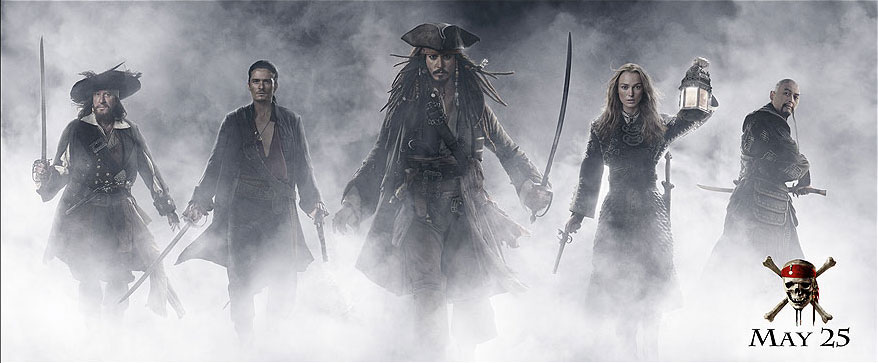 (Photo: Barbossa (Rush), Will Turner (Orlano Bloom), Jack Sparrow (Depp), (Elizabeth (Knightly) and Sao feng (Chow-Yung-Fat)
In the audience on opening night (5/24), fans decked out in Sparrow regalia were at least as amusing and swaggering as the on-screen original, and seemed to be having as much fun as Depp & Co did making this movie in the Bahamas. «Read the rest of this article»
It's summer (or close enough) and for those of us who are old enough to remember, Saturday night in summer meant one thing: drive-in movies. Stuff the car with friends, food and even a few folding chairs, and settle in for a triple feature under the stars. With the onslaught of Imax theaters, air-conditioned stadium seating, and surround sound, most of the drive-in theaters have been relegated to the realm of fond memories and the reality of strip malls. No more sultry summer nights before a big outdoor screen; forgotten is the scratchy sound from the little black boxes that hung on the car windows, or the camaraderie of sharing the contents of an ice-filled cooler, oversized grinders and semi-stale popcorn with the friends parked next to you on "$5.00 a carload" nights.
The movies that we watched live on, though, some offered for rental, some order-able on online, and others now living in "public domain" and available for free downloads. Over the course of the summer, I'll be taking a look at some of them. Might not be a bad idea to have your friends "drive" to your home on a Saturday night, pop up some fresh popcorn, order a pizza, and kick back for the best of the "B" (and a few "C' and "D") movies. «Read the rest of this article»