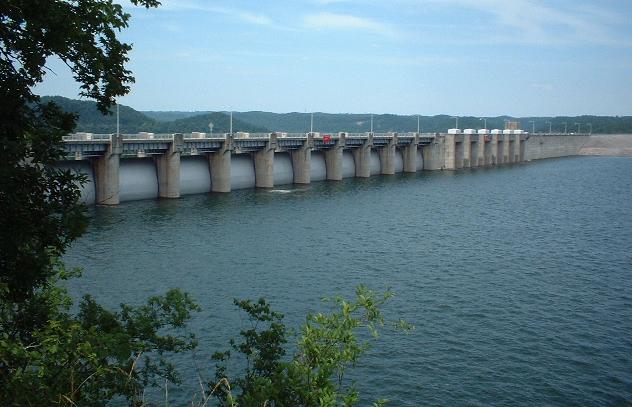 Wolf Creek Dam. It's a peaceful place in Kentucky, northeast of Nashville and the Clarksville area, and it's a potential crisis in the making that emergency management officials are keeping their eye on. A wary eye. On the seepage, the erosion of its limestone base, and its sinkholes.
These and other factors that make Wolf Creek one of the five worst dams in the country, one with a high risk of failure. If Wolf Creek fails, parts of Clarksville will be underwater in about 33 hours.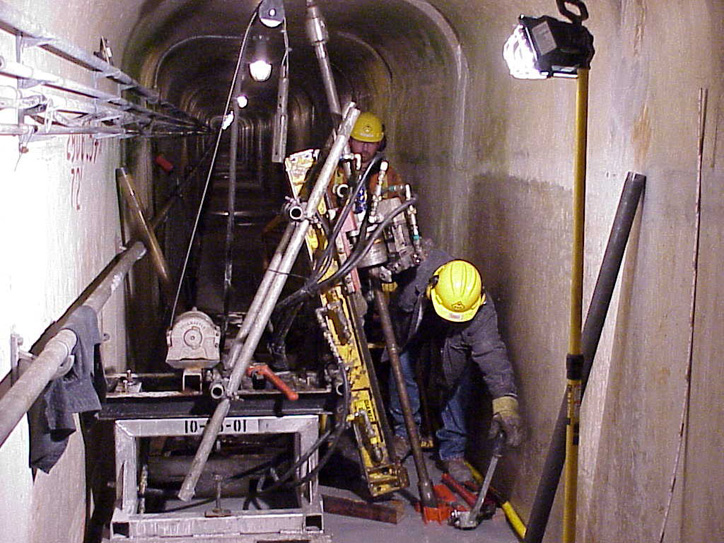 The U.S. Army Corps of Engineers' Major Rehabilitation Report issued in 2006 recommended a $306 million fix for the Wolf Creek Dam, a project that began over a year ago and is expected to take four years to complete. (At right, workers inside the dam effecting repairs)
Failure of the Wolf Creek dam is scenario on the top of the list for Emergency Management officials at the federal, state and local levels; they meet weekly to address a multitude of issues that could affect our community at large, coordinating services and support systems for a safe and fast response if the worst should happen. «Read the rest of this article»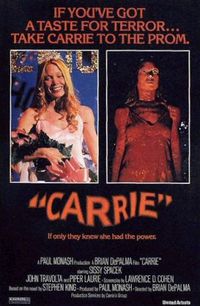 Pick a favorite, any favorite, from the Stephen King collection of films based on his even greater collection of collection of books and short stories. Tough choice, if you are a King fan. Which I am, sort of. Not your typical Steven King fan, since many of his most popular films, including The Shining, are nowhere near my top picks. In fact, I HATED The Shining, though sometimes it seemed as if I was the only one who did.
I'm a much bigger fan of the other book-to-film hits like Firestarter, The Dead Zone, Dolores Claiborne, Hearts in Atlantis, The Green Mile, and the epic scale Rose Red and Storm of the Century.
But years ago, in the beginning, there was Carrie, that career-making smash hit about a lonely girl, a religiously zealous mother, nasty schoolmates and a prom gone wild. Carrie White (played on screen by Sissy Spacek), whose abuse at the hands of mother and her peers, discovers a long-supressed telekinetic ability that for the first time will allow her to defend herself; she realizes she also has telepathic powers that move her intuitively into other people's minds. From its humble, slice-of-life beginnings, Carrie moves steadily toward its explosive climax and tragic ending, as the people of her world realize her power and her fate. Horror got a new name and it was King. «Read the rest of this article»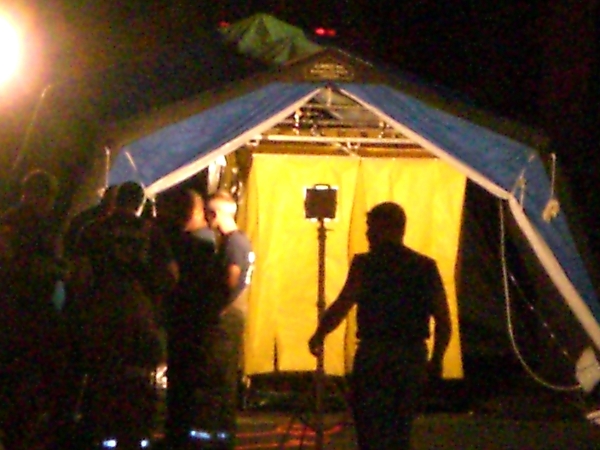 The possibility of a bio-hazard at the Clarksville Police Department Monday night brought into sharp relief the effectiveness of ongoing emergency preparedness training by multiple agencies in our community.
Within a minutes of finding a possible biological threat, the Police Department had locked it doors, effectively isolating everyone potentially exposed to the threat and quarantining the threat itself. Fire Department crews and a broad range of emergency management personnel arrived with all the bells and whistles, cordoning off streets, and calling in support from Fort Campbell's HazMat team. Everyone had a job to do, and did it well, and that job, which began with containment and the establishment of a perimeter, also included some down time just waiting for the analysis of the substance to be completed. «Read the rest of this article»