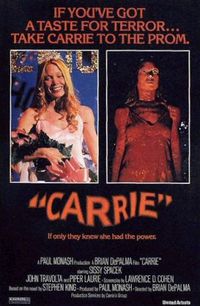 Pick a favorite, any favorite, from the Stephen King collection of films based on his even greater collection of collection of books and short stories. Tough choice, if you are a King fan. Which I am, sort of. Not your typical Steven King fan, since many of his most popular films, including The Shining, are nowhere near my top picks. In fact, I HATED The Shining, though sometimes it seemed as if I was the only one who did.
I'm a much bigger fan of the other book-to-film hits like Firestarter, The Dead Zone, Dolores Claiborne, Hearts in Atlantis, The Green Mile, and the epic scale Rose Red and Storm of the Century.
But years ago, in the beginning, there was Carrie, that career-making smash hit about a lonely girl, a religiously zealous mother, nasty schoolmates and a prom gone wild. Carrie White (played on screen by Sissy Spacek), whose abuse at the hands of mother and her peers, discovers a long-supressed telekinetic ability that for the first time will allow her to defend herself; she realizes she also has telepathic powers that move her intuitively into other people's minds. From its humble, slice-of-life beginnings, Carrie moves steadily toward its explosive climax and tragic ending, as the people of her world realize her power and her fate. Horror got a new name and it was King.
Then there's Dolores Claiborne (Kathy Bates) , to whom the character of Vera Donovan says, "Sometimes, Dolores, an accident can be an unhappy woman's best friend." Dolores is a frumpy woman living in solitude, estranged from her daughter, protecting her daughter (Jennifer Jason Leigh) from the reality of abuse and murder. Dolores is charged with the murder of her employer, which she didn't do, but along the way confesses to the indirect but justifiable murder of her husband some thirty years before. It's a powerful story of love, family and the breaking of ties that bind. It is also a mother-daughter tale of redemption.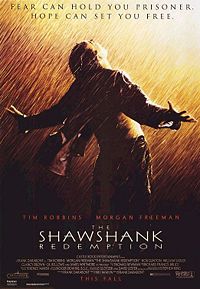 That brings me to The Shawshank Redemption, perhaps my favorite King tale. Tim Robbins stars as Andy Dufresne with Morgan Freeman as the memorable Ellis Boyd "Red" Redding, and their initially unlikely friendship that spans Andy's 20 year hitch in Shawshank State Penitentiary. The film fumbled at the box office, but wowed critics and has since been consistently and conspicuously present on many "greatest movies of all time" lists.
Based on the story Rita Hayworth and the Shawshank Redemption, the story has Andy convicted on circumstantial evidence for the murder of his wife and her lover, for which get life times two at Shawshank. He survives a barbaric introduction to prison life. He is befriended by Red, who mentors him and becomes his friend. Andy, a banker by trade, sustains a quiet reserve as he works his way into the financial structure of the prison and its administration, creating a protected niche, a platform from he can extract revenge and escape from the hell of his incarceration. Shawshank offers Andy a chance at redemption, not only for himself for Red, and the flashback sequence and final scenes that round out this film offer a satisfying end and a "two thumbs up."
Firestarter brought us a young Drew Barrymore as Charlene "Charley" MCgee, a girl gifted as it were with pyrokinesis, the ability to create fire with her mind, a side effect of an experiment in which her parents took part in college. While both parents developed odd abilities, their daughter was the manifestation of all things powerful and deadly, and the government wants her as a weapon. Thus begins the chase, the hide and seek games of pursuit, the ultimate decision to kill Charley., and her volatile revenge and salvation. David Keith plays the devoted dad who struggles to protect his child.
Hearts in Atlantis makes my top five, in part because of my admitted obsession with most Anthony Hopkins movies, and because the era, the music and the staging of this story are styles I love. Period. The movies captured the best parts of the book, and left the rest behind. Bobby Garfield is a middle-aged man remembering his past, and the experiences he had as an eleven-year-old, including a summer long encounter with an elderly drifter (Hopkins as Ted Brautigan), a boarder at the Garfield home. The two develop a father-son bond and we watch as Ted's psychic powers begin to rub off on the boy. Ted is on the run from government agents who would exploit his ability in the war against communism.
The background story involves Bobby's mom's relationship with an abusive boss, mistaken assumptions that Ted might be a pedophile, a capture, and an acknowledgment of the affectionate bond between a lonely boy and even lonelier man. The movie is deep, dark, moody and marvelous, with a terrific soundtrack that seems to carry the movement of the story on every note.
King fans can chose from dozens of movies, most now on DVD, including Cujo (that husky rabid St. Bernard on a rampage), Christine (an old Plymouth Fury — emphasis on Fury — with a murderous mind of its own), Misery (with Kathy Bates as the devoted fan wreaking mayhem on her favorite (and abducted/held prisoner) writer, played by James Caan; The Green Mile with its magic, Tom hanks, and still more 'redemption'; Rose Red's haunted mansion of rooms that recreate themselves while consuming visitors; and Storm of the Century, a New England blizzard as only Steven King could create it.
Murder and redemption characterize most of King's work, and he credits his work to the early influence of writers like Richard Matheson, known for superb short stories and notable early TV scripts for series like the Twilight Zone.
King, a resident of Maine, turns 60 this year, and could easily retire without ever writing another word, but I suspect and hope he'll write for some time to come. He writes under the pen name of Richard Bachman and once as John Swithen.