Rap music is the most popular music in the world, influencing every aspect of American life. Starting out as an instrument of outlet in the poor urban areas of America, rap music has risen to the height of nation and international acclaim. Rap's influence embodies our everyday lives in the form of TV, sports, education, religion, engineering, the clothing we wear, and is recorded in more than 500 languages around the world.
So why is this form of musical expression suddenly under attack by some of the same people who profit from it?
Let's take gangster rap, for instance. Some people believe that gangster rappers control the distribution and air play of their music and videos, but that is not true. «Read the rest of this article»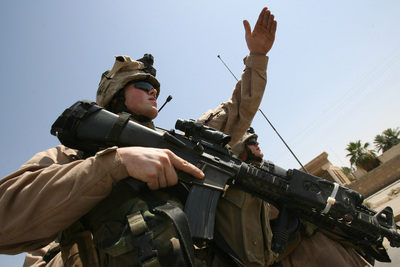 The Leaf Chronicle has a checkered history, especially when you look their statements in reference to our military misadventures in Iraq. As recently as June, they suggested that those who oppose the war should just shut up. Today they attacked those who are still calling for our troops to be brought home out of harms way.
The Leaf Chronicle statements demonstrate that they are sadly ignorant of the true situation on the ground in Iraq.
President Bush frequently defers questions about the surge by explaining that we must wait for that progress report from Petraeus.

Many Senate Republicans also have said they are waiting on the report before making any decisions regarding withdrawals..

…Such a strategy would make sense. The United States cannot simply pull up and leave Iraq overnight. Anyone who thinks that is hopelessly naive. – The Leaf Chronicle, Don't reverse Iraq surge too quickly
Embarrassing things like this can happen when you drink the kool-aid served to you by the Bush administration and their lackeys in the corporate media. Lets take this editorial and break it down piece by piece and see what the facts really show. «Read the rest of this article»