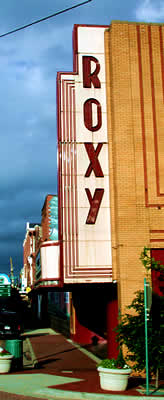 The Roxy Regional Theater in downtown Clarksville celebrates its 25th year as it launches the 2007-08 season with a new production of the rock and roll musical, Grease, the movie-turned Broadway musical, on September 21.
Many of us remember Grease as a movie with John Travolta as the bad boy Danny Zucko and Olivia Newton John as the sweet young Sandy, a classic case of opposites attracting in the hallowed halls of Rydell High, complete with a jazzed up car, the leather jacketed T-birds and the Pink Ladies living on the edge. This rollicking musical which opens Sept. 21 and runs through October 6, featuring such hits as We Go Together, Look at Me I'm Sandra Dee, Summer Nights, Greased Lightnin', and more.
The season continues with a staging of Oscar Wilde's The Picture of Dorian Gray (Oct. 12-27), drawn from the classic novel. Dorian Gray is obsessed with a belief that beauty and youth are at the center of life, and makes a bargain that keep his outward appearance young while his portrait continues to age.
Henrik Ibsen's A Doll's House (Nov. 9-24) introduces us to Nora, pampered, cared for, sheltered from life, a doll-like plaything to the world and her husband. She puts her life and her honor on the line to save her husband, only to find that he is unwilling to sacrifice anything for her. At this crossroad in her life, Nora is faced with a choice that will affect her very survival. «Read the rest of this article»