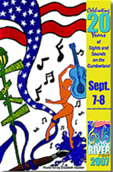 The countdown to Riverfest is on.
Clarksville residents can look forward to free admission for this 20th anniversary of Riverfest, a music festival, art show and family-oriented celebration of the city and its waterfront. The event will rev up September 7 and 8, with the festival running from 5-11 p.m. and Saturday from 10 a.m. – 11 p.m. Pictured at right,the winning poster for the 2007 Riverfest, a design by Elizabeth Hadden, celebrates the music and the community of Riverfest.
Two stages offer tough choices in music. The Miller Lite stage will be the setting for performances beginning with Nashville songbird Charlotte Medley, the Confederate Rail Road, Kentucky Head Hunters and more, with a playlist of rhythm and blues, rock, reggae, country, and more. This stage also hosts children"s programming on Saturday morning, including Mountain Marionettes and for the family, Dance Academy Performances. Fireworks over the Cumberland will cap the event at 9:15 on both nights.
Promoters are hoping that the weather will cool down from the unrelenting August highs of 90s and 100s, and settle into more seasonable temps, which with the addition of cooling river breezes, will make Riverfest festivities a perfect end-of-summer event. «Read the rest of this article»
With writers Rad Bradbury, Richard Matheson, and the prolific Rod Serling spinning their tales of mystery, magic, horror, humanity and intrigue, the Twilight Zone dominated the early years of television with stories that probed the human spirit and challenged our perceptions of the dimensions in which we live. Serling bent the time/space continuum and invaded the deepest parts of the human mind, and took all of us along for the ride.
Serling, creator of the acclaimed CBS show that ran from 1959-64, wrote 92 of the 156 stories that aired on this acclaimed series. The series drew not only the best writers but many acclaimed actors — those well established and those on the precipice of fame — newcomers including Robert Redford, William Shatner, Burt Reynolds, Robert Duvall, Dennis Hopper, Carol Burnett, James Coburn, Charles Bronson, Lee Marvin, and Peter Falk as well as such established stars as silent-film giant Buster Keaton, Art Carney, Mickey Rooney, Ida Lupino and John Carradine.
Here are some of the Twilight Zone stories that are one our favorites list:

Judgement Night has a former U-Boat captain turned eternal passenger wandering the decks of a ship he sank, condemned to cruise on the Queen of Glasgow with his victims for eternity.
The Escape Clause puts us into the mind of hypochondriac who makes a deal with the Devil to live forever. But forever takes on a whole new meaning when he in sentenced to life in prison. «Read the rest of this article»