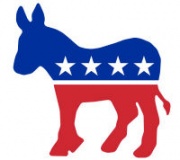 The Montgomery County Democratic Party will host their annual Labor Day Celebration and all-you-can-eat Chicken Barbecue on Saturday, September 8, beginning at 2 p.m. at the Charles Hand Farm at Exit 19 off I-24W. The event is designed to honor laborers and the unions that support them and involves five Middle Tennessee counties.
The event, which is held one week after the traditional Labor Day holiday, is designed to honor the American worker and the Labor Unions who work in their best interests. With the 2008 Presidential elections looming, the increasing devisiveness of the Iraq War and increasing concerns over wages, health care, pensions and retirements, and myriad pressing domestic issues, the unions and their workers have a lot to talk about.
During the program, 105-year-old Pearl Trotter, Montgomery County's oldest voting Democrat, will be honored.
Kim McMillan, Senior Advisor to the Governor, will emcee the event and represent the governor's office at this event. R. Thomas Buffenbarger, President of the International Association of Machinists and Aerospace Workers, is the keynote speaker. Buffenbarger is the 119-year-old union's 13th President and oversees its operation on behalf of 700,000 current and retired union members from the USA and neighboring Canada. Other labor organization guests include Tennessee AFL-CIO President Jerry Lee and AFL-CIO national Director of Organization, Steward Acuff.
The Clarksville based band, the Ballistic Pintos, will provide music for the event, entertaining with songs including Son Going Down, Fresh Horses, and Cornbread & Taters. The group, founded in 1997, also covers songs by other artists including Travis Tritt, Willie Nelson and Merle Haggard — to name just a few.
The guest list also includes Congressmen Jim Cooper and Lincoln Davis, and Tennessee Democratic Party Chairman Gray Sasser. Democratic representatives and local elected officials from each participating county will be in attendance.
More than 2,000 tickets have already be sold. Tickets are priced at $20 each and include the speakers program, chicken barbecue, a dart tournament, and activities for children.
Tickets will be available at the gate on the day of the event.