"The Second World war brought out the worst as well as the best in a generation, and I think it may also have reflected the last time the United States of America was truly united in one single purpose." — Ken Burns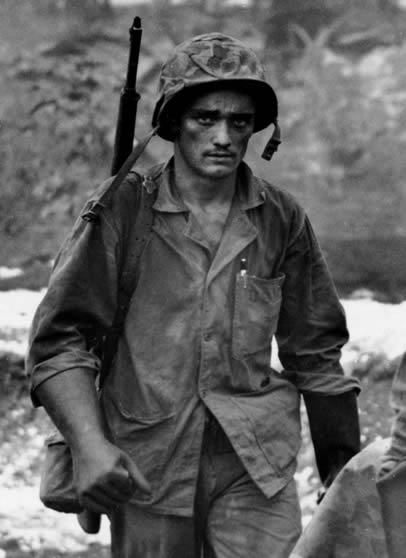 The War, a Ken Burns film on World War II, will debut as a seven episode series on PBS, including Nashville Public Television (NPT), on September 23-26 and September 30 through October 2 at 7 p.m. In Clarksville, NPT is seen on Channel 8.
A few years ago, Ken Burns riveted us with his production of The Civil War, a series that electrified , entertained, educated, and aroused our emotions. This new series promises to follow Burn's groundbreaking tradition and style.
According to information posted by PBS on this series, The War explores "the most intimate human dimensions of the greatest cataclysm in history — a worldwide catastrophe that touched the lives of every family on every street in America." «Read the rest of this article»
The Iraq War is lost, but Bush & Co. appear to be planning a major, and criminal, diversion: an all-out blitzkrieg against Iran. So far Congressional Democrats are doing nothing about it.

The British are acknowledging this fact by pulling out their troops from Basra, Iraq's second largest city, handing over the city to the control of Shia militias. For all intents and purposes, the "Coalition of the willing" is now dead. America is now going it alone.
Bush is not acknowledging defeat, but has indirectly admitted it by saying that some troops can start being brought home soon, even though clearly nothing has been accomplished with the addition of 30,000 troops for the last six months.
He acknowledged defeat too, by flying into Iraq stealthily in the dead of night this week, landing at a remote desert outpost in western Iraq, instead of going to Baghdad, and meeting with American military officials, instead of with the Iraqi government. (So much for Iraq's being a "sovereign nation"! Can you imaging a head of state of some foreign government, together with his war secretary and his secretary of state, flying in unannounced to some remote American state, and not even meeting with American government officials?) Clearly the US military could not guarantee the president's safety in Baghdad and the Green Zone, so he had to go to a remote outpost where he was safe behind razor wire, mines and an obscene arsenal of soldiers, tanks and gunships. «Read the rest of this article»
My disclaimer: Okay. This isn't going to be your typical Clarksville Online article. At least not my typical Clarksville Online article. For most of you who read my work or know me personally only in the context of my time in Tennessee, my involvement with peace action, or my politics and anti-war rants, this commentary may seem odd, and will likely place an entirely new, unexpected and different light on me.
My story: In my 54 years of life and work BT (before Tennessee), I moved in several dimensions: I was an editor, an arts critic, a caregiver, a part-time plumber and home remodeler, a gardener, and … a fashion fanatic. I'm the woman who goes to New York City's Bergdorf Goodman's to pet the fabric and get close-up and personal with intricate embroidery on $10,000 gowns. When I was sixteen and couldn't afford a ball gown, I raided a local curtain fabric supply store, emulating Scarlett O'Hara as I designed my own from yard upon yard of white organdy diverted from its intended use. «Read the rest of this article»