The Unitarian Universalist Fellowship of Clarksville (UUFC) shows a film concerning some aspect of Social Action on the First Friday of each month.

The film for this month is Women Behind the Camera, a documentary showing how women have shaped cinema both in the US and around the world. This film is not rated, but it may not hold the interest of children.
This global documentary, based on Alexis Krasilovsky's book of the same name, explores the lives of camerawomen in Hollywood and Bollywood, Afghanistan, Australia, Canada, China, England, France, Germany, India, Iran, Japan, Mexico, Russia, Senegal, the U.S. and other countries in a way never seen before.
https://www.youtube.com/watch?v=CeszTc8MJu0
Admission is free; bring snacks to share if you wish. «Read the rest of this article»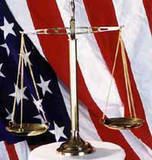 "Democracy abhors undue secrecy … an unlimited government warrant to conceal… has no place in our open society… – US District Judge Victor Marrero
At least one part of the revised USA Patriot Act of 2001 has fallen under a federal judge's gavel in a ruling that requires a court approval before investigators can order internet providers to turn over customer records. The ruling is another blow to already beleaguered Bush administration and its anti-terrorist policies.
The USA Patriot Act of 2001 (revised in 2005) is a perpetually controversial package of anti-terrorist legislation that has been sharply criticized for its apparent violations of basic constitutional rights and civil liberties.
In a 120-page ruling, US District Judge Victor Marrero supported the American Civil Liberties Union contention that the government's ability to demand records and use administrative subpoenas known as security letters without warrants or judicial review was a violation of free speech and individual rights. The letters under protest include a gag order that also prohibited businesses from disclosing that such demands were even made. Marrero said the law "substantially deters any judicial challenge." «Read the rest of this article»