Drummers drummed, dancers danced, and festivities went on despite the threat of rain at the annual Trail of Tears Indian PowWow in Hopkinsville, Kentucky, this weekend.
The event, which attracted hundreds of visitors, is a celebration of Native American culture and of the Cherokee people who marched through this area, banished from the Georgia landscape that was their home and heritage.
Having spent part of the day Saturday at the Trail of Tears PowWow in Christian County, Clarksville Online Author Debbie Boen, a naturalist and artist, wrote:
"As I listened to the drumming and watched the the dances I felt grounded, connected to the earth.  There's no way to intellectually explain why that it so, but it's a feeling of going home, really going home. I looked around at all the different kinds of people visiting the PowWow and knew that they were feeling that way too (and they can't explain it either).

"I bought Frybread there.   The Taco style gave me a huge piece of Frybread with hamburger, beans, cheese and more on top.  Frybread is also a great dessert, plain, sprinklied with just a bit of powdered sugar.

"I was also looking for a herbal remedy, female balance tea, the only thing I've found that solves hot flashes.  So I worked my way through vendors selling books, jewelry, clothing and tee shirts, bumper stickers, toys, drums, marvelous dreamcatchers and other 'goodies" like the skunk skin I bought.
"Why buy a skunk skin? An Indian versed in knowledge about the animal kingdom would tell you that the furry little animal has a reputation that contains a great deal of power. Due to its distinctive behavior, humans give this tiny, smelly animal wide berth. The key word here is respect, as evidenced in this quote:
'Skunk teaches me that by walking my talk and by respecting myself, I will create a position of strength and honored reputation.'
— Jamie Sams & David Carson, Medicine Cards
"There is an area in my life in which I am working on this kind of energy, and coincidentally, so is my family. I have been so attracted to the beauty and the colors of the skunk lately and we have seen three of them on our property.  I take that as receiving a message from skunk medicine.  After I saw the skunk pelt at PowWow, I walked around the entire place (it's laid out in a circle) , and I returned to buy it, to remind myself of what skunk represents and what I can learn from it.

"Even if you aren't looking for hot flash tea or a skunk pelt, there's a lot to shop for, and to simply enjoy, at the PowWow."
The PowWow is a way to recreate and revisit an earlier time and way of life in American history, a glimpse of a culture to which we owe so much. Here's a bit of history that shaped today's events:
In 1828, the Georgia Cherokee were a settled people, and had assimilated many European customs. They were farmers, ranchers, merchants, with their governance and systems in place. They had their own alphabet, "The Talking Leaves," created by Sequoyah. But as the population of northern Georgia soared with new white settlers, many attracted by rumors of gold littered along the landscape, the Cherokee were slowly forced off their land.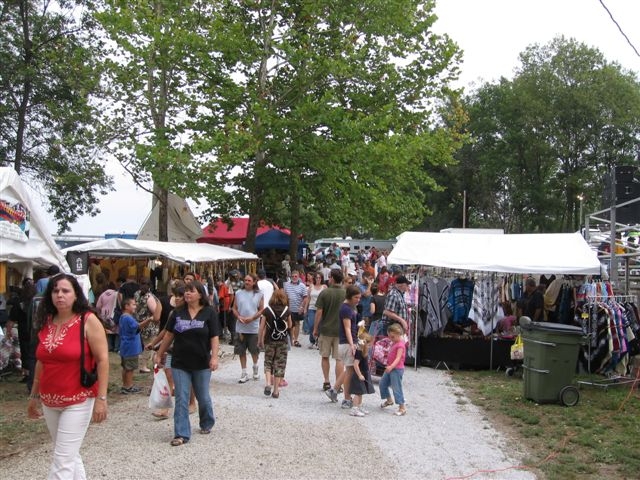 The Indian Removal Act of 1830, signed into law by then President Andrew Jackson, was rejected on Supreme Court appeal. By 1838, the displacement of the Cherokee was well underway, culminating  with the forced march from Georgia through Tennessee and Kentucky to lands in Oklahoma, with an estimated 4,000 Cherokee souls lost along the way. Their culture was all but eradicated from the Georgia landscape at that time.
On this weekend, the heritage and culture of the Cherokee and all Native America people is honored and given new life and respect through the Trail of Tears festival, giving people of all ages a glimpse of history and the value of native culture.
Tribal dancing, storytelling, Indian arts and more filled the park grounds in Christian County, and a little bit of rain did nothing to dampen the spirits of those participating in this amazing event.
If you miss this weekend's PowWow, there will be another in our area at Port Royal, on the weekend of October 12th.
http://www.trailoftears.org/
Sunday's schedule is:
1 p.m. Grand Entry, Intertribal
Youth Contests children & adults, fancy/traditional costumes, shawl, jingle
2:15 p.m. Drum Contest
2:30 p.m. Storytelling by Grady Jones, costuming contests
4 p.m. Indian Flute Music with Tommy Wildcat
4:30 p.m. Intertribal contest/women & men, golden age
5 p.m. Intertribal
5:30 p.m. Hoop Dancer Daniel Tramper
6 p.m. Awards Presentation
6:30 p.m. Retire Colors
~~ PowWow photos by Debbie Boen~~