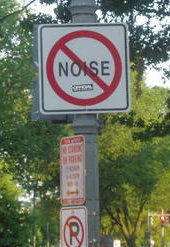 Two amendments to the city's noise ordinances were passed last week with far less fanfare and controversy that the original proposals garnered; the amendments limit the volume of both exterior and interior sound levels through the city.
The first amendment prohibits the playing of any loudspeaker that can be heard 25 feet beyond a property line. Exemptions to this amendment include city, county and school events, sports events, and pages using public address systems.
The regulations exempt current businesses with public address systems if those systems are pointing downward and not directing sound outward from their place of business and only if those systems are used for the purpose of paging. Businesses that open after October 1, 2007, will not be exempt.
The amendment also places strict limits on interior noise by prohibiting playing audio sounds that can be heard beyond one foot of an interior wall. In other words, if it can be heard more than a foot into your neighbor's apartment, it's too loud and against the law.
The second amendment bans the use of all-terrain vehicles and go-carts within city limits if that use is deemed a nuisance by neighbors.
Proponents of the tougher laws say the measures will improve quality of life by reducing offensive and excessive noise, not just from home sound systems but from the roaring engines of all terrain and other sport vehicles generally considered "off road," and of "booming" car radios. Police responding to noise complaints will be backed up by the law.
Opponents of the amended ordinances voiced the opinion that the existing noise ordinance was too limited and not enforced, ergo what makes anyone think the new laws would be enforced? They also question whether the existence of these tougher laws will pit neighbor against neighbor in a variation of "sound wars" and whether police will respond effectively to what could be a deluge of complaints.
The amendments as proposed by City Councilman Bill Summers earlier this year drew heated debate. Discussion on the issue was later closed and the amendments resurfaced Thursday for a vote.
On Thursday, the City Council, after tightening up the legislation, approved the changes without further debate and with the support of a once vocal opponent, Ward 6 Councilman Marc Harris. Harris cautioned that the law should be applied to all vehicles without selectively targeting certain types of vehicles.
The laws go into effect with the signature of Mayor Johnny Piper.