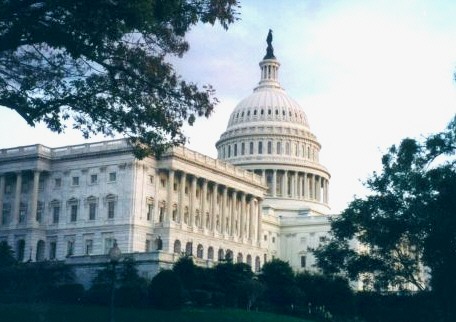 Inch the price up, a dollar here, a dollar there. Customers rarely notice. On the day of the big sale, "slash" prices and people will come, buy, plunk down dollars and pay what you would have gotten in the first place — and they'll be happy that they think they got a deal.
That's what unfolded this afternoon on the Senate floor before the powerful Senate Foreign Relations Committee, as General David Petraeus made a case for keeping the war in Iraq alive even as he concedes the next nine months of war will cost America "60 soldiers a day" and "nine billion dollars a month."
Petraus tried to sell the prospect of drawdown in US troop levels that were in fact a pulling of troops who are part of the President's highly touted 2007 "surge," and would not likely affect the base number of troops — 130,000 — for another 9-12 months. «Read the rest of this article»
I'm a victim of 9/11. I was in the building when the plane hit.
Compared to some people, I was lucky: I wasn't injured. I kept my job. I got home easily. But compared to the vast majority of Americans, I am a victim. I had glass in my hair. I lost a year's work, and some irreplaceable items. My family went crazy for a while. My kid had nightmares. You explain to a five-year-old why (in his words) "They crashed into the building on purpose?" or reply to "I thought pilots were good people".
But I am a victim another way.
I share part of this other victimhood with all Americans. I am a victim, not of terror, but of the so-called 'war on terror'. I am a victim of a government that is out-of-control. I am a victim of crushing national debt. I am a victim because I live in a country that went from having the sympathy of the world to one that is a pariah, an outcast among nations, a rogue state. I am a victim because I now have to 'watch what I say'. I am a victim because my rights are violated, not by some nebulous and inimical group of terrorists, but by my own government. «Read the rest of this article»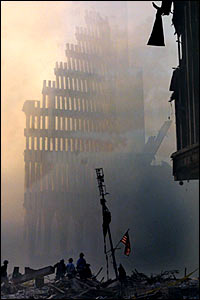 "Mourn as you must, but honor me most by continuing to live and be the best that you can be."
In December, 2001, I reluctantly went to Ground Zero, to the pile of debris, the hole in the ground, the shattered remnants of buildings that had been the World Trade Center complex in downtown Manhattan. As so many others had already done, I inhaled the dusty air, some of which may have been human once.
I stood on the gallery of a church, leaning against one of its columns, staring aghast at the immensity of the devastation. Rubble. Piles of rubble. Behind makeshift fences and barriers. Designed to keep out a steady stream of the curious and the mournful.
I looked skyward, from ground level up to the top of a faceless building, exterior walls gone, the world privy to the angle of every desk and chair and file cabinet in the now wall-less, fully ventilated window offices. Huge loosely hung sheets of black tarp fell a hundred stories from roofline to sidewalk, and running high across the that roofline, touching the clear blue sky above, was a multi-story American flag.
I remembered so many times before,walking across the plaza, riding the elevator to Windows on the World, dining with my mother as the panorama of the Big Apple glittered around us. Seemed like yesterday. «Read the rest of this article»