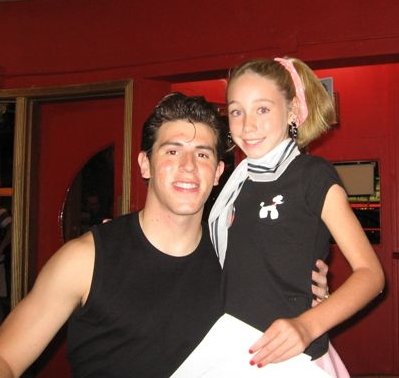 It's a step back in time, a rollicking romp to those rock-and-roll heydays otherwise known as the 50s for those who opt to see the Roxy Theater's 2007-08 season opener, Grease.
Matt Nolen (left, seen here post-show with Grease enthusiast Miranda Sizemore), from television's You're the One That I Want, won the role of Danny Zucco, tough-talking, leather jacketed hot-rodder with a not-so-secret crush on sweet-young-thing Sandy (with the Sandra Dee shoulder length hair and the virginity too).
From the ducktailed, slicked back hair to the twisted lock hanging over his forehead, Nolen swaggered his way through the show in perfect Zucco style, never missing a beat in move or facial expression as the braggart trying to impress his buddies with a summer conquest, in the delighted but unexpected encounter with Sandy on that famed first day at school, and in a hilarious "accident" at the drive in — all eyes kept returning to him, the perfect casting choice. Did I mention his strong voice?
The cast of Grease on the Roxy Theater set
«Read the rest of this article»
"Soldiers do change during war, because how they cope tends to be individualist, isolating, not reaching out to others … I think that this war also damages the souls of many soldiers … Real men, soldiers, are evidently supposed to suck it up and kill on demand without a conscience, without feelings … — Polly Coe, Licensed Therapist

While our troops are overseas, scattered across the deserts of Iraq and spread over the mountainous terrain of Aghanistan, soldier's wives juggle a variety of roles, stepping into and out of them based on deployments. It's hard to keep all the balls in the air, and sometimes they all come tumbling down, rolling across the floor in every direction. As a representative of Clarksville Online, I spoke with one such wife, Shelly, who is reeling from the impact of life as a military spouse during war. I give you her story, followed by the complete text of Therapist Polly Coe's comments on the impact of the Iraq War on our troops and their families.
The following is a transcript of my questions (CO) and Shelly's answers:
CO: How's the war been to you?

Shelly: When it broke out, we had just arrived in Clarksville (Jan 2003); we bought a house and a month later he was gone. When he's in Iraq I don't listen to the news. I can't. And I keep it away from the kids. Things that happen in the war are too close to home; it upsets the kids. There's a mechanical problem with aircraft and everyone is asking me if he's OK. I honestly don't know and I don't want to hear or talk about it.
CO: How does the war upset the kids?

Shelly: Dad's gone all the time. They idealize Dad, especially when he's not here. A picture gets built up in their heads of the perfect Dad. They miss him and they ask, "why can't he call, why can't he come home?" It's especially hard on birthdays and Christmas. We've had the "missed" Christmas, the early and late Christmas; the Christmas where Dad came to our hotel. «Read the rest of this article»

As radio moved from the era of live commentators and hand-selected music to automated pre-fab playlists, Music Of Your Life master Frank Knight retired from broadcast media. Sort of. He's never been busier. And that soft, lyrical voice remains the same. Perennially recognizable by a legion of fans.
On an inspired whim, moved by the beauty of a single piece of writing, Mr. Knight and his daughter, Virginia, recently completed a slide show and his reading of Hail October.
We offer no fanfare; just an invitation to pause, watch and enjoy the breathtaking beauty of New England in Autumn and the gentle flow of words from a master commentator.
A video used to be embedded here but the service that it was hosted on has shut down.
«Read the rest of this article»
The Clarksville Community Gang Awareness Task Force will launching S.E.C.U.R.E., their new Safe & Effective Community Using Resources for Empowerment gang awareness and educational website, at a community open house event on Tuesday, October 9, 2007 at Xtreme Ministries Church, 1596 Fort Campbell Boulevard, Clarksville, (behind Hardees Restaurant, next to Food Lion) at 7:00 p.m.
The task force is a community-based organization consisting of parents, neighbors, youth, elected officials, faith leaders, law enforcement and educators. Their mission and purpose is to educate the community-at-large about gang violence that is occurring, and offer information on the signs and indicators of gang activity. The Task Force is chaired by Pastor Tommy Vallejos, with media coordination by Terry McMoore. «Read the rest of this article»